Romney Wins Big In Illinois, And This Race Is (Almost) Over
Mitt Romney won big in Illinois last night, and moved a big step closer to wrapping this race up.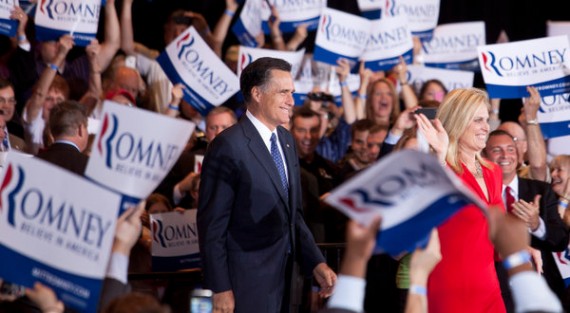 We saw a familiar pattern playing out last night in Illinois, another big Midwestern state, another state Mitt Romney had to win to avoid another week of the narrative spinning against him, and, this time, a decisive win that created no doubts for the pundits to latch on to, and which makes the argument in favor of either of his primary opponents (there's no point in including Ron Paul in that list) even more tenuous:
CHICAGO — Mitt Romney swept to victory in the Illinois Republican primary on Tuesday, using the full force of his campaign and an argument that he has the best chance of defeating President Obama to overcome doubts among the more conservative voters at the heart of his party.

After his narrow margins of victory in battleground states like Michigan and Ohio and losses in Southern states kept alive questions about his ability to rally his party behind him, Mr. Romney recorded a sizable victory over his closest rival, Rick Santorum, in Illinois's popular vote.

He was poised to collect about three times as many delegates as Mr. Santorum, which aides hoped would increase his lead enough to tamp down talk of a contested convention and build an unassailable advantage in the race for the nomination. And his supporters began making the case anew that it was time for the party to come together for the fall campaign against Mr. Obama.

As Mr. Romney addressed supporters in a hotel ballroom in the Chicago suburb of Schaumburg, he congratulated his rivals and immediately turned his focus to the president. He belittled Mr. Obama's experience as a constitutional law professor at the University of Chicago and as a community organizer on the South Side of Chicago, saying the president was ill suited to lead the nation to economic prosperity.

"It's time to say this word: enough. We've had enough," he said. "We know our future's brighter than these troubled times. We still believe in America, and we deserve a president who believes in us, and I believe in the American people."

Illinois is the third state in the industrial Midwest that Mr. Romney has carried in the last month. The electorate, particularly in the suburbs of Chicago, where he overwhelmed Mr. Santorum, was also reflective of relatively moderate states that will vote across the Northeast in April.

Surveys of Illinois Republicans leaving polling places showed that Mr. Romney not only won among the groups that usually support him — moderates, college graduates and wealthier voters — but also was competitive among Mr. Santorum's generally more loyal coalition of Tea Party supporters and married women.
Indeed, if one takes a look at the Exit Polls, Romney did very well last night among groups that he's supposedly been having problems with:
Romney won conservative voters (47%) over Santorum (39%), and in came within 5% of Santorum among "very conservative voters;
Romney beat Santorum 47% to 36% among Tea Party supporters
Romney beat Santorum among all income groups, except those earning less than $30,000 per year
Romney beat Santorum among Protestants (45% to 38%) and Catholics (53% to 30%)
If only Romney and Santorum had been on the ballot, Romney would have won 48% to 40%
60% of all voters said Romney is the candidate most likely to defeat Obama, Santorum is a distant second at 22%
Of course, vote totals and exit polls aren't really what matters. What matters are delegate counts, and Romney's big victory last night translate into a very good night in the delegate column. Final numbers are still being calculated from three Congressional Districts, but as of now it looks like the most likely delegate split will be 42 delegates for Romney to 12 for Santorum, a net gain of thirty delegates. Not enough to put Romney over the top, obviously, but more than enough to put him closer to the magic number of 1,144 and, more importantly, put more distance between him and Santorum. Indeed, the RealClearPolitics Delegate Count, which includes. those 42 delegates from Illinois, now puts Romney at 560 delegates, just 584 delegates short of the needed majority. Santorum's current delegate count stands at 246, 898 delegates short of a majority.
So, let's do some delegate math:
Not counting Republican Superdelegates, there are 1,197 delegates yet to be awarded. Romney would need to win 48.78% of those delegates, Santorum would need to win 75.02% of those delegates
After April there are winner-take-all primaries in 6 states where Romney is likely to win (Delaware, Maryland, D.C., New Jersey, California, and Utah). These account for 335 of the 1197 outstanding delegates. None of the states where Santorum is likely to win are winner take all.
Based on this, it seems rather clear that Romney will indeed be able to eke out a majority before the campaign rolls into Tampa at the end of August, and that the odds of Santorum either catching him or being able to deny him an outright majority are minimal at best. In all honestly, though, those chances are realistically non-existent. Given how the delegate allocation has gone to date (Romney has won 55.28% of the 1,013 delegates allocated to date), the idea of him winning at least 48% of the remaining delegates is not only conceivable, but highly likely. The odds of Santorum, who has won roughly 20% of the delegates to date, being able to win 75% of the remaining delegates is not only inconceivable, but laughingly so.
Of course, none of this is likely to cause Santorum, or Gingrich, to drop out of the race any time soon. Gingrich's intentions are, as I've said, only known to Newt Gingrich. He doesn't strike me as a dumb man, so he has to realize the math here, but he also strikes me as a guy who believes he has some kind of special destiny and that if he just stays in the race the GOP will turn away from the guy who's gotten the most delegates and the most votes, and turn to him. It's crazy, it's megalomaniacal, but it's Newt. As for Santorum, one suspects that his campaign knows the jig is up but still wants to put up the good fight in exchange for some kind of power at the convention. They may get some bragging rights on Saturday in Louisiana (which Romney would be wise to ignore, in my opinion) but the real test will come on April 3rd when Maryland, the District of Columbia, and Wisconsin hold contests. Santorum is unlikely to do well in Maryland and isn't even on the ballot in D.C., but if he's unable to win Wisconsin that will be a fourth big industrial Midwestern state that he will have lost. At that point, he may stay in the race until Pennsylvania or even beyond but it seems unlikely that the media will be taking his campaign very seriously.
The fat lady hasn't started her aria yet, but she's backstage warming up and this race is (finally) almost over.