Berkeley College Republicans Resurrect "Diversity Bake Sale" Scheme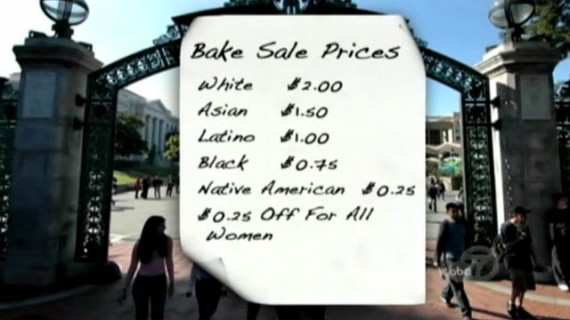 Responding to an apparently ongoing controversy over diversity standards in admissions, the Berkely College Republicans are holding a Bake Sale:
BERKELEY, Calif. — A bake sale sponsored by a Republican student group at the University of California, Berkeley, has incited anger and renewed the debate over affirmative action by asking students to pay different prices for pastry, depending on their race and sex.

Last week, the Berkeley College Republicans announced its "Increase Diversity Bake Sale," scheduled for Tuesday. On Facebook, the group listed the price for a pastry at $2 for white students, $1.50 for Asian students, $1 for Latinos, 75 cents for African-Americans and 25 cents for Native Americans. Women of all races were promised a 25-cent discount.

"Hope to see you all there! If you don't come, you're a racist!" the Facebook event page said. (It has since been taken down and replaced with milder text.)

"We expected people to be upset," the group's president, Shawn Lewis, 20, a third-year political science major, said Monday in a telephone interview. "Treating people differently based on the color of their skin is wrong, and we wanted people to be upset about that."

The bake sale was scheduled to protest a phone bank organized by the Associated Students of the University of California, the campus student government group, where students planned to call Gov. Jerry Brown and urge him to sign a Senate bill that would allow public universities to consider race, gender and ethnicity in admissions decisions. In 1996, voters in the state passed a ballot initiative, known as Proposition 209, prohibiting affirmative action in admissions.

"The bake sale is a misguided attempt by the Berkeley College Republicans to make a political point about their opposition to a particular bill," said Gibor Basri, the university's vice chancellor for equity and inclusion and a professor of astronomy. "A lot of students, especially students of color, read it as placing a higher value on white students."

In response to the bake sale, the Associated Students, which provides money to the Berkeley College Republicans and other political groups for events on campus, called an emergency meeting on Sunday, leaders said. It passed a resolution condemning discriminatory events on campus whether or not they are meant to be satirical.

Not long after the bake sale page went up on Facebook, hundreds of people posted comments expressing outrage over or support for the sale and affirmative action in general.

"Perhaps you should be charging women and Latinas double to better reflect the fact that we're being paid 78 cents and 59 cents to the white man's dollar," wrote Ally Wong.

Others worried more about the pastries. "The educational value of this exercise will be lost when Pocahontas walks away with a truckload of free cupcakes," wrote Mike Creamer.
This isn't a new idea, of course. David Weigel uncovered news stories going back to 2002 reporting on the same event happening on other campuses, with the prices unchanged ironically enough (which tells that at least when it comes to baked goods, the value of the dollar remains strong). I seem to remember hearing about it happening before 2002 as well, although I haven't been able to uncover any news stories confirming that. In any event, this strikes me as another one of the silly little events that college students do when they like to pretend they're being politically involved. In this particular case, it's also being done to be deliberately provocative. Although I'm sure everyone on campus appreciates having easy access to bear claws and muffins.
Photo via ABC News