Bernie Sanders Blames Guns for Orlando Nightclub Massacre
"Common sense" measures and the worst shooting spree in American history.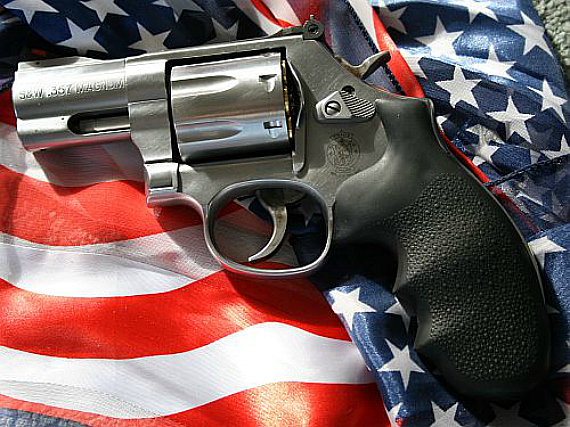 Erstwhile contender for the Democratic nomination Bernie Sanders had this to say about Sunday's massacre at a gay nightclub in Orlando:
"I believe that in this country, we should not be selling automatic weapons which are designed to kill people," Sanders said, according to an emailed statement from NBC. "We have got to do everything that we can on top of that to make sure that guns do not fall into the hands of people who should not have them, criminals, people who are mentally ill."

The Vermont senator called the shooting "horrific" and "unthinkable," adding that he believes there to exist "a very broad consensus in this country" between most, but not all, gun owners who believe "we have got to do everything that we can to prevent guns from falling into the hands of people who should not have them. That means expanding the instant background checks, it means doing away with the gun show loophole, it means addressing the straw man provision."
Sanders is absolutely right that we should do more to make it harder for criminals and the insane to get access to weapons. Instant background checks, already the law in commercial sales, certainly make sense. Gun shows should get no special dispensations. [UPDATE:  And they don't.]
But nothing Sanders is proposing here would have stopped yesterday's outrage.
It has been illegal for Americans to privately possess automatic weapons—which continue firing while the trigger is depressed and ammunition being fed—for nearly a century now. [UPDATE: It's more complicated than that; but it's exceedingly difficult for a private individual to purchase and possess an automatic weapon legally.]  Yesterday's spree was carried out using semi-automatic weapons, which fire one round every time the trigger is pulled. That's true of AR-15-type "assault rifles" but also most pistols as well.
While there were all manner of clues that the shooter was hot-tempered and loathsome, he was neither a convicted criminal nor certified insane. He has been "on the radar" of the FBI but they had not found evidence with which to charge him with a crime.
There are now allegations, which I believe, that he battered his ex-wife. But we can not take away citizens' fundamental rights on mere allegation.
Based on what we know now, he purchased the weapons used in the crime legally. Presumably, he was subjected to a background check. Regardless, he would have passed it given the aforementioned lack of a record. He didn't buy the guns from a gun show. But, again, he would have passed a check there, too. He bought only two weapons and bought them directly; the straw man provision** doesn't apply here.
None of that's to say we shouldn't change the law. The proposals are indeed "common sense" and ones I've supported in the past. They're likely to make it slightly more difficult for the most incompetent criminals to get guns and to help us keep tabs of large stashes of them.  But the victims at Pulse would still be lost had we done everything Sanders is asking for.
_____________
*But nor do I think they should face additional burdens. A commercial dealer of guns ought face the same strictures at a show as he would in his shop. At the same time, a private individual, whether a collector or an enthusiast, ought be able to sell or trade his guns in the same manner at a show as he would in his home. [UPDATE:  It turns out that this is exactly what the law has said since 1998. The "gun show loophole" doesn't exist per se. Dealers have been required to conduct background checks since 1998, regardless of venue. Private citizens who occasionally sell guns have never been required to do so, regardless of venue. The "loophole" is that it's theoretically possible for someone to routinely sell guns, regardless of venue, without becoming a licensed dealer and that gun shows make a convenient venue.]
**It seems obvious that one shouldn't be allowed to buy guns and resell them with the express purpose of skirting the law, whether to avoid criminal background checks or restrictions on the quantity purchased. At the same time, people ought to be able to buy a weapon as a gift for a friend or with the intent to sell it for a profit later, taking reasonable measures to ensure they're not transferring said weapons to those not legally eligible to possess them.