Bernie Sanders Exposed?
How much command of detail should we demand of presidential candidates?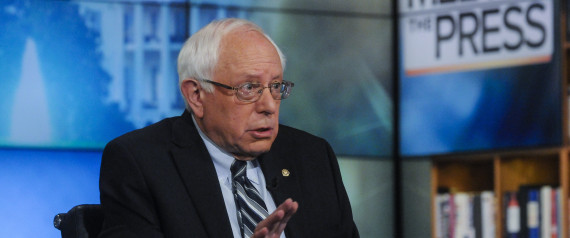 Chris Cillizza points to a recent interview to argue that Bernie Sanders is all platitude and no substance. In particular, he highlights this exchange with the New York Daily News:
Daily News: And then, you further said that you expect to break them up within the first year of your administration. What authority do you have to do that? And how would that work? How would you break up JPMorgan Chase?

Sanders: Well, by the way, the idea of breaking up these banks is not an original idea. It's an idea that some conservatives have also agreed to.

You've got head of, I think it's, the Kansas City Fed, some pretty conservative guys, who understands. Let's talk about the merit of the issue, and then talk about how we get there. …

Daily News: Okay. Well, let's assume that you're correct on that point. How do you go about doing it?

Sanders: How you go about doing it is having legislation passed, or giving the authority to the secretary of treasury to determine, under Dodd-Frank, that these banks are a danger to the economy over the problem of too-big-to-fail.

Daily News: But do you think that the Fed, now, has that authority?

Sanders: Well, I don't know if the Fed has it. But I think the administration can have it.

[…]

Daily News: So if you look forward, a year, maybe two years, right now you have … JPMorgan has 241,000 employees. About 20,000 of them in New York. $192 billion in net assets. What happens? What do you foresee? What is JPMorgan in year two of …

Sanders: What I foresee is a stronger national economy. And, in fact, a stronger economy in New York State, as well. What I foresee is a financial system which actually makes affordable loans to small and medium-size businesses. Does not live as an island onto themselves concerned about their own profits. And, in fact, creating incredibly complicated financial tools, which have led us into the worst economic recession in the modern history of the United States.

Daily News: I get that point. I'm just looking at the method because, actions have reactions, right? There are pluses and minuses. So, if you push here, you may get an unintended consequence that you don't understand. So, what I'm asking is, how can we understand? If you look at JPMorgan just as an example, or you can do Citibank, or Bank of America. What would it be? What would that institution be? Would there be a consumer bank? Where would the investing go?

Sanders: I'm not running JPMorgan Chase or Citibank.
Cillizza observes,
For Sanders's critics — including Hillary Clinton — the Daily News interview is the "ah ha!" moment that they have been insisting will come for Sanders, a time when his pie-in-the-sky proposals are closely examined and found wanting. Sure, free college tuition sounds good, but how, exactly, do you pay for it? And, yes, breaking up the biggest banks seems appealing — particularly if you saw "The Big Short" — but (a) can you actually do it? and (b) what does it mean for all the people those banks employ?

A large part of Sanders's appeal to the throngs who back him is his insistence that we are in need of a political revolution. And, for those people, the Daily News interview will be much ado about nothing. But what the interview exposes is that once the revolution happens there will be lots of loose ends to tie up. Loose ends that Sanders either hasn't grappled with — or doesn't want to.

Remember that Sanders's campaign began as the longest of long shots. He could propose the world and more because no one thought that he ever had a chance at winning. I could tell you 100 radical changes I would make to the NBA if I were commissioner — raise the age limit to 21, move the three-point line back, etc. — but I would never have to really explain how I was going to do it because you would know there's a zero percent chance I am going to run the NBA. But if suddenly my name started to pop up on lists to replace Adam Silver — please please please let this happen — then a more careful examination of how I was going to accomplish all of my proposals would be in order.

The Daily News interview amounts to a moment of reckoning for Sanders. Okay, let's say you get elected — now what? And have you thought through what it might mean to the American worker and the American economy if all of the things you insist have to happen actually did happen? Judging by Sanders's responses, he hasn't.
I'm not sure that's a fair critique.
The NBA analogy isn't a good one. The sports leagues have typically chosen their commissioners from the ranks of their own senior executives. A would-be replacement for Silver, then, would have spent years inside the system and have staffed any rules change proposals to study second- and third-order effects. It would therefore be reasonable to expect detailed answers.
The same situation often exists in the political arena.  In the British system, a would-be prime minister will typically have spent years in a senior ministerial post or in the shadow cabinet of the opposition party. So, yes, they should be able to talk details.
By contrast, our system and culture virtually guarantee that we elect amateurs as president of the United States. While circumstances will occasionally align to elect a George H.W. Bush or a Richard Nixon, both of whom served eight years as vice president, we're much more likely to elect governors or relatively junior U.S. Senators. Given our tendency to elect "outsiders" with little experience, it's not reasonable to expect a lot of nuance.
That's compounded by the nature of the campaigns themselves.  Most Americans prefer what Bush the Elder derided as "the vision thing."  Candidates are rewarded for bold, optimistic policy proposals.  Hope!  Change!  Make America Great Again! A New Beginning!  Getting too much into the weeds not only comes off as wonky but tamps down the enthusiasm.
Indeed, it's part of what's hampering Hillary Clinton's closing the deal. Partly, she's dour and not a natural politician.  And she's got a lot of baggage from her long career as Bill's sidekick.  But that's amplified by the fact that, having been inside the bubble for so long, she's fatalistic about the process and frustrated by bold pronouncements unlikely to get through our ossified system.
Furthermore, it's not clear how much detail matters.  In the aforementioned British system, the elected prime minister's policies will be enacted pretty much intact because they have unity of powers. In our system, a President Sanders would have to get his proposal through both Houses of Congress. Even in the unlikely case that he managed to turn both the House and Senate to Democratic control as he's elected, the implementing legislation would be very, very different from what was initially proposed. And even that would only cover the relatively broad outlines of the policy; the crucial implementing details would be left to various bureaucratic agencies.
I often get criticized in the comment section here for focusing too much on the horse race or candidate character and personality at the expense of policy. All of the above is why.  If we were electing our candidates based on their proposals, we could just score their white papers. We'd demand to know who they'd pick for key cabinet roles and the Supreme Court.  Instead, we put them through an eighteen-month-or-so gauntlet to test their temperament, judgment, and endurance. That's because, while the broad direction of their policy preferences matter, their character and fitness for office matter more.
That's also why, incidentally, I'd rather Sanders be elected than Clinton despite her being far closer to me in terms of policy preference. Ditto John Kasich over Ted Cruz, whose policies aren't radically different but temperaments are.