Bernie Sanders Gets More Aggressive, But It's Likely Too Little, Too Late
Bernie Sanders was more aggressive in last night's debate than he has been in the past, but it's likely too little, too late.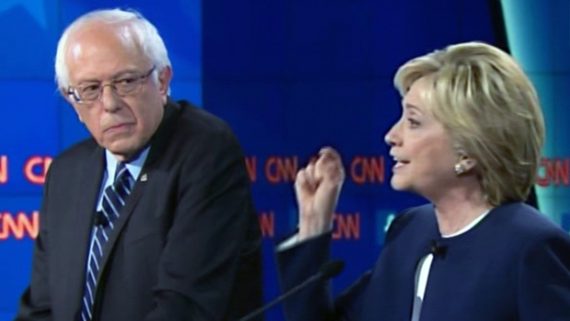 With the Democratic nomination for President becoming more elusive with each primary or caucus, even when he wins, Bernie Sanders was more aggressive than he has been in the past in last night's Democratic debate in Flint, Michigan:
FLINT, Mich. — Senator Bernie Sanders, anxious that the Democratic nomination is slipping away from him, launched a series of cutting and sarcastic attacks against Hillary Clinton over trade, welfare reform and Wall Street in a debate Sunday night that often felt like a war over Bill Clinton's legacy and the moderate Democratic policies of the 1990s.

Even Mrs. Clinton joined in the repudiation of her husband's 1994 crime bill and 1996 welfare law, which both disproportionately harmed African-Americans. Both she and Mr. Sanders are aggressively courting black voters in Michigan, Ohio and other racially diverse states that hold primaries over the next nine days, but Mr. Sanders has an urgent need to cut into Mrs. Clinton's support among African-Americans.

Mr. Sanders, who has fallen far behind Mrs. Clinton in their all-important race to accumulate delegates to clinch the party's nomination, has rarely been so aggressive. He portrayed Mrs. Clinton as an unapologetic champion of free trade for much of her career, in hopes of hurting her with Rust Belt Democrats. He tied her aggressively to the North American Free Trade Agreement, Mr. Clinton's signature trade policy, and to the Trans-Pacific Partnership, President Obama's 12-nation trade pact, which she supported as secretary of state but then denounced as a presidential candidate.

Mr. Sanders also attacked Mrs. Clinton's support of the federal Export-Import Bank, the credit agency that antigovernment populists on both sides have called an instrument of "corporate welfare," and he feigned amazement when she expressed criticism of some trade deals.

"Secretary Clinton has discovered religion on this issue, but it's a little bit too late," Mr. Sanders said. "I was on a picket line in the early 1990s against Nafta, because you didn't need a Ph.D. in economics to understand that American workers should not be forced to compete against people in Mexico making 25 cents an hour."

For the most part, Mrs. Clinton deftly parried her rival's arguments, deriding many of them and agreeing with a few, and at times interrupting Mr. Sanders in hopes of provoking a testy explosion.

Mr. Sanders grew visibly angry at times, though he was not as volatile as the Republican candidates have been in recent debates.

When he attacked Mrs. Clinton over what he called "the Wall Street bailout where some of your friends destroyed the economy," she tried to cut him off.

"Excuse me, I'm talking," he said.

After a brief dramatic pause, Mrs. Clinton said sharply, "If you're going to talk, tell the whole story."

"Let me tell my story and you tell yours," Mr. Sanders shot back.

Mrs. Clinton, who is focused on protecting her delegate lead, sought to stay positive, pointing to more salutary achievements from her husband's two terms.

"If we're going to talk about the 1990s, let's talk about 23 million new jobs — incomes went up for everybody, median African-American income went up 33 percent at the end of the '90s, and we lifted more people out of poverty than at any other time in recent history," she said.

The focus on the economic fortunes of African-Americans had a powerful setting in Sunday's debate: Flint, a city in the midst of a public health emergency over lead-tainted water, and a symbol of a middle class that rose to prosperity with the auto industry, but where 42 percent of the majority African-American population now lives below the poverty line. Mrs. Clinton came armed with a resonant retort to Mr. Sanders over his Wall Street attacks, reminding the Michigan audience that Mr. Sanders voted against the auto industry bailout and again calling him a "single issue" candidate too narrowly focused on Wall Street.

"If everybody had voted the way he did, I believe the auto industry would have collapsed, taking four million jobs with it," she said.

Mr. Sanders allowed that perhaps he was a single-issue candidate. "My one issue is trying to rebuild a disappearing middle class," he said.

The candidates also grew testy on gun control. When the father of a young girl injured in a recent shooting in nearby Kalamazoo asked what the candidates would do about gun control, Mrs. Clinton criticized Mr. Sanders. "Giving immunity to gun makers and sellers was a terrible mistake because it removed any accountability from the makers and the sellers," she said, referring to Mr. Sanders's position.

"Maybe I'm wrong, but what you're really talking about is people saying, let's end gun manufacturing in America," Mr. Sanders said of the immunity issue. "That's the implication of that and I don't agree with that."

When Mrs. Clinton pounced again, Mr. Sanders was terse: "Can I finish please? All right?"

More than she has in past debates, Mrs. Clinton sought to reach out to Mr. Sanders's supporters in hopes of uniting the factions of the Democratic Party in anticipation of a general election campaign.

Instead of looking away as Mr. Sanders spoke, as she often did in past debates, Mrs. Clinton watched him and nodded frequently as he talked about Flint. She colorfully agreed with him in the debate's opening moments when, after Mr. Sanders decried the water crisis, she said, "Amen to that." For the first time she echoed his call for the resignation of Gov. Rick Snyder of Michigan (or, alternatively, she said he should be recalled).

"I know the state of Michigan has a rainy-day fund for emergencies," Mrs. Clinton said. "It is raining lead in Flint."

But at Sunday's debate, Mr. Sanders struck some more aggressive notes on Flint than he had in the past, embracing Mrs. Clinton's call to have the Centers for Disease Control and Prevention evaluate the health of every adult and child in the city. "Federal government comes in, federal government acts," Mr. Sanders said.

Mrs. Clinton then sounded some tougher notes, saying that she would "have a full investigation to determine who knew what when" in the Environmental Protection Agency, and that "people should be fired." Mr. Sanders followed with an even sharper statement, saying, "President Sanders would fire anybody who knew about what was happening and did not act accordingly."
Sanders' new-found aggressiveness is interesting, because it is a marked contrast to the Bernie Sanders we saw when this race began. At the start, Sanders said that he was not going to attack his opponents, and prided himself on the fact that he had never run a "negative ad" during his political career, although it's admittedly easy to get away with being able to get away with a strategy like that when you're campaigning in a state like Vermont and you're already very well-known and popular. Instead of attacking his opponents, in the beginning Sanders concentrated his campaign on spreading his messages about income inequality and controlling Wall Street rather than taking on his principal opponent Hillary Clinton. Most famously, Sanders said during the very first Democratic debate that he was sick of hearing about Clinton's emails, and generally refused to attack her directly in any significant respect. While many observers suggested that refusing to attack Clinton was a mistake on Sanders part, for the most part it appeared to pay off as he rose in the polls, took the lead in New Hampshire prior to the state's primary, and closed the gap significantly in Iowa.
Since then, though, Sanders has not done well at all. While he did win in states such as New Hampshire, and has scored victories in several caucus states over the past month, Sanders has found himself blocked by Clinton's strong support among African-Americans to the point where he has been absolutely crushed in the majority of Democratic contests that have taken place so far and stands to be similarly crushed in upcoming primaries in Michigan, Mississippi, Ohio, Florida, North Carolina, and Illinois. As I noted yesterday, he is already so far behind in the delegate count that winning the nomination, or forcing a contested convention, would be difficult if not impossible, and either option is likely to become mathematically impossible in the very near future.
Given all of that, it is perhaps not surprising that Sanders has become more aggressive now, because his campaign is at the point where he's really got nothing left to lose. As I've said in the past, I think it was obvious that, in the beginning Sanders was running more to spread a message than to actually contest the nomination. At some point, though, that seems to have changed. Perhaps it was when he started to rise in the polls, perhaps it was the massively successful fundraising, or perhaps it was a combination of the two plus his campaign advisers whispering in his ear that winning wasn't as far out of the question as it appeared to be at first. In reality, of course, Sanders' chances of winning the nomination have never been very good. Notwithstanding the fact that he was doing well in states like Iowa and New Hampshire, the fact that Sanders completely failed to connect with traditional Democratic voting blocs meant that his chances were never as good as they seemed.
In any case, based on that belief, and likely combined with the realization that time is running out, Sanders has become more aggressive over the past month or so. He's become more eager to hit Clinton over her ties to Wall Street, for example, and has even seemingly shifted tone somewhat on the issue of Clinton's private email server. He regularly blasts Clinton for her Senate vote in favor of TARP, and continues to demand that she release the text of her speeches to various Wall Street firms in the years after he left the State Department. Clinton, for her part, has deflected these attacks, seemingly successfully given the fact that she is racking up win after win in the important Democratic primaries as opposed to the small caucuses that Sanders seems to be adept at winning. As a result, it seems as though Sanders' new aggressiveness is much too little, and far too late to stave off what now seems inevitable.
As for Clinton, she has already started shifting the message and focus of her campaign toward General Election themes, a sign that her campaign is not very worried about the threat posed by Sanders at this point. Given the numbers, this seems like a wise decision and, unless Sanders' new-found aggresiveness actually ends up hurting Clinton at the polls, it's unlikely that Clinton will give Sanders the battle that he wants, especially since it won't be long now before she won't have to worry about Bernie Sanders at all.