Time To Take Trump Seriously?
The buffoonish billionaire is tapping into something real.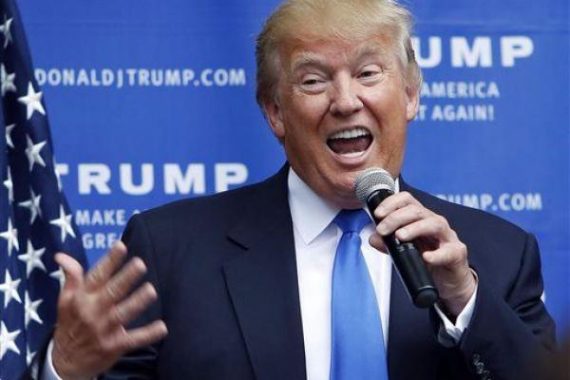 The buffoonish billionaire is tapping into something real.
Dave Weigel explains "Why Donald Trump makes sense to many voters — even some Democrats."
A few hours before Donald Trump's plane landed, 20 minutes south of where he would speak, people gathered outside the Flint Assembly Plant to take a peek into the past. Some of them were retired, reuniting with friends. All of them remembered how there used to be more to the place.

"I worked at Plant 36," said Jerry Hubbard, who retired in 2001, after outlasting his part of the vast "Buick City" complex that was dismantled as the auto jobs left. "It's all gone. It's all limestone. You can't rape a place like that. General Motors jobs made this place."

Only one presidential candidate seemed to care: Donald Trump. "A lot of what he says hits a chord with me," said Hubbard. "Immigration and jobs going to China — this area's really suffered from that. I just like somebody that stands up for what he speaks about."

Trump's rise and persistence as a presidential candidate has been credited to name recognition, to voter anger and to a specific contempt for the Republican Party establishment. But he is also the candidate talking most directly about the loss of manufacturing jobs to foreign countries.

In the Democratic race, Sen. Bernie Sanders (I-Vt.) has adopted a similar theme, but Trump's appeal here captured something that went beyond policy: a brew of impossible nostalgia coupled with a pledge to destroy other countries, most notably China, in negotiations. On Twitter, "Make America Great Again" is a goofy, meme-ready slogan, best displayed on ironic hats. There are places, such as Michigan, where it makes real sense.
Like the setup, the evidence presented is completely anecdotal. But it strikes me as rather persuasive.
[Gerald Woodruff, 65,] a sometimes Republican, was impressed by Trump. "I watched the debate," he said. "Fox singled him out in that opening question. They said they asked hard questions of all the candidates, but they went after him because he's touching a nerve. If Republicans can capitalize on that, they'll do pretty good."

What nerve was he touching, exactly?

"I think it's wrong for an American business to move their business out of the United States to keep from paying taxes, but keep us as a marketplace," Woodruff answered.

Nearly 3,000 people came to see Trump in Birch Run. Some of them had been there for the worst times. "I remember my dad in the late 1970s," said Holly Gaul, 58. "He was a journeyman electrician. With the things at the time that were going on with GM, he knew his profession was going to be gone. And it was."

There were jobs, sure, but not the kind people could live on. "Women my age are taking the McDonald's jobs that the high school kids used to get," Gaul said. "I've been waiting for a stronger president, somebody that I could look up to and respect again. He could stand up to those other countries. It's wrong when they can build furniture in China and ship it here cheaper than it costs us to build it here."

"Back when our economy took a dump, I had to go to Afghanistan," said Bob Parsons, 51. "I had to work there as a product relations manager, just to build our retirement back up. There were no jobs in Michigan to be had. They're not fair to what's coming over, as far as the trade goes. For example, 100,000 cars come over here; 5,000 go over there. I like what he says: If they don't let us send them there, we don't take their stuff."

Parsons's wife, Brenda, who'd been nodding her head, interjected to explain why she trusted Trump.

"He's a businessman," she said. "Being a businessman, he knows the ways around. I don't think he'd go to Congress and ask. I think he'd just do it."

Bob Parsons explained that Trump could ignore lobbyists. It was lobbyists, hungry to sell out America for a buck, who weakened the trade deals, he said.

"You wouldn't believe how many young kids I met in Afghanistan who have their degrees but can't find jobs at home," he said. "I compare Donald Trump to Ronald Reagan. He lets people know what he's going to do, not what to ask for."

When he hit the stage, Trump delivered. He went after China. He played out one of his favorite scenarios, in which he works the Oval Office phones, ignoring the president of Ford – and his lobbyists – and wages tax war on his company for shipping jobs to Mexico.

"Ford is building a $2.5 billion plant in Mexico," he said.

Booooo!

"I'll actually give them a good idea. Why don't we just let the illegals drive the cars and trucks right into our country?"

Yaaaaaay!

"I would say, the deal is not going to be approved, I won't allow it. I want that plant in the United States, preferably here. So then I only have one question: Do they move the plant to the United States the same day or a day later?"

The crowd burst into fresh applause.

One woman could be heard shouting: "Detroit!"
Now, the notion that the president of the United States has anything like this sort of power—or, indeed, that we'd want him to—is absurd. Trump's entire candidacy displays a stunning ignorance of how American politics works. But the notion that someone who isn't a "politician" but a "businessman" who "knows how to get things done" naturally resonates with people like this. And there are a lot of them.
I can't imagine that Trump's act won't wear thin at some point. But, to the extent that he's this cycle's Ross Perot, it behooves other candidates to pay attention. Not simply because he might mount an independent run and skew the outcome of the election but because he's pointing to legitimate grievances among voters that deserve real attention.
Republicans seemed to run everything outside of Flint. They were the handy reason why President Obama had disappointed people; they were the people elected in 2010 to restructure Michigan's economy. Gov. Rick Snyder, who became wealthy as a computer company executive, had never sought office before that year. In an interview, he tried to be polite about Trump.

"We have a broken political culture," he said. "I'm upfront about that." And despite it, Michigan was marching out of the recession with new manufacturing jobs. The one-industry towns like Flint were diversifying. People understood that they could no longer walk out of high school and start a career, so they were getting trained, he said.

"That could happen in high school, through career training," Snyder said. "We need to redefine skilled trades as being much broader than what they've been. If you're a welder, you can get a job in any corner of this state."

Snyder's calm, optimistic theory of the case is shared by some of the GOP presidential candidates. Wisconsin Gov. Scott Walker, like Snyder, signed a right-to-work bill, which was, among other things, a declaration that organized labor would not build the new economy. Sen. Marco Rubio (Fla.) has framed the election as a lunge toward the future, away from longing for jobs that no longer make sense. Former Florida governor Jeb Bush's "right to rise" concept assumes more legal immigrants sharing a country with native-born Americans, as does Snyder.

"On average," Snyder said of immigrants, "they create 2 1/2 jobs for every position they hold."
That's less likely to resonate than Trump's populist appeal to blaming the Other for people's woes but it has the virtue of being honest. It'll never make sense to employ the vast middle of the society doing un- or semi-skilled labor that could easily be outsourced to developing world peasants or domestic robots. But it does make sense to figure out how to keep American factories that would be competitive here if not for disparate tax and regulatory burdens. And it's way past time to restructure a primary and secondary education system designed for the early industrial age and to move past the "everyone needs to go to college" mindset. Certainly, those with the aptitude and desire to pursue the professions, science, and the arts ought have the opportunity to do so. But we need to stop stigmatizing skilled tradesmen and craftsman as a path only for those who can't hack it in school.
[Dayne Walling, 41,] had grown up in Flint, moved back in 2006 with an armful of degrees, lost a race for mayor in 2007, ran again and won the nonpartisan office in 2009.

"When I was a kid, Flint was already in crisis with the closure of General Motors," he said over coffee. "My early memories of the community are of one struggling to revive and define itself. Those were the years that really shaped me."

Chryslers and Pontiacs and T-Birds rolled by as Walling, a Democrat, described how fallacious Trump's pitch was. Emotional, sure – but pointless.

"There's a very strong 'Made in the USA' movement still in this area," he said. "You'll see bumper stickers that say: 'Want to lose your job? Keep buying foreign.' People understand that if there aren't middle-class manufacturing jobs from American manufacturing companies, you end up with cheap foreign imports and low-paying service jobs."

When his cup was empty, Walling got into his 2006 Chevy Impala, with 145,242 miles on the odometer and a Hillary Clinton sticker on the bumper. He navigated around the nostalgia party, past one old factory site that had been turned into townhouses, and into Buick City. The concrete stretched into the deep horizon, broken up by trees struggling through the cracks. Every once in a while, a small factory with a few hundred, or few dozen, employees jutted out.

"Flint's plan is to add smaller companies that can take care of our workforce," Walling said.

Trump's pitch – the super-president personally yanking jobs back into the United States, into Michigan – is more romantic than any of this. And it's not completely wrong. Walling's been waiting for the federal government to create some version of "enterprise zones," the tax-free areas meant to stimulate business in blighted cities. But nobody's been saying it. There's a gap in the politics as people understand them.

In the summer of 2015, it was being filled by Donald Trump.
The gaps exists because neither party is doing a good job of addressing the issue. The GOP is stuck in the 1970s and 1980s, where high taxes and over-regulation were indeed major obstacles to dealing with a globalizing world; except perhaps at the margins, we've hit or gone past the point of diminishing returns on those issues. Barack Obama tapped into the concerns quite well in 2008 but hasn't fundamentally changed the landscape other than on the margins with healthcare. Many even in his own party see him as too tied to Wall Street and big business and Clinton is probably even moreso, which is why Bernie Sanders is resonating so well and many still pine for Elizabeth Warren.
Will Sanders push Clinton into more populist territory? The college subsidy plan unveiled last week seems to be an attempt, although one more likely to appeal to the upper middle class than blue collar voters. And I'm dubious that she'll ever be able to connect to ordinary Americans in the way her husband did.
Can Bush, Walker, or Rubio step in here? They're trying to some extent but aren't resonating, at least yet.
While I still can't see Trump getting the nomination, he's likely to stick around for quite some time if someone doesn't step in and offer a more credible message to the voters that he's reaching. So far, it's not clear who that might be.
UPDATE:  Maybe Joe Biden?