Joe Biden Casually Mulling a Sketchy, Preliminary Plan for a Tentative White House Run, Some Speculate
The POLITICO gang report that a "Joe Biden strategy for [a] White House run [is] taking shape."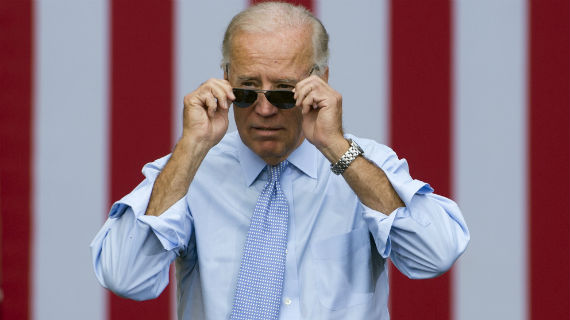 The POLITICO gang report that a "Joe Biden strategy for [a] White House run [is] taking shape."
With his blessing, confidants to Vice President Joe Biden have begun strategizing about travel to early primary states and identified potential donors who could bankroll a campaign even as he remains undecided about whether to pull the trigger on a late-entry 2016 run for president.

The moves are a sign that after months of speculation, Biden is taking a few significant if small steps toward a presidential campaign, according to sources familiar with the discussions. Biden's strategy, the sources say, would be to focus on South Carolina while almost writing off New Hampshire, where both Hillary Clinton and Bernie Sanders have considerable footholds.
Tell me more, POLITICO gang!
Biden proxies have also homed in on rich supporters who could help finance a run through a super PAC — in particular, Baltimore Orioles owner Peter Angelos, a past top donor to both Joe and Beau Biden, whom Democratic operatives noted has not yet given to the Hillary Clinton-backing Priorities USA Action despite previous support for the former secretary of state. Biden allies also have set their sights on Geocities founder and tech investor David Bohnett, a longtime Democratic donor. Angelos didn't return a call for comment.
While it's really late in the game for anyone to enter at this point, Biden is one candidate who wouldn't have trouble raising enough money. Still, he's way behind the Clinton juggernaut in that regard and billionaires typically don't like to give away piles of money on a longshot.
News reports in recent days have focused on a handful of more casual conversations Biden had while on vacation earlier this week on Kiawah Island in South Carolina. Meanwhile, there is significant operational planning going on around him.
That right there  is some really vague reporting.
He still has not set a time frame for a final decision — though it could come within weeks, or he may yet stretch the "end of summer" deadline he talked about earlier this year.
Traditionally, summer ends on Labor Day. By the calendar, it ends September 20. Either way, he's going to have to make a decision soon barring the wheels coming off the Clinton campaign.
Biden's aware of the pressure to make a decision, the sources say.
He's been a highly successful politician for four decades. Yeah, he's aware of the obvious.
The final call — as well as a discussion on particulars, like chatter about making a pledge to limit a presidency to one term — is expected to be made at a meeting of the vice president's closest circle of advisers at his home in Wilmington, Delaware; they are likely to include chief of staff Steve Ricchetti, Mike Donilon, former Sen. Ted Kaufman, Larry Rasky and Tom Donilon, along with Biden's son, Hunter, and his oldest and closest political adviser, his sister Valerie Biden Owens. Ricchetti and Mike Donilon have been involved with many of the discussions going on already. Notably, Ron Klain — the former Biden chief of staff who's attended meetings like these in the past — is already working with the Clinton campaign on debate preparations.
I'm not sure what that means. Why would someone be working on debate preparations at this juncture? Wouldn't it be more effective to have Clinton just as surprised as everyone else when Biden parachutes into the race?
"People dismissed it for reasons I don't really truly understand, but he has a core following of people," said one former Biden staffer who is in contact with the vice president and his team. "He has support out in the community. He relates to people."

Meanwhile, Biden's circle has identified what they see as their potential voting blocs: Reagan Democrats, Jews, an LGBT base that largely credits him with pushing President Barack Obama into supporting gay marriage, and Rust Belt voters. They believe he'll benefit from better stump skills than any of the other candidates running.
That's a pretty low bar, actually. Aside from Trump, who's both resonating with Rust Belt voters and Reagan Democrats and a clown, it's a pretty uninspiring group of candidates so far. Plenty, including Clinton, have the resume for the job but nobody—again, with the sad exception of Trump—seems to be getting anyone excited.
And there's an emerging primary state calculus: while Clinton and Sanders duke it out in New Hampshire, where Biden barely played in either of his two previous presidential runs, his main focus would be on South Carolina — where he could draw on his connections to former Sen. Fritz Hollings, former state Democratic chair Dick Harpootlian and black voters, as well as the relationships of his 2012 political director Trip King, who lives in Columbia and was his state director for the 2008 run.

South Carolina, goes the thinking, would be the first real open primary and the first with a diverse electorate, and that would power the argument they're making about Biden's appeal to broader constituencies.

"If he decides to go, he will win in South Carolina," said Columbia-area state Rep. James Smith. "It's not happened quite overnight, but we've got very, very strong support from all across South Carolina, from all communities — faith, business, elected and community leaders who have been long-standing Biden supporters and are ready when he and [wife] Jill decide they're ready to make a run for it."

After being in touch with Biden's inner circle through the week, Smith said, "I think he's getting closer to saying yes, I really do."

South Carolina supporters feel they'll be able to flip the switch on the organization almost overnight if Biden gets in.

A Biden campaign would also lean hard into Nevada, drawing on his decades of ties to labor.
He's essentially going with the strategy that Fred Thompson and Rudy Giuliani used so effectively in their runs for the Republican nomination?
The anxiety over Clinton's failure to catch fire so far is less a factor than Biden's own emerging view that passing on the 2016 race would be another loss to compound on the death of his son earlier this year, the sources said. And if he does go forward with the run, the Biden orbit is counting on tapping into an Obama-specific base reenergized by the president's recent run of victories — people who will be more interested, they think, in an extension of Obama's presidency through Biden than what they'd view as more of a Clinton restoration by a candidate that many die-hard Obama-ites still view with suspicion lingering from the 2008 primary.
This is really the most interesting and compelling part of the article. Biden really does think it would be a failure if he ends his career not having been president and his late son really wanted him to give it another go. Given the impact that Bernie Sanders has had on the race, it's clear that there's a genuine hunger out there for somebody other than Clinton. And, as no one can deny, Biden is someone. And not Clinton.
Biden would be arguably the most qualified candidate in the race in terms of genuine experience. And he'd be far and away the most likable.  But he left his first run for the White House—way back in 1988—in disgrace and was an also-ran in his second bid two decades later. It would be implausible, indeed, were he to enter the race months after the prohibitive frontrunner and steal the nomination at this stage.