Who Will Be Rahm's Replacement ?
With Rahm Emanuel apparently set to leave the White House to run for Mayor of Chicago, speculation is turning to who may replace him in what some have called the nation's de facto Prime Minister-ship.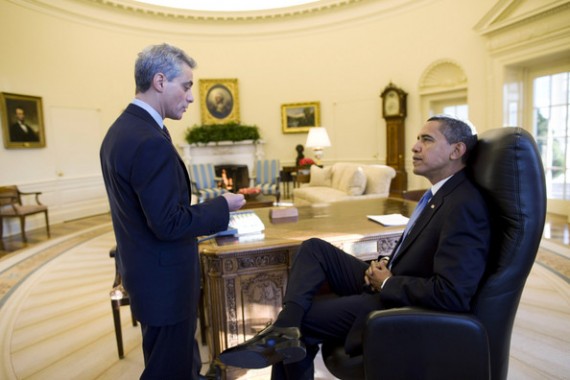 With yesterday's news that Chicago Mayor Richard Daley would not seek re-election and the virtual certainty that Chief of Staff Rahm Emanuel will leave the White House to run for an office he's been interested in for years, speculation is turning to who will replace him in what has been described as the second most powerful job in Washington:
Amid mounting signs that Rahm Emanuel will leave the White House to run for mayor in Chicago, Democratic insiders say President Barack Obama is likely to choose a new chief of staff who's already in his orbit but has experience with previous administrations.

The goal: to maintain the president's comfort level while bringing in an outside perspective that would help mitigate the insularity of the current West Wing.

The most likely candidate may be Tom Donilon, a deputy national security adviser whose political experience goes back to the Carter-Mondale campaign. Donilon earned his chops in government as the first assistant secretary of state for public affairs under President Bill Clinton. His wife, Cathy Russell, is chief of staff to Dr. Jill Biden.

Another possible prospect is Ron Klain, chief of staff to Vice President Joe Biden, who has served in a string of sensitive positions, including chief of staff to Vice President Al Gore during the 1996 reelection campaign.

(…)

In addition to Klain, other internal possibilities to replace Emanuel are White House senior advisers Valerie Jarrett and Pete Rouse and National Security Council chief of staff Denis McDonough.

Also on the handicappers' lists are Bill Clinton's last three chiefs of staff: Leon Panetta, now director of the CIA; Erskine Bowles, now co-chairman of Obama's deficit commission; and Center for American Progress president John Podesta, who told Nevada journalist Jon Ralston this week that he is "not going back to the White House."

A wild card could be a Democratic officeholder, such as outgoing Pennsylvania Gov. Ed Rendell or Sen. Mark Warner of Virginia. Several well-connected Democrats also mentioned former Senate Democratic Leader Tom Daschle, who withdrew as Obama's nominee for secretary of Health and Human Services because of tax problems.

If Obama wants an outsider who is well known to official Washington, he could look at someone like Tom Nides, chief operating office of Morgan Stanley and chairman of the Securities Industry and Financial Markets Association, who is an eight-year veteran of Capitol Hill.
What will be interesting to see is whether Obama uses Emanuel's departure as an opportunity to shake up the entire West Wing staff, something that would seem to be harder to accomplish credibly if he elevates an insider rather than bringing in someone from outside the White House. Rendell, for example, would seem to be a good choice as someone who would shake things up, but the downside is that he doesn't seem to have the tempermeant required for a Chief of Staff, not to mention the fact that he may be perceived as being too connected to the Clintons.
In either case, it would appear that Emanuel doesn't have much time to make a decision, and make a move if he does indeed want to run for Daley's seat:
With Chicago Mayor Richard Daley's announcement Tuesday that he won't run for a sixth full term, Emanuel must quickly decide if he wants to compete for his dream job, a move that could divert his attention from the ominous political storm Obama is about to face. Several political analysts said if Emanuel wants to run, he probably has to send a signal to the Chicago political establishment before the Nov. 2 midterms.

"He'd have to start putting together an organization almost immediately," said Larry Bennett, a political science professor at DePaul University.

Some even suggest he might have to leave his White House job before the November elections. The Chicago primary is on Feb. 22, but candidates must file 12,500 valid signatures by Nov. 22 to qualify.

With deep roots in Chicago politics, a national profile and high name recognition, Emanuel would almost certainly be a leading candidate to replace Daley, who has held the mayor's office for 21 years. No matter what course Emanuel decides to take, he would have to start rounding up support before the national elections if he's serious about the race. "I assume there would have to be winks and nods and pinches," the professor said.

Chicago political analysts said the election – the first competitive race in more than two decades – could be a free-for-all, with at least five and perhaps 10 or more hopefuls entering the field. The election will also be the city's first of note since a 1995 law switching to a non-partisan, open primary with a runoff if no candidate gets 50 percent of the vote.

No one will claim 50 percent of the vote, "not even Rahm," said Northwestern political lecturer Donald Gordon. "This is wide open now….Even if Rahm does run, I still think you're still going to see four or five good candidates out there."
Some are suggesting that this means that Emanuel will have to make a decision, and a departure from Washington, prior to the November elections. Which means that the President would have to have a replacement in place shortly thereafter.