Beyond "Liberal" And "Conservative": A New Political Typology
The Pew Center is out with a new political typology.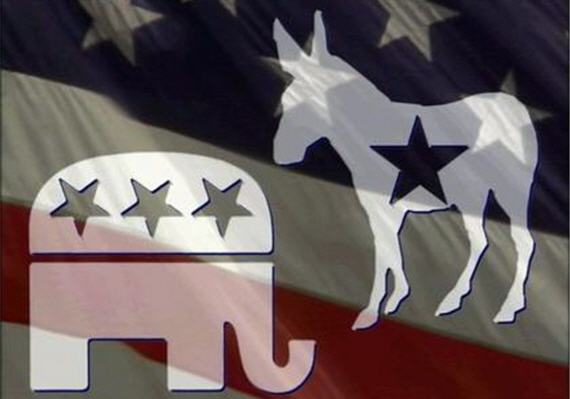 The Pew Research Center has developed what it calls a new political typology in order to more accurately classify where Americans stand politically:
The most visible shift in the political landscape since Pew Research's previous political typology in early 2005 is the emergence of a single bloc of across-the-board conservatives. The long-standing divide between economic, pro-business conservatives and social conservatives has blurred. Today, Staunch Conservatives take extremely conservative positions on nearly all issues – on the size and role of government, on economics, foreign policy, social issues and moral concerns. Most agree with the Tea Party and even more very strongly disapprove of Barack Obama's job performance. A second core group of Republicans – Main Street Republicans – also is conservative, but less consistently so.

On the left, Solid Liberals express diametrically opposing views from the Staunch Conservatives on virtually every issue. While Solid Liberals are predominantly white, minorities make up greater shares of New Coalition Democrats – who include nearly equal numbers 0f whites, African Americans and Hispanics – and Hard-Pressed Democrats, who are about a third African American. Unlike Solid Liberals, both of these last two groups are highly religious and socially conservative. New Coalition Democrats are distinguished by their upbeat attitudes in the face of economic struggles.

Independents have played a determinative role in the last three national elections. But the three groups in the center of the political typology have very little in common, aside from their avoidance of partisan labels. Libertarians and Post-Moderns are largely white, well-educated and affluent. They also share a relatively secular outlook on some social issues, including homosexuality and abortion. But Republican-oriented Libertarians are far more critical of government, less supportive of environmental regulations, and more supportive of business than are Post-Moderns, most of whom lean Democratic.

Disaffecteds, the other main group of independents, are financially stressed and cynical about politics. Most lean to the Republican Party, though they differ from the core Republican groups in their support for increased government aid to the poor. Another group in the center, Bystanders, largely consign themselves to the political sidelines and for the most part are not included in this analysis.
Based on its polling here's how Pew says these various groups break down as a percentage of the population: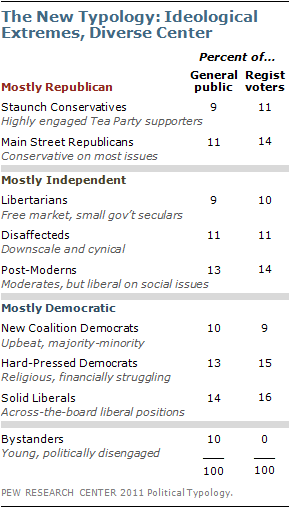 Not surprisingly, the survey also finds that the divide between the parties over the issue of the role of government has deepened in recent years:
The new typology finds a deep and continuing divide between the two parties, as well as differences within both partisan coalitions. But the nature of the partisan divide has changed substantially over time.

More than in the recent past, attitudes about government separate Democrats from Republicans, and it is these beliefs that are most correlated with political preferences looking ahead to 2012. In 2005, at the height of the Iraq war and shortly after an election in which national security was a dominant issue, opinions about assertiveness in foreign affairs almost completely distinguished Democrats from Republicans. Partisan divisions over national security remain, but in an era when the public's focus is more inward-looking, they are less pronounced.
Additionally, there seems to be one thing that most strongly unites the various parts of the Republican coalition, and it isn't adherence to a core set of principles:
The survey suggests that while the Tea Party is a galvanizing force on the right, strong disapproval of Barack Obama is an even more powerful unifying factor among fervent conservatives. No fewer than 84% of Staunch Conservatives strongly disapprove of Obama's job performance and 70% rate him very unfavorably personally. Ardent support for Obama on the left is no match for this – 64% of Solid Liberals strongly approve of him, and 45% rate him very favorably.
On the whole, Pew seems to have developed a fairly accurate description of the electorate. The names don't matter so much as the rather obvious fact that the labels "liberal," "conservative," and "moderate/independent" simply aren't sufficient to describe the political ideology of everyone in the country. Additionally, as Bruce McQuain notes, the survey itself is conformation of the fact that both political parties need to find ways to appeal to the political "middle" in order to win elections, however that political middle is made up disparate groups itself: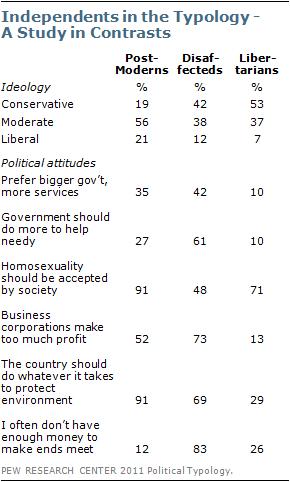 Quite obviously, the "Libertarians," and a good portion of the "Disaffecteds" seem to hold attitudes and opinions that would more naturally incline them to the right and the GOP as long as the right doesn't over-emphasize social issues like homosexuality. The "Post-Moderns" are a more difficult bunch and, while they seem to describe their politics as mostly "Moderate," they seem like a group that would by more inclined to look left-ward for politicians to support.
One area of concern for Republicans, though, is the fact that a good part of their coalition seems to be older, and much less diverse: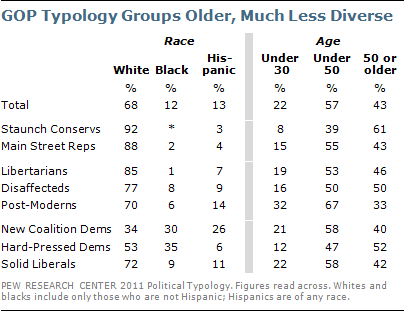 As the nation becomes more diverse, and those older voters die off, the GOP could find itself facing some serious problems. For example, Hispanics, the fastest growing minority group int he nation, comprise only 7% of the core GOP groups and 16% of the GOP-leaning Independent groups. If those numbers continue into the future, the GOP is likely to find itself in trouble both nationwide and in states with large and growing Hispanic populations.
There's much more at the link and in the report itself (PDF) to entertain the political geeks out there. Additionally, you can take a 20 question quiz to see which of the eight groups you fit into. For me, not surprisingly, it was the Libertarians. Feel free to put your own answers in the comments.