The Divide Within Our Parties is Almost as Wide as that Between Them
Pew's new typology shows the diversity of both US political parties.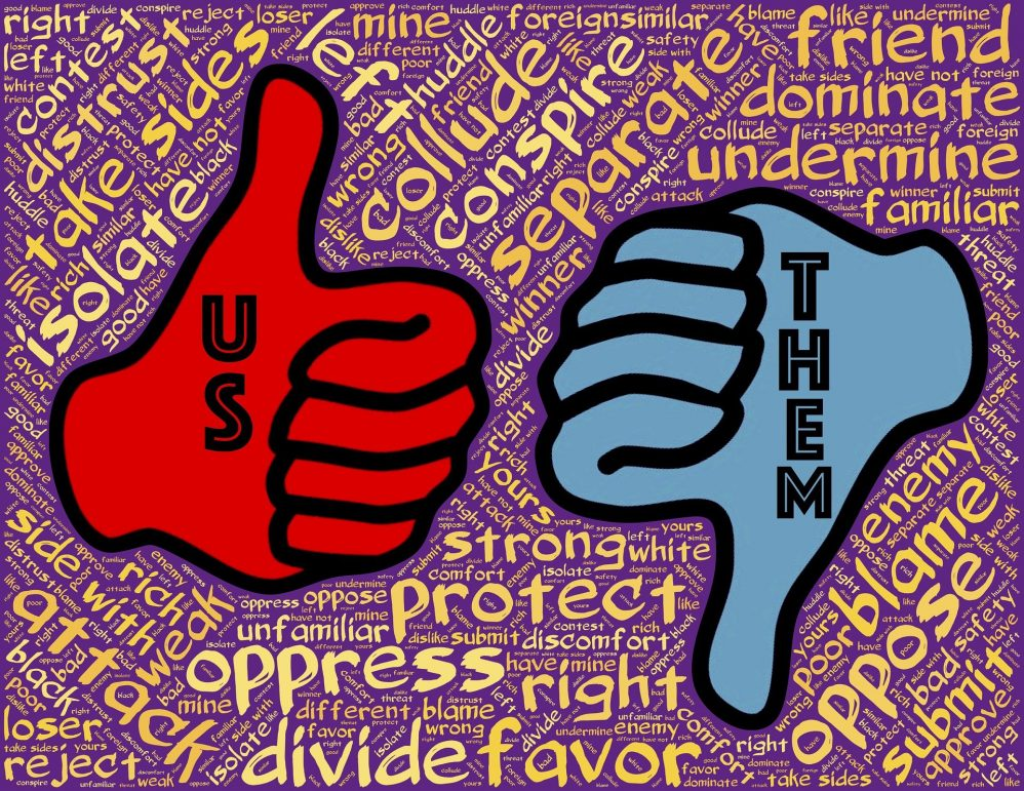 Dave Schuler points me to Pew's latest update to their political typology, the eighth revision to a decades-long project derived from their American Trends Panel. The premise:
Partisan polarization remains the dominant, seemingly unalterable condition of American politics. Republicans and Democrats agree on very little – and when they do, it often is in the shared belief that they have little in common.

Yet the gulf that separates Republicans and Democrats sometimes obscures the divisions and diversity of views that exist within both partisan coalitions – and the fact that many Americans do not fit easily into either one.

Republicans are divided on some principles long associated with the GOP: an affinity for businesses and corporations, support for low taxes and opposition to abortion. Democrats face substantial internal differences as well – some that are long-standing, such as on the importance of religion in society, others more recent. For example, while Democrats widely share the goal of combating racial inequality in the United States, they differ on whether systemic change is required to achieve that goal.

These intraparty disagreements present multiple challenges for both parties: They complicate the already difficult task of governing in a divided nation. In addition, to succeed politically, the parties must maintain the loyalty of highly politically engaged, more ideological voters, while also attracting support among less engaged voters – many of them younger – with weaker partisan ties.

Pew Research Center's new political typology provides a road map to today's fractured political landscape. It segments the public into nine distinct groups, based on an analysis of their attitudes and values. The study is primarily based on a survey of 10,221 adults conducted July 8-18, 2021; it also draws from several additional interviews with these respondents conducted since January 2020.
Graphically, it looks like this: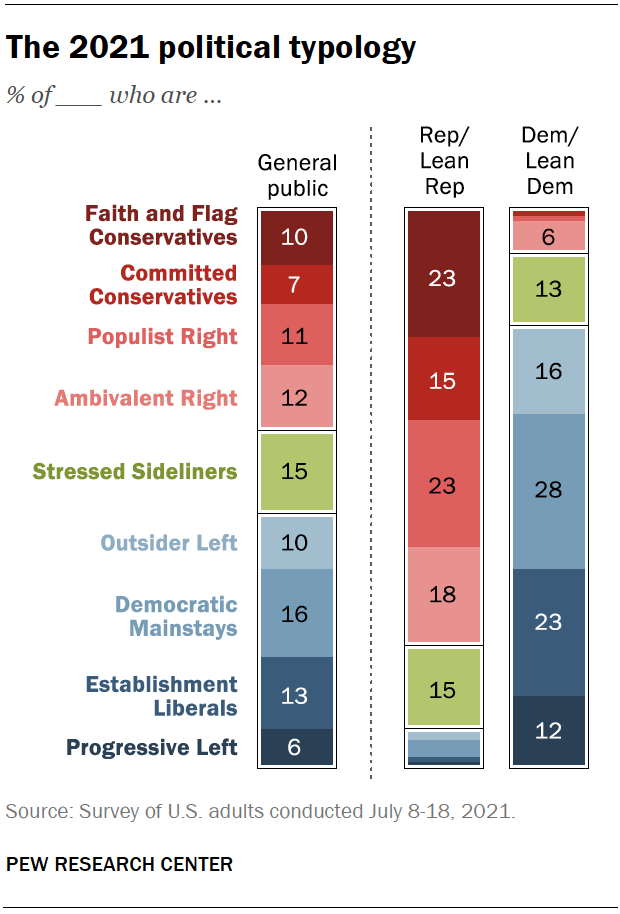 It's shockingly hard to find a detailed breakdown of what each of these groups mean but here's a very short summary:
The four Democratic-oriented typology groups highlight the party's racial and ethnic diversity, as well as the unwieldy nature of the current Democratic coalition. (For complete descriptions of all nine typology groups see Chapters 3-11; for profiles of the Democratic and Republican coalitions see Chapters 1 and 2 of this report.)

They include two very different groups of liberal Democrats: Progressive Left and Establishment Liberals. Progressive Left, the only majority White, non-Hispanic group of Democrats, have very liberal views on virtually every issue and support far-reaching changes to address racial injustice and expand the social safety net. Establishment Liberals, while just as liberal in many ways as Progressive Left, are far less persuaded of the need for sweeping change.

Two other Democratic-aligned groups could not be more different from each other, both demographically and in their relationship to the party. Democratic Mainstays, the largest Democratic-oriented group, as well as the oldest on average, are unshakeable Democratic loyalists and have a moderate tilt on some issues. Outsider Left, the youngest typology group, voted overwhelmingly for Joe Biden a year ago and are very liberal in most of their views, but they are deeply frustrated with the political system – including the Democratic Party and its leaders.

The four Republican-oriented groups include three groups of conservatives: Faith and Flag Conservatives are intensely conservative in all realms; they are far more likely than all other typology groups to say government policies should support religious values and that compromise in politics is just "selling out on what you believe in." Committed Conservatives also express conservative views across the board, but with a somewhat softer edge, particularly on issues of immigration and America's place in the world. Populist Right, who have less formal education than most other typology groups and are among the most likely to live in rural areas, are highly critical of both immigrants and major U.S. corporations.

Ambivalent Right, the youngest and least conservative GOP-aligned group, hold conservative views about the size of government, the economic system and issues of race and gender. But they are the only group on the political right in which majorities favor legal abortion and say marijuana should be legal for recreational and medical use. They are also distinct in their views about Donald Trump – while a majority voted for him in 2020, most say they would prefer he not continue to be a major political figure.

The only typology group without a clear partisan orientation – Stressed Sideliners – also is the group with the lowest level of political engagement. Stressed Sideliners, who make up 15% of the public but constituted just 10% of voters in 2020, have a mix of conservative and liberal views but are largely defined by their minimal interest in politics.
I've taken the quiz and it places me in the Ambivalent Right, which makes some sense given that I spent decades voting Republican but have become a reluctant Democratic voter the last two presidential cycles. It's amusing, though, that, having just turned 56, I'm aligned with the youngest group. But, frankly, I'm dubious of the validity of the quiz, given that it's mostly binary and my actual views on most of the questions are more complex than the options provided allowed.
Just reading the short descriptions, I don't really fit into any of the groups. Dave, whose politics are even harder to pin down than mine, has a similar reaction:
After reading their descriptions I don't feel that I fit comfortably into any of those groups. My political views have been aptly characterized as "eclectic". I don't fit the profile of "Stressed Sideliners" although I have much in common with them and I have some basic disagreements with with "Democratic Mainstays" although I have much in common with them as well. My views are even more different from the other groups.
A more detailed description of the Ambivalent Right shows my, well, ambivalence to the category.
On issues ranging from the size of the federal government to views about business, gender and race, Ambivalent Right hold many views that are largely consistent with core conservative values. Yet they also hold more moderate stances on several social issues and differ from some other segments of the GOP coalition in taking a more internationalist view of foreign policy and a less restrictive position on immigration.

Ambivalent Right are a GOP-leaning group as a whole – 68% identify as or lean Republican – and they make up a substantial share of all Republicans and GOP leaners (18%). But this group also includes a significant number of Democrats: A quarter of Ambivalent Right either identify with or lean toward the Democratic Party, and a similar share (25%) voted for Joe Biden in the 2020 presidential election.
So, potentially me. I'm definitely more internationalist and pro-immigration than most of the modern GOP but more moderate on social issues than most of the Democratic leadership.
With 63% of Ambivalent Right adults under the age of 50, they are substantially younger than other Republican-oriented groups. About two-thirds (65%) are White, 17% are Hispanic, 8% are Black and 5% are Asian, making this group more racially and ethnically diverse than other GOP coalition groups.
So, I'm white and, while over 50, not by that much. And I'm much more engaged in a reexamination of my assumptions than most people my age by virtue of what I do for a living and the constant dialogue of running a political blog for nearly two decades.
Ambivalent Right differ from other GOP-aligned groups with their support for legal abortion and less negative views of the impact of same-sex marriage. They also are distinct from other Republican-oriented groups in their views of Donald Trump. Whereas large majorities of each of the other Republican-oriented groups say they feel warmly toward Trump, Ambivalent Right are somewhat more likely to say they feel coldly toward the former president (46%) than warmly (34%). And most (63%) would not like to see Trump continue to be a major national political figure for many years to come.
I'm much more ambivalent about abortion than hard-core partisans of either side but tend to think it should be legal, especially early in the pregnancy. And I'm decidedly anti-Trump.
Ambivalent Right have also largely rejected the unsubstantiated claim from Trump and others that Trump was the legitimate winner of the 2020 presidential election. Roughly six-in-ten say that Biden definitely or probably received the most votes cast by eligible voters in enough states to win the 2020 election – more than double the share of the Ambivalent Right who voted for Biden, and far higher than the shares in other Republican-aligned groups.
Also me.
Ambivalent Right do not feel very warmly toward either Republicans or Democrats. On a "feeling thermometer" ranging from 0-100, where 100 represents the warmest feelings and 0 represents the coldest feelings, Ambivalent Right give Republicans an average rating of 43. Ambivalent Right are cooler toward Democrats, with an average rating of 34. While some of their coolness toward the GOP reflects that 25% of this group are Democrats and Democratic leaners, even Ambivalent Right who identify with or lean to the GOP give Republicans an average feeling thermometer rating of 49, similar to ratings among the group as a whole; the average rating of Democrats (30) is also similar.
I don't really know how to answer these questions but gave Dems a 40 and Republicans a 30. I could answer that differently a week from now, though, and am not really sure what it means.
Ambivalent Right are less politically engaged than groups with stronger partisan attachments. About half of eligible Ambivalent Right (55%) voted in the 2020 election, 11 percentage points lower than the share of all adult citizens who voted. Ambivalent Right are also less likely than most other groups to say they follow what's going on in government and politics most of the time.
That, of course, is my biggest departure. I'm ambivalent about the options on offer but more engaged than most normal people—by quite a lot—and haven't missed voting in a national election since becoming eligible almost 40 years ago.
On core issues related to the size and role of government, Ambivalent Right hold views that are traditionally associated with the GOP: Most (63%) say that government regulation of business usually does more harm than good, and nearly three-quarters (73%) prefer a smaller government providing fewer services to a bigger government providing more services.
I tend toward less regulation and more services at this point but it really depends on the issue.
They are also somewhat less religiously affiliated: 27% are religiously unaffiliated, compared with 20% of Populist Right, 18% of Committed Conservatives and just 6% of Faith and Flag Conservatives.
Even when I was a much stronger Republican partisan, I was not religious.
They are similar to the general population on both household income and education: 28% live in lower-income households (compared with 31% of all U.S. adults), 48% live in middle-income households (vs. 47% of all adults) and 19% live in upper-income households (vs. 17% of all adults). About a third (35%) have a college degree, roughly the same share as among the adult population overall (32%).
I'm not sure where middle- and upper-income are on their scales, considering that under 50 is "young." And I do have a college degree or three.
Ambivalent Right are less likely than other Republican-oriented groups to turn to Fox News for their political news. Half report getting news from Fox News over the course of a week, compared with at least six-in-ten or more in each of the other Republican-oriented groups.
Also me.
So, considering that the categorization is based on a quiz that I took in less than two minutes and where I could have gone either way on at least a couple of questions, not too bad.
Dave also observes,
I do wonder if the members of the Progressive Left who certainly seem to have the whip hand in crafting federal Democratic policy these days recognize what a small proportion of the American people they comprise? I suspect that either they don't care or believe against all evidence that there are many, many more members of of their group out there than actually exist.
But, of course, that's true of the leadership of both parties. Indeed, if one adds Faith and Flag Conservatives, Committed Conservatives, and the Populist Right together, they account for only 28 percent of Americans. And, while I would say that Committed Conservatives seem to predominate amount policymakers, the Populist Right, representing only 11 percent of the country, has a de facto veto power on candidate selection.