Southerners Not Happy to Have Lost Civil War
So, some bright people are surprised at new polling showing that a significant minority of Southerners have not enthusiastically embraced their ancestors' loss in the Civil War.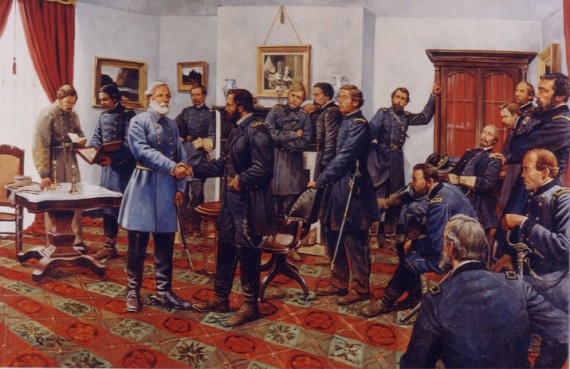 So, some bright people are surprised at new polling showing that a significant minority of Southerners have not enthusiastically embraced their ancestors' loss in the Civil War.
The Civil War may have come to a close almost 150 years ago but Republicans in three Southern states still aren't sure its outcome was a good thing. Less than half of GOP voters in Georgia, North Carolina, and Mississippi are glad that the North won the Civil War:

-In Georgia 47% of Republicans are content with the Union victory, while 31% wish the South had won. Democrats (58/17) and independents (54/19) are both strongly supportive of the North, making the overall numbers 53/23.

-In North Carolina GOP voters are almost evenly divided on the outcome of the war with 35% glad for the North's victory, 33% ruing the South's loss, and 32% taking neither side. Democrats (55/15) and independents (57/14) have similar numbers to Georgia but due to the greater ambivalence of Republicans about the northern victory, overall less than half of Tar Heel voters (48%) are glad the Union won to 21% who wish the Confederacy had.

-In Mississippi no group of the electorate seems all that enthused about the North having won. Republicans, by a 38/21 margin, outright wish the South had won. Democrats (39/22) and independents (49/15) side with the North but compared to those voter groups in North Carolina and Georgia they're pretty ambivalent. Overall just 34% of voters in the state are glad the Union prevailed to 27% who wish the rebels had been victorious.
Matt Yglesias is befuddled by the numbers and terms the notion that any of this remains controversial "absurd." Mike Tomasky doesn't "know what to say" but assumes it has to do with racism, which recent polls confirm still exists.
Jamelle Bouie terms these "simply crazy numbers," with Southerners effectively  saying "the Confederacy is cool!" But, he figures, the figures would be different if the questions were rephrased, "Are you happy with the Union victory and the end of slavery?"
This isn't actually all that complicated: A significant number of Southerners continue to feel a deep attachment to the region and its culture. This is especially true of those who have generations-long attachments to the South. It's hardly shocking, then, that they would fail to celebrate their ancestor's loss in a bitter war.
And Jamelle's right: Almost none of those ambivalent about the Southern defeat have any fondness for slavery, much less a desire to re-institute it. Additionally, these people are some of the most patriotic Americans, seeing zero contradiction between loving America and her flag and also celebrating an insurrection against it several generations ago.
Then again, for today's Southerners, the Civil War wasn't about slavery.
Don't misunderstand: There's simply no debate that slavery was  sine qua non for the South's secession and the onset of war. All of the political debates and pronouncements surrounding the Election of 1860 and the run-up to secession make that crystal clear. Other justifications were calculated myth created by a Lost Cause movement shortly after the war.
But the political cause of a war seldom has much to do with why individual people fight.  Only a tiny fraction of the soldiers of the Confederacy owned or had any prospect of owning slaves. Mostly, they fought because there was a war on and they chose their homeland over a mythical nation-state that wouldn't come to exist in its modern sense for another several decades.
So, it's quite easy for Southerners to distinguish between the Civil War and slavery. In their minds, their ancestors weren't fighting to preserve a wicked institution but rather for some combination of independence, "state's rights," and clan loyalty.