Authorizations to Unlimited Military Force
Daniel Larison is far less ambivalent about our war on ISIL than me.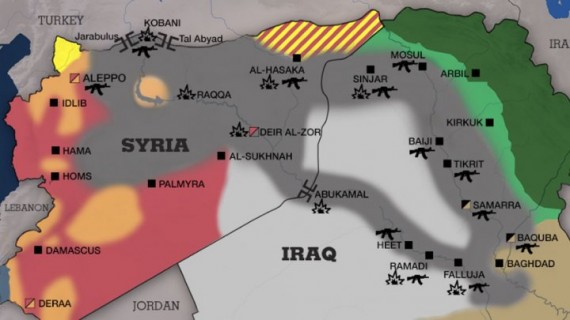 Daniel Larison, with whom I generally agree on matters of military intervention, is far less ambivalent about the latest escalation of our military operations against ISIL than me. Wednesday, he called the AUMF debate absurd:
Since the administration claims to believe that the 2001 AUMF already applies to the war against ISIS, it's a little bit strange that they have included any restrictions in the draft of the new resolution. Limiting the use of ground forces makes it easier for members to vote for the authorization, but then the administration would have been happy enough if Congress never voted for a new resolution. The resolution would have to be renewed after three years, but that is likely to be a mere formality when the time comes. Fighting such an open-ended, ill-conceived war all but guarantees that it will continue beyond any time limit set for it in the AUMF.

[…]

It is hard to miss the absurdity of this entire process. The war has been going on for half a year, so it's not as if the administration thinks it needs Congressional approval. In the event that that the administration chooses to ignore the restrictions included in its proposed AUMF, there is very little chance that it will be forced to answer for that by Congress. That is especially true when many members of the majority in both houses object to the language of the proposed resolution because it is too limiting rather than too broad.
Yesterday, he lamented the ever-expanding war on ISIS:
While it may appear at first glance that passing a new AUMF will impose some limitations on the conduct of the war, what it really does is to endorse an open-ended and extraordinarily ill-conceived war that may not be limited to Iraq and Syria and could expand to include any number of other groups. As it so often does in these matters, the Obama administration feigns restraint, but in practice overreaches even more egregiously than its predecessor.

[…]

The administration has shown that it is perfectly willing to wage a war in the absence of any authorization, and it has already been waging another one by grossly distorting and misinterpreting an earlier authorization. Even if the restrictions in the new AUMF meant anything, we could expect the administration to ignore them in the confidence that Congress would do nothing about it. Congress should refuse to sign off on the administration's expansive war resolution. It won't stop or limit the war in practice, but it will put an end to a farcical process and it won't give the president the rubber stamp approval he wants.
A few minutes later, he railed against Obama's "limited" perpetual war:
The administration wants to make permanent its preposterous justification for treating ISIS as Al Qaeda's "successor" for the purpose of applying the 2001 AUMF to the group (despite the open and public rivalry between them). It wants to make sure that it and future administrations will be able to target whatever splinter group is later deemed to be ISIS' "successor." In this way, the new AUMF could provide cover for waging war not only against any random jihadist group that chooses to identify itself with ISIS no matter where they might be or what threat they pose to the U.S., but could conceivably permit military action against groups that split from ISIS or turn against them. It could also permit military action against any other groups that are just as tenuously linked to the so-called "successor." The administration is seeking approval for a "limited" war that it envisions as being virtually unlimited in terms of place, duration, and potential targets.
I agree with all of that and mentioned most of those problems in my longish essay for The National Interest that I wrote Wednesday night and that published last night. The reason for my ambivalence, despite a longstanding preference for non-intervention and for limited, narrowly defined, Congressionally-approved wars is that totalitarian Islam in general and ISIL in particular are legitimately threats to US national interests and no better options seem to be on the table.
I fully concur that the AUMF is a political farce. Not only is it not nearly as limited as it appears, for reasons Larison and I both lay out in detail, but the president declares in his letter asking for the AUMF that he already has all the authority he needs! Yes, there's more than a little hypocrisy asking for Congress' permission given his history of repeatedly thumbing his nose at Congress in both foreign and domestic affairs.
Then again, that's essentially background noise. Presidents have been deploying military force to combat situations on their own initiative at least as far back as Teddy Roosevelt. And, while Obama long ago disclaimed the Global War on Terror label, he's radically escalated it in practice. Yes, I have some serious misgivings about that, which I've written about extensively. At the same time, while Congress hasn't specifically authorized any of it—it's absurd to claim that the 2001 AUMF applies to the drone wars in Yemen, for example—Congress is wildly enthusiastic, with only a fringe opposed to blowing up suspected terrorists wherever we can find them.
Ditto the American people, 70% of whom see ISIL as the number one threat to American interests in the region but, like me, are ambivalent about our options. While 57% say we should "do whatever is necessary" to fight ISIL, exactly the same number oppose sending ground forces! (This is an artifact of the survey methodology; respondents were given a false choice between "Stay out of the conflict" and "Do whatever is necessary.") So, the president is following a maddening middle course that 80% of the public (and 100% of me) thinks will be inadequate to defeat ISIL.
Is this the way it's supposed to work? Nope. Is there an end in sight? Nope. Do I have a better idea? Nope.