Biden in Israel in Aftermath of Hospital Explosion
The timing is not auspicious.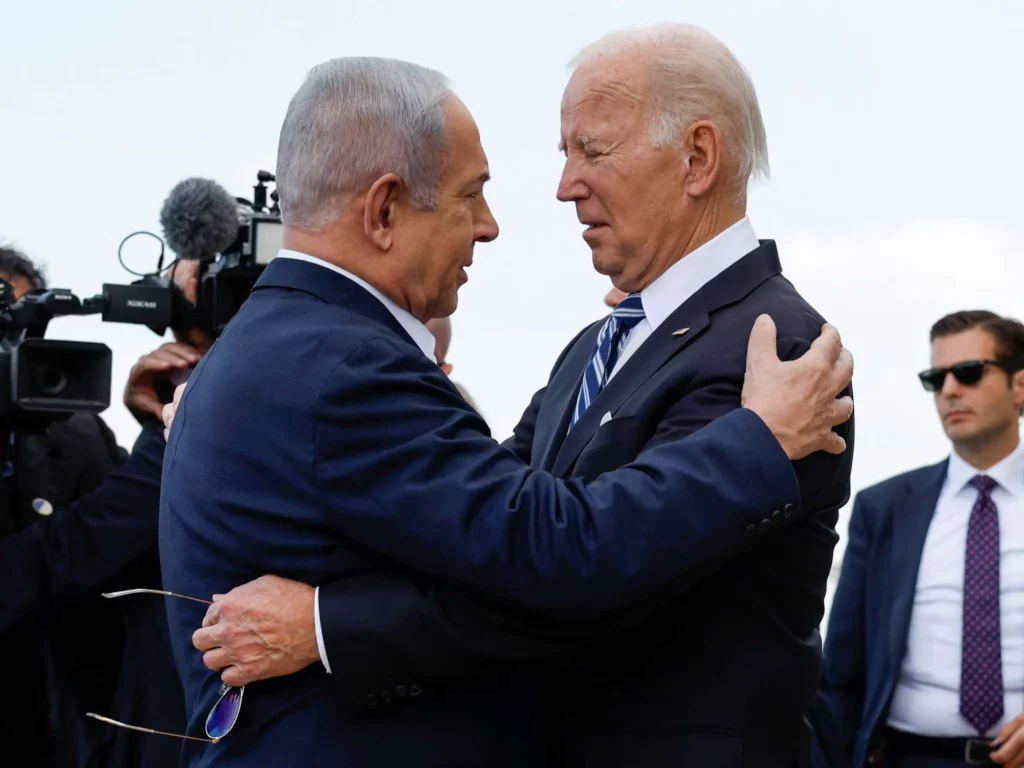 The News:
AP ("Biden pledges solidarity with Israelis and suggests 'other team' to blame for Gaza hospital blast"):
President Joe Biden vowed to show the world that the U.S. stands in solidarity with Israelis during his visit there Wednesday, and offered an assessment that the deadly explosion at a Gaza Strip hospital apparently was not carried out by the Israeli military.

"Based on what I've seen, it appears as though it was done by the other team, not you," Biden told Israeli Prime Minister Benjamin Netanyahu during a meeting. But Biden said there were "a lot of people out there" who weren't sure what caused the blast.

Biden didn't offer details on why he believed the blast was not caused by the Israelis. The Hamas-run Gaza Health Ministry said an Israeli airstrike caused the destruction and hundreds of deaths. The Israeli military denied involvement and blamed a misfired rocket from the Palestinian Islamic Jihad, another militant group. However, that organization also rejected responsibility.

Biden had been scheduled to visit Jordan to meet with Arab leaders after the stop in Israel, but the summit was called off after the hospital explosion. And his remarks spoke both of the horrors the Israelis had endured, but also the growing humanitarian crisis for Palestinian civilians in Gaza.

He told Netanyahu he was "deeply saddened and outraged" by the hospital explosion. He stressed that "Hamas does not represent all the Palestinian people. and it has brought them only suffering."

Biden spoke of the need to find ways of "encouraging life-saving capacity to help the Palestinians who are innocent, caught in the middle of this."

But he also said Hamas had "slaughtered" Israelis in the Oct. 7 attack that killed 1,400 people. Biden described at length the horror of the killing of innocent Israelis, including children.

"Americans are grieving, they really are," Biden said. "Americans are worried."

Netanyahu thanked Biden for coming to Israel, telling him the visit was "deeply, deeply moving."

"I know I speak for all the people of Israel when I say thank you Mr. President, thank you for standing with Israel today, tomorrow and always."

Netanyahu said Biden had rightly drawn a clear line between the "forces of civilization and the forces of barbarism," saying Israel was united in its resolve to defeat Hamas.

"The civilized world must unite to defeat Hamas," he said.
NPR ("White House says Biden will be 'asking some tough questions' in Israel"):
President Biden will be "asking some tough questions" of Israeli leaders during his trip to Tel Aviv — a trip where he wants to learn more about Israel's plans for battling Hamas, and where he wants to emphasize aid for civilians in Gaza, said John Kirby a spokesperson for the National Security Council.

Biden will first meet with Netanyahu, then with his war cabinet, Kirby said. The trip comes as Israel prepares for a ground offensive in Gaza, and Biden wants to learn more about the objectives and plans for coming days and weeks, Kirby told reporters.

"He'll be asking some tough questions — he'll be asking them as a friend, as a true friend of Israel but he'll be asking some questions of them," Kirby said.

On the hospital explosion, Kirby said Biden wants his team to gather more information about what happened. He noted that Biden had spoken to Netanyahu afterward, and that Israel had "categorically and stridently denied" responsibility.

Asked whether the United States was giving Israel the benefit of the doubt on that denial, Kirby said: "We certainly recognize that they feel very strongly that this was not caused by them, and as I said, he has directed the national security team … to try to gather as much information as possible."

Biden will also press for food, water, medicine and power to be restored to Gaza. Kirby said there was optimism there would be progress on that after Blinken's recent meetings.
Reuters ("Biden, in Israel, says hospital blast caused by militants"):
U.S. President Joe Biden arrived in Israel on Wednesday pledging solidarity in its war against Hamas and backing its account that a blast that killed huge numbers of Palestinians at a Gaza hospital had been caused by militants.

The fireball that engulfed the Al-Ahli al-Arabi hospital delivered some of the most harrowing images yet from a 12-day war, and wrecked White House plans for Biden's emergency diplomatic mission to the Middle East, with Arab leaders calling off their planned summit with the U.S. president.

[…]

Speaking alongside Israeli Prime Minister Benjamin Netanyahu, Biden said: "I was deeply saddened and outraged by the explosion of the hospital in Gaza yesterday, and based on what I've seen, it appears as though it was done by the other team, not you."

"But there's a lot of people out there not sure, so we've got a lot, we've got to overcome a lot of things," Biden added.

"The world is looking. Israel has a value set like the United States does, and other democracies, and they are looking to see what we are going to do."

[…]

After Biden backed the Israeli account, other Western leaders also called for caution.

"Last night, too many jumped to conclusions around the tragic loss of life at Al Ahli hospital," Britain's Foreign Secretary James Cleverly posted on X. "Getting this wrong would put even more lives at risk. Wait for the facts, report them clearly and accurately. Cool heads must prevail."

The blast unleashed new fury on streets across the Middle East, even as Biden sought to calm emotions and prevent the conflict from sweeping across borders.
Reuters ("Attack on Gaza hospital 'unprecedented' in scale, WHO says"):
A strike on the Al-Ahli al-Arabi Hospital in the north of the Gaza Strip that killed hundreds was "unprecedented in scale," the World Health Organization (WHO) said on Tuesday, condemning the attack.

The strike was the bloodiest single incident in Gaza since Israel launched a bombing campaign against the densely populated Gaza Strip in retaliation for a deadly cross-border Hamas assault on Israeli communities on Oct. 7.

"This attack is unprecedented in scale," said Richard Peeperkorn, WHO Representative for the West Bank and Gaza. "We have seen consistent attacks on healthcare in the occupied Palestinian territory."

[…]

Mike Ryan, executive director of WHO's Health Emergencies Programme, said it was "inhumane" to leave Gaza's health workers with the dilemma of caring for their patients or fleeing to save their own lives. He said doctors and nurses were choosing their patients over themselves.

"It is absolutely clear to all sides of this conflict where the health facilities are," Ryan said.

"It is absolutely clear healthcare is not a target… That is enshrined in international humanitarian law. And we're seeing this breached again and again and again over the last week. And it has to stop. It must stop."
My Two Cents:
The almost universal initial reaction to the blasts were that it was an Israeli war crime. That Israel vehemently denies that—and that the United States is siding with them on the matter—is encouraging. Presumably, President Biden wouldn't allow himself to be photographed hugging Netanyahu if he had reason to believe he was responsible.
Regardless, Biden has simultaneously bolstered Netanyahu and Hamas. The strong showing up support for Israel while they're under so much international pressure is surely welcome. But it also firmly ties the United States to Israel's war and undermines the long effort to establish ourselves as an honest broker.
To reiterate what I've written in previous posts, there's simply no question that we should be on Israel's side in the aftermath of the vicious attack against its civilian population by Hamas. But it's now going to be very hard to Arab leaders to work with Biden.