Biden: Mubarak Not A Dictator, But He Needs to Listen To His People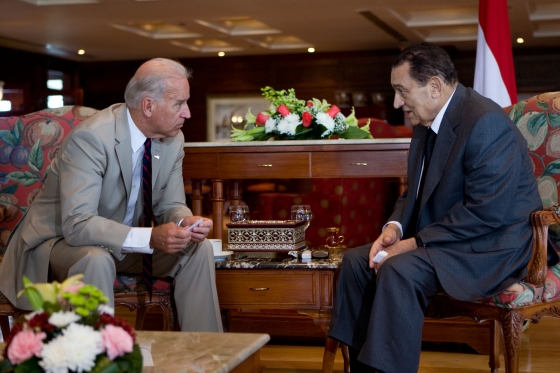 As the protests rage in Egypt, the United States is walking a tightrope:
In an interview with the Newshour's Jim Lehrer today, Vice President Biden said he would not refer to Egyptian President Mubarak as a dictator and instead called him an "ally" on a number of key foreign policy issues.

When asked if it was time for Mubarak to stand aside, Biden said no.

"I think the time has come for President Mubarak to begin to move in the direction that – to be more responsive to some of the – some – some of the needs of the people out there," Biden said.

Biden said the people protesting are "middle-class folks" who are looking for more opportunity.

"Violence isn't appropriate and people have a right to protest," he said, adding that he hopes Mubarak will "respond to some of the legitimate concerns that are being raised."

"Mubarak has been an ally of ours in a number of things. And he's been very responsible on, relative to geopolitical interest in the region, the Middle East peace efforts; the actions Egypt has taken relative to normalizing relationship with Israel," the vice president said. "And I think that it would be – I would not refer to him as a dictator."

Biden stressed repeatedly that when it comes to Egypt and Tunisia, the United States urges all parties to resolve concerns and differences
Video:
Attention will be paid to Biden's insistence that Mubarak is not a dictator, but the truth is that the U.S. is in a difficult position here. We've spent three decades propping up the Mubarak regime, and if he leaves the only alternatives seem to be a military coup or democracy, which could mean a far more Islamist Egypt. Neither one of these options is entirely palatable.