Biden Not Vetoing Popular Bill!
Some Democrats are angry!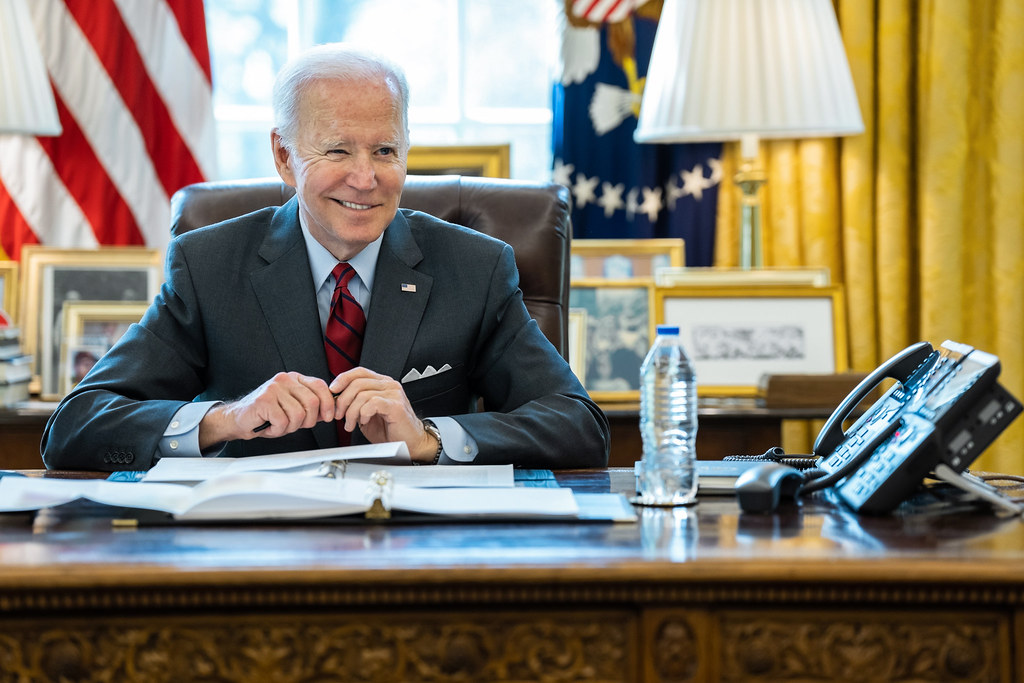 The Hill ("House Democrats blindsided as Biden changes tune on DC crime bill"):
House Democrats were infuriated and taken aback by President Biden's announcement on Thursday that he will sign a resolution to nix the District of Columbia's crime bill.

The crime bill has come under heavy criticism from Republicans and centrist Democrats. But last month, 173 House Democrats voted along with what they thought was the White House's stance that Biden would veto the resolution in an attempt to stand up for the District's "home rule."

Instead, Biden made the revelation to Senate Democrats during lunch on Thursday and, in the process, angered their colleagues across the Capitol complex.

"The White House f* this up royally," one House Democrat told The Hill via text message, noting the White House issued a Statement of Administration Policy opposing the resolution and backing D.C., and that House Democratic leadership told lawmakers that Biden was prepared to veto the measure.

The declaration from the Office of Management and Budget called on Congress to "respect the District of Columbia's autonomy to govern its own local affairs."

"So a lot of us who are allies voted no in order to support what the White House wanted. And now we are being hung out to dry," the lawmaker continued. "F AMATEUR HOUR. HEADS SHOULD ROLL OVER AT THE WHITE HOUSE OVER THIS."

The House Democrat added multiple other lawmakers were "EXTREMELY pissed" about the situation.
Oh, my!
Rep. Pete Aguilar (Calif.), the No. 3 House Democrat, issued a rare rebuke of the White House during a Punchbowl News event at the caucus's retreat in Baltimore, saying that Biden's move was "disappointing."

"It's disappointing for me and anybody who believes in home rule, honestly. I'm a former mayor of a city of 70,000 and I wouldn't want the federal government coming in and telling me what city ordinances to pass. … So I think it's disappointing in that context," Aguilar said.

"I voted against it, but I understand and respect the president's position here," Aguilar, the former mayor of Redlands, Calif., continued. "We'll see, the Senate has to pass that, and I know that they've said they have the votes but all of those things have to happen. But it's disappointing for those of us who believe in home rule."
Why the federal government would have say over local ordinances in Redlands, California is beyond me. But the President and Members of Congress actually live in DC, which was created specifically as a federal district to house the federal government.
An aide to a House Democrat who opposed the measure texted that the caucus is "a little shocked" by the move.
The horrors.
The crime bill passed the D.C. City Council unanimously in January. After Washington D.C. Mayor Muriel Bowser (D) vetoed it, the city council overrode it 12-1. Among other things, the bill would eliminate most mandatory sentences and lower penalties for a number of violent offenses, including carjackings and robberies. It would also expand the requirement for jury trials in most misdemeanor cases.

In a tweet, Biden specifically mentioned the issue of carjackings. As of Thursday, there have been 94 carjackings in D.C. in 2023 alone.

"One thing that the president believes in is making sure that the streets in America and communities across the country are safe, that includes in D.C. That does not change," White House press secretary Karine Jean-Pierre told reporters on Thursday.

"When it comes to what this proposal brings forth, which is really lowering penalties for car-jacking, he doesn't believe that's going to keep our communities safe," she added.
Being opposed to carjackings is, in my judgment, a safe political position.
Nevertheless, the move still left Democrats with a sour taste in their mouths.

"Today has been a sad day for D.C. home rule and D.C. residents' right to self-governance," Del. Eleanor Holmes Norton (D-D.C.) said in a statement. "We had hoped that with more Senate support, we would have been able to ensure that neither disapproval resolution pending before the Senate would reach the president's desk, but with the nationwide increase in crime, most senators do not want to be seen as supporting criminal justice reform."
I'm sure! But maybe they actually oppose this particular bill, which was passed over the DC mayor's veto?
Holmes Norton added that she will still try to convince Biden that absent a veto, the resolution "would empower the paternalistic, anti-democratic Republican opposition to the principle of local control over local affairs."
Except that the bill only passes with Democratic votes, given that Democrats have a majority in the Senate.
Sens. Joe Manchin (D-W.Va.) and Bob Casey (D-Pa.), both of whom are up for reelection in 2024, have said in recent days they plan to side with Republicans on the resolution, giving those backing it enough daylight to put it over the finish line even with the hospitalizations of Sens. John Fetterman (D-Pa.) and Dianne Feinstein (D-Calif.).

The news is also expected to push more Democrats to side with Biden and the centrists.

"I'm reviewing the actual provisions of the D.C. crime bill, talking to colleagues. And the president obviously said he will not veto the measure, which I think may weigh with my colleagues," Sen. Richard Blumenthal (D-Conn.) told reporters.

Sen. Jon Tester (D-Mont.), who is also up for reelection in 2024, told reporters following Biden's news that he still is undecided on the resolution and has not been briefed on it yet.
So, essentially, without the veto threat, Democratic Senators are free to vote their conscience? Or the way they think their constituents want?
Indeed, the POLITICO report on this ("Biden won't veto GOP effort to repeal D.C. crime law") is more emphatic on that front:
And Biden's lack of a veto threat might open the floodgates on the D.C. crime vote. Several Democrats predicted an overwhelming margin of support to roll back some of D.C.'s recent progressive crime measures.

"I think that's where most of the caucus is. Most of the caucus sees the mayor in a reasonable position as saying: 95 percent of this is really good, some of this is problematic. And we need to keep working on it," Sen. Martin Heinrich (D-N.M.) said after the meeting.
Back to the Hill report:
From a political standpoint, Biden's decision to block the D.C. crime bill could come back to haunt the House Democrats who opposed the disapproval resolution. Some Republicans are already characterizing the revised code as soft-on-crime, which they could eventually extend to those 173 liberal lawmakers.

"By rejecting D.C.'s law, President Biden acknowledged the basic fact that soft-on-crime policies endanger the public," Sen. Tom Cotton (R-Ark.) wrote on Twitter.

Democrats are already worrying that they played into the GOP's hands.

"Frankly, it's a clear signal to those criticizing POTUS on being soft on crime amid the increased focus on the issue going into 2024 — and on the heels of Lightfoot's ouster," the aide said, referring to the Chicago mayor's re-election defeat this week.

Aguilar, for his part, brushed off that notion on Thursday, pointing to legislation the caucus has passed and efforts it backed that support public safety.

"Democrats believe in strong public safety," he said. "That's what we're demonstrating in our bills and demonstrated time and time again."
The POLITICO report adds:
t appears that Democrats' discomfort with the D.C. law — a near-rewrite of the capital's criminal code — is carrying more weight than their natural inclination not to interfere.

"I guess [Biden] thinks it's too far — a bridge too far, which it really is. I'm glad he said that," Manchin said leaving the meeting, adding that he clapped loudly when Biden disclosed his view to his fellow Democrats.

House Republicans first teed up the bill in February, amid a highly public clash between D.C.'s council and its mayor over the sweeping crime bill. In the House, the GOP-led bill won support from 31 Democrats, many of them moderates who have already called for stronger action on nationwide rise in crime since the pandemic. One swing-seat Democrat who backed the bill, Rep. Angie Craig (D-Minn.), voted for it mere hours after she was assaulted in her D.C. apartment building.

Biden's move to let Congress stop the criminal code changes in D.C. may aggravate locals, but will be a relief to many congressional Democrats who are weary of GOP attacks on them over progressive urban crime proposals. And it comes as prominent Democrats are talking less about Biden's age or whether he should run again and more about working together heading into the 2024 election.
As to the merits of the bill, a YahooNews report ("How a criminal justice reform effort collapsed in D.C. — with Biden's help") adds this context:
Gun violence has jumped by 40% in D.C. since 2017. City officials fear that their efforts at making the district safe are being undone. Many other U.S. cities are suffering the same plight after overseeing historic drops in violent crime in the new century's first two decades.
But politics is obviously the bigger factor:
Fears over crime handed Chicago's incumbent Mayor Lori Lightfoot a resounding defeat in that city's Democratic primary earlier this week, with pro-police centrist Paul Vallas emerging as the top vote getter.

There are political considerations for Biden, too, especially as he prepares to announce that he will seek a second term in the White House. One of the likely contenders for the Republican presidential nomination is Florida Gov. Ron DeSantis, who recently spoke to law enforcement groups in Democratic states, where he engaged in hard-edged and hyperbolic rhetoric.

Former President Donald Trump, who has already announced that he is running for the presidency, charged last month that "the Biden administration does little to curb crime across the country." Crime rose during Trump's term, too, though both in his case and Biden's, factors well outside presidential control—such as a global pandemic — were partly responsible.

Still, Biden's announcement that he would not veto the Republican-led effort to block the criminal code revisions could blunt soft-on-crime attacks by DeSantis, Trump and other Republicans.

His decision came as Republicans were in the midst of turning the district's attempt at criminal justice reform into a national issue, reviving relentless attacks they made in the run-up to the 2022 congressional midterms, with limited success.

This time, GOP legislators cast themselves as sober custodians of a capital city given over to dangerous progressive ideas on public safety.

"To a unique degree, unlike any other city in America, Washington D.C., issues are national issues. The District of Columbia doesn't belong to a handful of local politicians, it belongs to more than 330 million American citizens," Mitch McConnell of Kentucky, the Republican leader in the Senate, said at a hearing earlier this week.
Honestly, it seems that the only thing wrong the White House did here—and it's significant—is to issue a statement reflexively opposing a Republican initiative before assessing it on the merits.
The President is on the record supporting DC Statehood and is generally in favor of "home rule" for the city over local affairs. But, as this measure shows, McConnell is actually right: DC is unique among American cities as the nation's capital. Laws passed by the DC Council affect lawmakers, thousands of federal employees who commute to the city for work, and millions of tourists from around the country. It's not surprising that Congress has some say over them.