Biden to Name Blinken for State and Sullivan for NSC
The 46th President's foreign policy team is taking shape.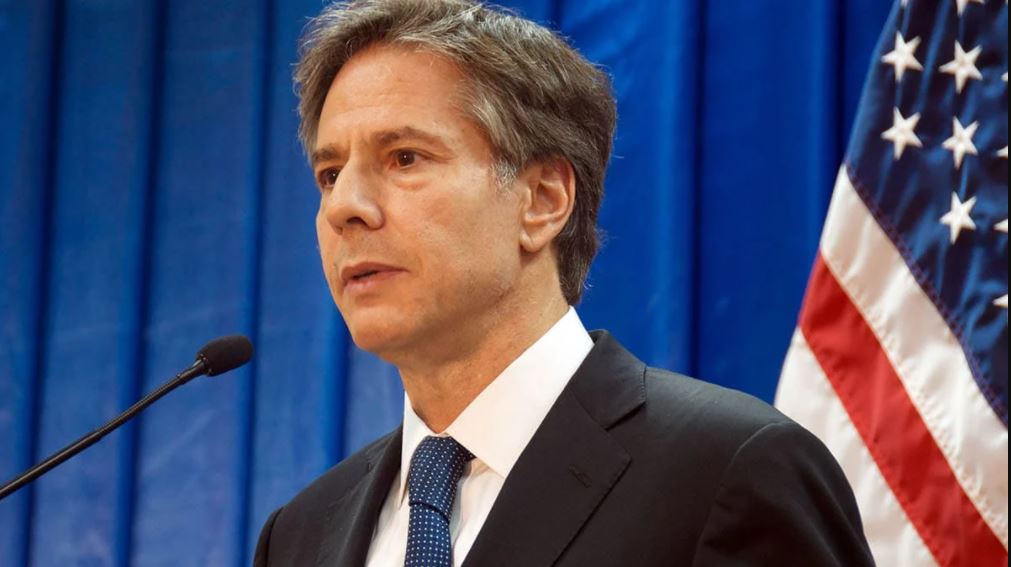 Two familiar faces will be named to the incoming administration's cabinet, Lara Jakes, Michael Crowley and David E. Sanger report for the New York Times ("Biden Chooses Antony Blinken, Defender of Global Alliances, as Secretary of State"):
Antony J. Blinken, a defender of global alliances and President-elect Joseph R. Biden Jr.'s closest foreign policy adviser, is expected to be nominated for secretary of state, a job in which he will try to coalesce skeptical international partners into a new competition with China, according to people close to the process.

Mr. Blinken, 58, a former deputy secretary of state under President Barack Obama, began his career at the State Department during the Clinton administration. His extensive foreign policy credentials are expected to help calm American diplomats and global leaders alike after four years of the Trump administration's ricocheting strategies and nationalist swaggering.

Mr. Biden is also expected to name another close aide, Jake Sullivan, as national security adviser, according to a person familiar with the process. Mr. Sullivan, 43, succeeded Mr. Blinken as Vice President Biden's national security adviser, and served as the head of policy planning at the State Department under Hillary Clinton, becoming her closest strategic adviser.

Together, Mr. Blinken and Mr. Sullivan, good friends with a common worldview, have become Mr. Biden's brain trust and often his voice on foreign policy matters. And they led the attack on President Trump's use of "America First" as a guiding principle, saying it only isolated the United States and created opportunities and vacuums for its adversaries.
Neither of these names are surprising. Indeed, they may well have been named to those posts four years ago had Hillary Clinton won.
They're the opposite of what we've mostly seen in the Trump administration: banal but competent choices. They're both well-qualified by experience for these posts but represent essentially a continuation of the foreign policies of Bill Clinton and Barack Obama.
Progressives who had hoped to see a Bernie Sanders-style version of Trump's America First policy—a significant retrenchment from US overseas commitments and a reduced inclination to wield military power—will be sorely disappointed.
But this is who Biden has always been, so nobody should be surprised. Indeed, this is essentially the bipartisan, elite consensus that has governed US foreign policy since the end of the Cold War three decades ago, with the exception of the outgoing administration:
Mr. Blinken has been at Mr. Biden's side for nearly 20 years, including as his top aide on the Senate Foreign Relations Committee and later as his national security adviser when he was vice president. In that role, Mr. Blinken helped develop the American response to political upheaval and instability across the Middle East, with mixed results in Egypt, Iraq, Syria and Libya.

But chief among his new priorities will be to re-establish the United States as a trusted ally that is ready to rejoin global agreements and institutions — including the Paris climate accord, the Iran nuclear deal and the World Health Organization — that were jettisoned by Mr. Trump.

"Simply put, the big problems that we face as a country and as a planet, whether it's climate change, whether it's a pandemic, whether it's the spread of bad weapons — to state the obvious, none of these have unilateral solutions," Mr. Blinken said at a forum at the Hudson Institute in July. "Even a country as powerful as the United States can't handle them alone."
Michèle Flournoy, almost universally expected to be named as Biden's Secretary of Defense, is also very much part of that consensus.
I know less about his UN Ambassador nominee:
Mr. Biden is also expected to name Linda Thomas-Greenfield, a 35-year veteran of the Foreign Service who has served in diplomatic posts around the world, as his ambassador to the United Nations, according to two people with knowledge of the process. Mr. Biden will also restore the post to cabinet-level status after Mr. Trump downgraded it, giving Ms. Thomas-Greenfield, who is Black, a seat on his National Security Council.
Democrats tend to put the post in the cabinet while Republicans tend to see it as a senior State Department official and thus subcabinet. I tend to agree with the latter but don't think it matters much in terms of policymaking, in that the job is in New York City, where the UN headquarters is, and not in the White House or Foggy Bottom.