President Biden to Visit Israel
A high-stakes move.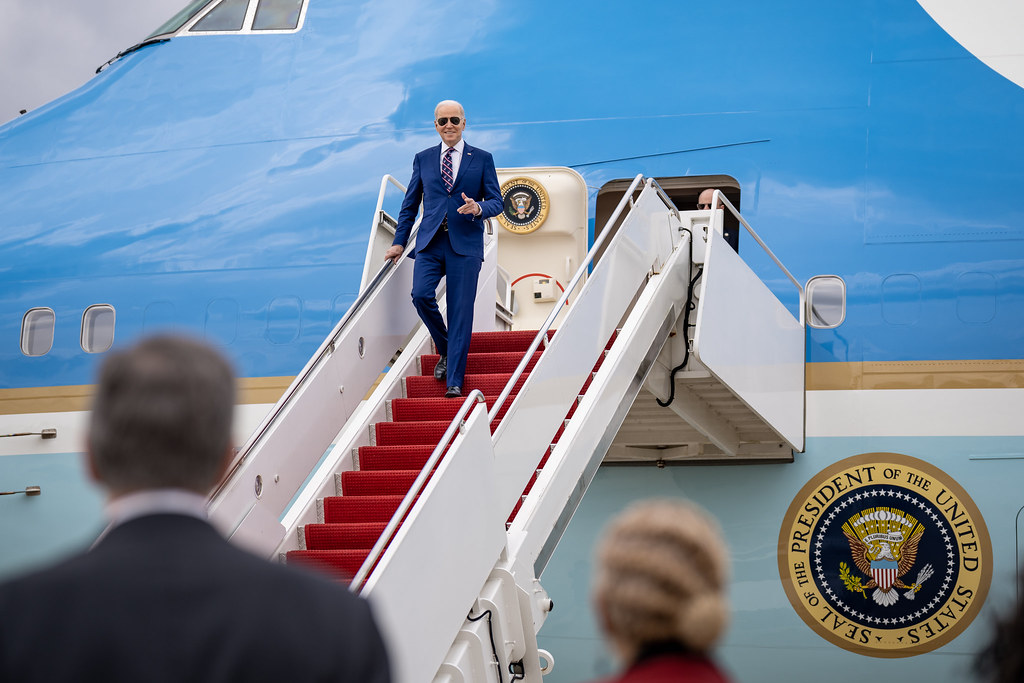 CNN ("President Joe Biden will visit Israel in high-stakes trip"):
President Joe Biden will make an extraordinary wartime visit to Israel this week as he seeks to demonstrate staunch support for the country as it works to eliminate Hamas while also pressing for ways to ease humanitarian suffering in Gaza.

The dueling objectives, spelled out by his top diplomat Monday evening, bring with them significant risks for the president as he works to prevent the crisis in the Middle East from widening.

Aides said Biden had expressed a strong interest in making the journey after being invited over the weekend by Prime Minister Benjamin Netanyahu, whom Biden has known for four decades. He spent Monday deliberating over the trip at the White House with his top national security and intelligence advisers.

Meanwhile, in Tel Aviv, Secretary of State Antony Blinken was convening a marathon session with top Israeli officials to discuss opening Gaza to humanitarian aid and preventing civilians from getting caught up in Israel's response to the terror attacks.

In announcing Biden's Wednesday trip after more than seven hours of negotiations, Blinken said that the United States and Israel "have agreed to develop a plan that will enable humanitarian aid from donor nations and multilateral organizations to reach civilians in Gaza."

The US president will also travel to Jordan, where he will meet with King Abdullah II, President Abdel Fattah el-Sisi of Egypt, and Palestinian Authority President Mahmoud Abbas. The top US diplomat in recent days met separately with the three leaders – all of whom have condemned the situation in Gaza.

The security risks of a diplomatic visit to Israel were starkly illustrated Monday when Blinken, in his meeting with Netanyahu, was forced to shelter in place after air sirens warned of incoming rockets. White House officials said they'd carefully weighed the risks of a presidential visit, and deemed it safe enough both to execute and announce ahead of time.

The president's visit will build on Blinken's seven nation, multi-day tour of the Middle East, which comes as the US tries to strike a delicate balance of providing unwavering support for Israel's military operations while mitigating the humanitarian catastrophe in Gaza and stopping the war from spreading to further fronts.

Biden will "make it clear that we want to continue to work with all our partners in the region, including Israel, to get humanitarian assistance and again to provide some sort of safe passage for civilians to get out," National Security Council spokesman John Kirby said Monday evening.
Georgetown IR scholar Elizabeth Saunders ("Biden will visit Israel during a war. That's unprecedented."):
A presidential visit to an active war zone has a recent precedent: Biden went to Ukraine this past February, on a highly secret visit not revealed until he arrived in Kyiv by train. As the New York Times pointed out, it was the closest an American president had gotten to combat since Abraham Lincoln during the Civil War. Many presidents – including George W. Bush, Barack Obama, and Donald Trump – visited conflict zones, including Iraq and Afghanistan, but in areas controlled by U.S. forces.

This trip will be very different – on many, many levels.

Biden will be going at a time of high uncertainty

Biden will be traveling to Israel at a moment of almost impossible complexity and uncertainty, in military, humanitarian, and political terms.

Although the human suffering is already immense, a principal focus of U.S. and other diplomats is preventing a wider regional war. Biden's trip to Kyiv reportedly took months of planning, and though it was still very risky, the immediate fears of escalation that arose early in the war had given way to a more grinding conflict. In this case, the conflict is just over a week old and escalation fears are very real. As of this writing, a prime concern is a second front along Israel's northern border with Lebanon, where Israel is already engaged in fighting with Iran-backed Hezbollah.

Biden was one of multiple leaders who had taken the train to Kyiv, and the trip, while undoubtedly important symbolically, produced an aid package that probably could have been announced from Washington. Biden's visit to Israel, however, could potentially alter the course of escalation, not just through whatever diplomatic breakthrough he or his team may try to achieve, but also as a show of support for Israel. The effects of such a signal on the other outside powers with an interest in this war – especially Iran – are uncertain.

So much of foreign policy is invisible that it is hard to know what messages are being sent ahead of time through back channels. When Biden went to Kyiv, the United States informed Russia, for "deconfliction purposes," as National Security Advisor Jake Sullivan put it.  Still, sending signals in a major international crisis is no easy task.

A second source of uncertainty is on the human level.  In Israel, Biden will be threading a needle between comforting citizens and families who have just experienced an attack unlike anything in recent memory, while trying to appeal for restraint to mitigate the severe humanitarian crisis in Gaza.

[…]

A third source of uncertainty is the Israeli government itself – as well as Biden's relationship to it. Biden and Israeli Prime Minister Benjamin Netanyahu have had a tense relationship, and Israel as a policy issue has been increasingly polarized in the United States. Netanyahu is under domestic political pressure unlike anything he has experienced in his previous political lives. A show of support from the United States during a crisis would normally be a win for a leader in Netanyahu's position, but some Israelis have already seen Biden and his team as more sympathetic than their own government.

Biden will therefore face a series of high-pressure moments during his appearances in Israel, but those public elements will not be the whole story of his visit. We won't see most of the real action, but that won't necessarily mean that no action occurred.  

[…]

It is the secretary of state who typically engages in so-called shuttle diplomacy, a term coined when President Nixon's secretary of state, Henry Kissinger, flew around the Middle East in the aftermath of the 1973 Yom Kippur War. Many have invoked the shocking surprise attack by Israel's neighbors in the Yom Kippur War as a comparison to the 2023 Hamas attacks, occurring 50 years and one day later.

Presidential time is scarce, even in a major international crisis (leaving aside the fact that Nixon was, in Kissinger's words, "loaded" during the 1973 war, so much so that Kissinger put off a call for Nixon from the British Prime Minister). Presidents leave the diplomatic spade work to the diplomats, letting them work out the details so the president can fly in and close the deal with ceremony and symbolism. A visit can be very valuable to the host country as a show of US support or aid – and this was certainly true in Ukraine's case. High-level leader visits can also provide a boost in public attitudes toward the visiting leader's country among host country citizens.

But though they are the ultimate decision-makers, presidents don't typically get in the middle – physically – of diplomatic crises. One of our mental pictures of face-to-face diplomacy is of looking the enemy in the eye, like Neville Chamberlain flying to meet Hitler in Munich before World War II (and we know how the fruits of that visit turned out) or summitry during the Cold War, such as Reagan negotiating directly with Gorbachev in Reykjavik. The other image is that of a peacemaker, as in Jimmy Carter mediating the peace between Egypt and Israel at Camp David in 1978. But most presidential travel is much less dramatic.
It's a bold move that sends a powerful message of commitment. But it's also fraught. Presumably, the Secret Service is reasonably confident that they can manage the physical risk. But the diplomatic risk is a another thing altogether. As Saunders rightly notes, Presidents tend not to make these trips until their diplomatic team gets a deal negotiated.
That's not the case here. Indeed, other than images of an American President in a war zone, it's not at all clear what the end state is supposed to be. I can't imagine any of Israeli's neighbors changing their policies simply because Biden showed up. And, if we've got carrots or sticks to wield, it's not obvious why Blinken can't wield them behind the scenes.