What Would Obama Do If Congress Says No On Syria?
Given that the vote count seems to be heading that way, this is a question worth examination.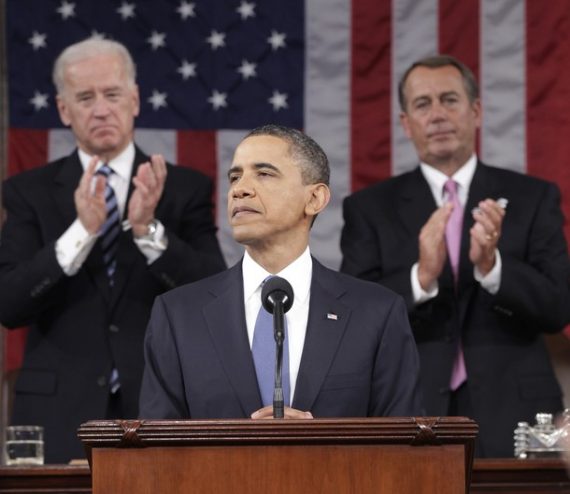 With the vote counting looking increasingly bleak in the House, a question is beginning to circulate among pundits and foreign policy experts. Namely, what would President Obama do if he ended up losing the vote to authorize military action in Syria?
It's worth keeping in mind that, up until last Saturday, the President and his advisers were holding fast to the position that the President did not need to seek Congressional authorization at all. This is the position that the Administration took in connection with the mission in Libya two years ago, and its essentially the position that he has taken in connection with the ongoing drone attacks in Pakistan, Afghanistan, Yemen, and elsewhere, although those are arguably covered by the AUMF passed in the wake of the September 11th attacks. With specific reference to Syria, though, the Administration had asserted from the start that the inherent powers of the Presidency covered the kind of action the President was considering. Historically speaking, of course, that position has merit as I've discussed before.
Nonetheless, the President has now decided to put this matter in the hands of Congress, even knowing at the time he did it that what he was proposing was politically unpopular. The risk of failure must assuredly have been something that the President and his advisers considered and, at least at the start of the week, the message out of the White House about what would happen if they lost the vote. As the weak support for the measure has become more apparently, though, there's been a decided change in tone. It seems to have started with this Peter Baker report in The New York Times:
Although Mr. Obama has asserted that he has the authority to order the strike on Syria even if Congress says no, White House aides consider that almost unthinkable. As a practical matter, it would leave him more isolated than ever and seemingly in defiance of the public's will at home. As a political matter, it would almost surely set off an effort in the House to impeach him, which even if it went nowhere could be distracting and draining.
This morning, the question was put directly to Deputy National Security Adviser Tony Blinken, who has been the Administration's chief spokesperson on Syria in Washington while the President and Susan Rice have been overseas:
Deputy National Security Adviser Tony Blinken said Friday of President Barack Obama that "it's neither his desire nor intention to use that authority absent Congress backing him."

In an interview with NPR's "Morning Edition" Blinken said, "The president of course has the authority" when asked whether Obama could move ahead with a strike, but emphasized the White House had reached out to Congress.

"After the events of August 21st we reached out to Congress and we had conversations with members of Congress across the country and the one thing we heard from nearly all of them was that they wanted their voice heard and their votes counted," he said.
In his own press conference in St. Petersburg, President Obama seemed to walk Blinken's statement back just a bit, but nonetheless seemed to want to make it clear that he didn't send the matter to Congress with the intention of ignoring what Congress says:
"I did not put this before Congress, you know, just as a political ploy or as symbolism," Obama said during a news conference at the G20 Summit in Russia Friday morning. "I put it before Congress because I could not honestly claim that the threat posed by Assad's use of chemical weapons on innocent civilians and women and children posed an imminent, direct threat to the United States.

"In that situation, obviously, I don't worry about Congress; we do what we have to do to keep the American people safe. I could not say that it was immediately directly going to have an impact on our allies. Again, in those situations, I would act right away. This wasn't even a situation like Libya, where, you know, you've got troops rolling towards Benghazi and you have a concern about time, in terms of saving somebody right away."

But the president declined to say what he'd do if Congress votes down the resolution.

"I think it would be a mistake for me to jump the gun and speculate, because right now I'm working to get as much support as possible out of Congress," Obama said.

"I was under no illusions when I — when I embarked on this path. But I think it's the right thing to do. I think it's good for our democracy. We will be more effective if we are unified going forward," he said.

"I put this before Congress for a reason," Obama repeated, after ABC News's Jonathan Karl tried to goad him into a fresh response to the earlier question about what he's do if Congress votes the use-of-force resolution down. "I think we will be more effective and stronger if, in fact, Congress authorizes this action. I'm not going to engage in parlor games now, Jonathan, about whether or not it's going to pass, when I'm talking substantively to Congress about why this is important and talking to American people about why this is important.

"Now, with respect to Congress and how they should respond to constituency concerns, you know, I do consider it part of my job to help make the case and to explain to the American people exactly why I think this is the right thing to do.
And it's conceivable that at the end of the day, I don't persuade a majority of the American people that it's the right thing to do," the president continued. "And then each member of Congress is gonna have to decide, if I think it's the right thing to do for America's national security and the world's national security, then how do I vote?
To answer this question, we must examine what the President could do, what we think he would do, and, of course, what he should do, in the event he loses the vote.
The President is walking a tightrope here, obviously. If he were to come right out and say that he was inclined to strike regardless of what Congress said, then he would likely guarantee that he would end up losing the vote in the end simply because he annoyed Congress. At the same time, he can't necessarily say that he would absolutely comply with Congress's will, then he risks weakening his position on the foreign policy front and creating a precedent that could unduly bind future Presidents. Even Blinken's statement is far more nuanced than most of the reports about it would have you believe. What Blinkin said was that it was not the President's intention to act in defiance of Congressional will. That's a far cry from saying that he would comply with that will. So, we're left, somewhat intentionally, in an ambiguous world where we're forced to speculate about how the President would react to the loss, and what that would mean for domestic politics and his relationship with Congress. 

Legally, the situation here is also ambiguous. While many will be quick to draw an analogy between this Congressional vote and the vote in Parliament last week, after which British Prime Minister David Cameron announced that he would abide by the vote and that Britain would not be participating in an attack on Syria, that analogy fails. Unlike the American President, the powers when it comes to warmaking and the use of military force are far more constrained. By the terms of the Constitution, the President is Commander in Chief of America's armed forces. The British Prime Minister does not hold a similar position. Instead, the C-in-C of British armed forces is, technically at least, Queen Elizabeth II. That authority, of course, has been vested in Parliament along with most other Royal powers, and Parliament further vests it in the Prime Minister and various other defense officials. If Parliament says that certain action cannot be taken, then the Prime Minister has to be consider him or herself bound by that decision or otherwise risk a vote of no confidence that results in their removal from office. The President's authority, however, is far broader and over 200+ years of American history has been interpreted to permit him to commit American forces in a wide variety of circumstances. Whether those interpretations are correct is, of course, debatable, but the precedents do exist and Congress has done little to restrain such actions by previous Presidents (or, in the case of Libya, by this President.)  Given all of this, a statement by President Obama that he would absolutely follow Congressional will in this matter would arguably constitute an historical rewriting of the relationship between the branches of government.
The fact that President Obama may be able to make a credible legal/historical case for acting without Congressional authority, though, is only half the equation. The other thing to consider if Congress votes down a Syria AUMF is what the political consequences would be if the President acted notwithstanding that result. Without question, it would further damage the relationship between the White House and the House and Senate GOP at a time when the Federal Government still has to deal with several immediate issues beyond Syria, such as the Fiscal Year 2014 Budget, and the impending Debt Ceiling vote. It would likely reinvigorate the Tea Party and other groups opposed to the President's agenda. And, it would bring closer the point in his Second Term when President Obama would become a "lame duck." It's also likely that many House and Senate Democrats who opposed the AUMF would be upset at such a direct Presidential snub of Congressional prerogative. We might even see impeachment or censure proceedings in Congress. Candidates for 2014 and 2016 would be required to take a position on what the President did, and Washington would generally become even more of a mess than it already is. Given all of this, the political factors would seem to argue strongly that, if he loses the vote, the President should state that he will respect the vote while doing so in a manner that preserves traditional Presidential powers and reserving the right to return to the Syria issue if circumstances warrant.  Any other option would seem to be political suicide.
That brings us back to the question of what Obama would do if he lost the vote.
My personal impression after four and a half years of this Administration is that the President is more likely to respect Congress's decision than to openly defy it. As a general matter, it's been apparent from the beginning of the Syrian civil war that the Administration is reluctant to get involved at all. But for the famous "red line" quote from last August, one wonders if we'd even be having this debate right now. (I suspect not.) While the President has shown an willingness to use Executive Power to make end runs around Congress in the domestic political arena several times, doing so in this case would be a significant escalation of that pattern. Given the fact that the vast majority of the public opposes what he wants to do in Syria to begin with, it seems unlikely to me that he'd risk the political train wreck likely to ensure from open defiance of Congress. As an aside, I'd suggest that this is exactly what the President should do if he loses. Having sent the matter to Congress, which is exactly what he should have done, it strikes me that he's bound to abide by the result. If he didn't want to risk losing the vote then he shouldn't have done it.
In any case, we may very well be able to test this hypothesis in the coming week or two.