It's Time For Congress To Debate The Wisdom Of Attacking Syria
Some Members of Congress are calling for a debate before any strikes on Syria. They're absolutely right.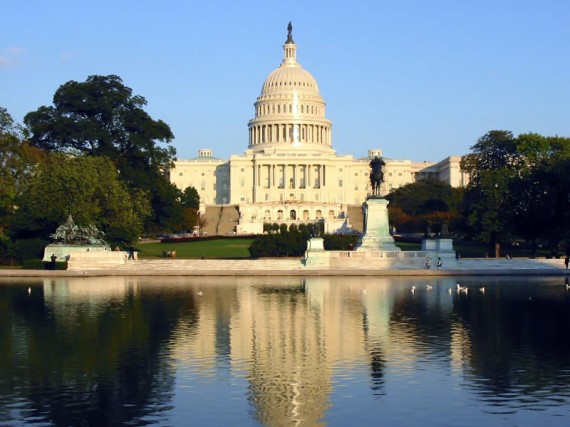 For the better part of what constituted the early morning and afternoon in Washington, D.C., the British Parliament met in London to engage in a multi-hour debate on how, if at all, the United Kingdom should respond to reports that Syrian government forced had used chemical weapons in an attack on August 21st. As is typically the case for Parliamentary debate, it was a raucous and contentious affair but it was also more substantive than anything you're likely to see in the United States Congress any time soon. Most importantly, though, here was the elected leadership of one of America's closest allies engaging in an open and public debate about the possibility of taking action that could end up involving their nation in a civil war that has raged on for two and a half years now with no signs that its going to abate. Given the fact that the United Nations weapons inspectors have not even completed their inspection yet, it's likely not the final debate that Parliament will have on this topic before any action is taken, assuming that it is.
Things are far different on this side of the Atlantic Ocean, though. Congress is still in its August recess and not scheduled to even return to Washington for nearly two weeks. Neither the President nor the Congressional leadership of either party have shown any inclination to call for an early end to the recess so that our representatives can engage in a similar debate and, indeed, many members of Congress have said that there is no need for debate at all as long as the President "consults" with Congress, or to be more precise a few select members of Congress, before undertaking any aggressive military action on behalf of the United States. This really shouldn't come as any surprise. President Obama failed to seek any kind of authorization from Congress before involving the nation in the Libyan Civil War two years ago, and with a few notable exceptions, most Members of Congress didn't hold the Administration's feet to the fire when they had the chance to do so. This time, though, there seems to be a larger segment of Congress calling on the President to seek Presidential approval before engaging in action:
More than 100 lawmakers, including 21 Democrats, have signed a letter that says President Obama would violate the Constitution by striking Syria without first getting authorization from Congress.

A total of 140 lawmakers had signed the letter as of Thursday, highlighting bipartisan interest and growing momentum in ensuring a role for Congress in any decision to use force in Syria. The letter has yet to be sent to the White House.

"Engaging our military in Syria when no direct threat to the United States exists and without prior congressional authorization would violate the separation of powers that is clearly delineated in the Constitution," states the letter, spearheaded by Rep. Scott Rigell (R-Va.).

"I'm grateful and encouraged by the strong, bipartisan support this letter has received," Rigell said in a statement this evening. "It's a clear indication that this issue is not personal to the president, but rather represents common ground in Congress and a deep respect for the Constitution."

The Democrats who have signed the letter so far are Reps. Zoe Lofgren (Calif.), Rush Holt (N.J.), Beto O'Rourke (Texas), Peter DeFazio (Ore.), Kurt Schrader (Ore.), William Enyart (Ill.), Tim Walz (Minn.), Sam Farr (Calif.), Bruce Braley, (Iowa), Jim McDermott (Wash.), Michael Capuano (Mass.), Anna Eshoo (Calif.), Earl Blumenauer (Ore.), Peter Welch (Vt.), Rick Nolan (Minn.), David Loebsack (Iowa), Jim Matheson (Utah), Collin Peterson (Minn.), Elizabeth Esty (Conn.), Daniel Lipinski, (Ill.) and Dan Maffei (N.Y.).

Current Homeland Security Committee Chairman Mike McCaul (R-Texas) is among the Republicans who has signed onto Rigell's effort. However, his predecessor, former Homeland Security Committee Chairman Pete King (R-N.Y.), has repeatedly said on TV news programs that Obama does not need authorization from Congress to move forward.

Rigell has called on Obama to bring Congress back to Washington early to consider the authorization of military force against Syria.

"If you deem that military action in Syria is necessary, Congress can reconvene at your convenience," the letter states.
Obviously, 140 Members of Congress out of a body that totals 535 people across both the House and the Senate is far from a majority, but it seems to be reflective of a high level of doubt in political circles in Washington, D.C. about the justification and basis for what the Obama Administration is apparently planning to do in Syria in response to the August 21st attack. Nobody seems to argue with the proposition that the President has the authority to act without Congressional authorization in a situation where there is a direct threat to the United States and immediate action is necessary, but that's most certainly not the case here. Syria doesn't pose an immediate threat of any kind to the United States, and it hasn't attacked the United States. Moreover, unlike Libya this case doesn't even offer the President the fig leaf of a United Nations mandate upon which he can justify his action. If he attacks Syria it will be purely an act of war based only on his own choice. Given that even our friends across the pond are engaging in an open and democratic debate about possible military action, it seems striking that here in the United States we have a President who, like many of his predecessors, believes that he can act without regard to popular will or the permission of Congress.
President Obama didn't always feel this way, of course. Back when he was a candidate for President for the first time, when the Iraq War was still in the headlines, he took a much different position on the issue:
2. In what circumstances, if any, would the president have constitutional authority to bomb Iran without seeking a use-of-force authorization from Congress? (Specifically, what about the strategic bombing of suspected nuclear sites — a situation that does not involve stopping an IMMINENT threat?)

The President does not have power under the Constitution to unilaterally authorize a military attack in a situation that does not involve stopping an actual or imminent threat to the nation.

As Commander-in-Chief, the President does have a duty to protect and defend the United States. In instances of self-defense, the President would be within his constitutional authority to act before advising Congress or seeking its consent. History has shown us time and again, however, that military action is most successful when it is authorized and supported by the Legislative branch. It is always preferable to have the informed consent of Congress prior to any military action.

As for the specific question about bombing suspected nuclear sites, I recently introduced S.J. Res. 23, which states in part that "any offensive military action taken by the United States against Iran must be explicitly authorized by Congress." The recent NIE tells us that Iran in 2003 halted its effort to design a nuclear weapon. While this does not mean that Iran is no longer a threat to the United States or its allies, it does give us time to conduct aggressive and principled personal diplomacy aimed at preventing Iran from developing nuclear weapons.
During a forum in 2007, President Obama also said that the American people have a right to know the basis for military action before it occurs, and Vice President Biden once even suggested that taking military action without Congressional approval could be grounds for impeachment.   One wonders what candidates Obama and Biden with think about the actions that President Obama and Vice-President Biden have taken, and what they are apparently planning to do in Syria, without Congressional approval.
There is no reason to rush the decision to attack Syria. As noted, that nation poses no imminent threat to us or our allies at this time, and it's unlikely that they will any time in the near future. Additionally, given the fact that we've engaged in military action based on faulty intelligence in the past, it would seem essential that we be sure about the basis for any attack before actually engaging in one. Given all of that, and given that the British can apparently find the time to debate going to war in Syria before actually do so, the fact that our own Congress might not actually do so is really quite outrageous. So far, about 140 lawmakers are on board with the idea of returning from recess early to debate this important issue, but there's really no reason why that number shouldn't be 535, or why the President shouldn't be calling Congress back into session and asking them to approve what he plans to do. If he fails to do so, then the consequences for those actions will be entirely on his shoulders, but it will be the nation as a whole that will end up paying the price.