Biden: Without Economic Collapse, McCain Would've Won In 2008
John McCain's problems in 2008 went far beyond an economic crisis.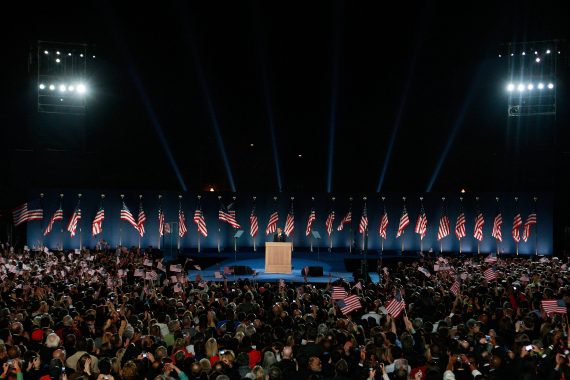 Vice-President Biden advanced a theory that I've heard from many people in the years since the 2008 Presidential campaign:
(CNN) - Vice President Joe Biden said Friday that if not for the economic collapse surrounding the 2008 presidential race, Sen. John McCain might have beat President Barack Obama.

"The truth of the matter is, Barack knows it, I know, had the economy not collapsed around your ears, John, in the middle of literally, as things were moving, I think you probably would have won," Biden said during the annual Sedona forum at the McCain Institute for International Leadership at Arizona State University.

"It would have been incredibly, incredibly, incredibly close. You inherited a really difficult time," Biden said to McCain, R-Arizona.
It's certainly true that the McCain/Palin ticket's fortunes began to decline precipitously when the economic meltdown began in full force on September 15th with the collapse of Lehman Brothers, but it's worth noting that the post convention bounce that the Republican ticket experienced in the wake of the Republican Convention in Minneapolis was already beginning to level off well before the economic meltdown began in earnest. Given the fact that Obama had led McCain in polling for weeks prior to the back-to-back party conventions, it's quite probable that the race would have returned to its pre-convention state as debate season got closer at the end of September. Additionally, it's likely that the Republican ticket would have been just as negatively impacted by the disastrous mid-September interview appearances by Sarah Palin, and that the lackluster McCain campaign operation would have still proven itself to be no match for Obama's well-organized ground campaign. Finally, regardless of the impact of the economic downturn, there's no denying that then candidate Obama was a far more charismatic candidate than McCain, a skill that would have aided him well regardless of the state of the economy in the fall of 2008.
There's no denying, of course, that the economic downturn had a major impact on the 2008 race, most of it to McCain's detriment. Part of the reason for that, though, wasn't so much because of the fact of the downturn itself but because of McCain's disastrous response to it. The stunt in which he supposedly suspended his campaign mere days away from when he and Obama were scheduled to meet in their first debate, for example, made him look like an idiot. When he appeared at the White House along with Obama and the Congressional leadership for a meeting with the President about the crisis, he contributed absolutely nothing and essentially made Obama seem like a leader while he was flailing around. According to some accounts that came out after the election, after this meeting Bush and other Administration officials concluded that McCain was likely to lose the election based just on his performance at that meeting.  So, yes, the economic crisis of the fall of 2008 did have a negative impact on McCain's campaign, but that was largely because of McCain's own mistakes, mistakes he was likely to have made under any other circumstances.
Playing "what if" games is always interesting, and perhaps there is some version of reality under which McCain could have won the 2008 Presidential campaign, but they strike me as being few and far between. He was a lackluster candidate running in an environment in which his party's brand was damaged thanks to a President whose approval ratings had fallen below 30%. Under the circumstances, he was lucky he didn't lose by a wider margin.