Trump's Unhinged Behavior On Full Display At Meeting With Pelosi
As the vultures continue to circle above the White House, the President continues to lash out.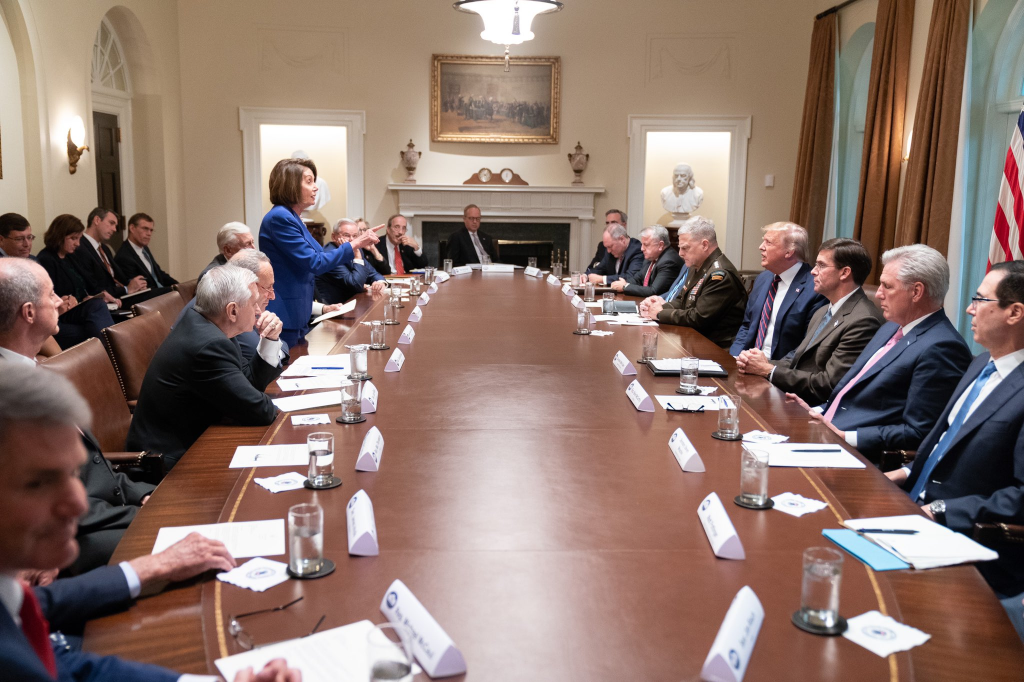 President Trump met yesterday with the House and Senate Democratic and Republican leadership as well as several top committee Chairpersons, the meeting went about as you'd expect. No, wait, let me take that back, it was much, much worse than that:
At their first meeting since the impeachment inquiry began, President Trump disparaged House Speaker Nancy Pelosi (D-Calif.), prompting Pelosi and other Democratic leaders to leave the meeting after what she described as the president's "meltdown."

Later Wednesday, Trump tweeted that Pelosi had the "meltdown" and called her "a very sick person."

Hours after their contentious White House meeting, Trump suggested Pelosi was mentally ill and told people to "pray for her."

"Nancy Pelosi needs help fast! There is either something wrong with her 'upstairs,' or she just plain doesn't like our great Country. She had a total meltdown in the White House today. It was very sad to watch. Pray for her, she is a very sick person!" Trump tweeted

Earlier he tweeted a photo of the meeting where Pelosi is standing while speaking and everyone else is seated. The White House said it was evidence of her "meltdown," but Pelosi supporters said it showed she was standing up to the president, literally. Pelosi made the photo the main image for her Twitter account.

Trump's attack on the speaker of the House are in contrast to the many kind things he's said about her in the past. He seemed to stick up for her when she was vying for votes to become speaker earlier this year, and after she secured the gavel he said she deserved a "great deal of credit for what she's done and what she's accomplished."
The reality of Washington in 2019 is this: A meeting between President Donald Trump and Speaker Nancy Pelosi will very likely end with someone abruptly walking out of the room.

Wednesday's ugly encounter marks the third time in less than nine months that a meeting between two of the nation's most powerful leaders has been derailed after a barrage of insults from the president.

Trump accused Democratic leaders of sympathizing with communists in Syria and slammed Pelosi as "a third-rate politician," before ripping a series of targets including Jim Mattis, his own former Pentagon chief.

While Trump also makes clear that he doesn't care much for Senate Minority Leader Chuck Schumer (D-N.Y.), it's Pelosi who clearly angers the president most — a fury that has only grown since Democrats launched their fast-moving impeachment inquiry of Trump.
While Trump spent most of his first two years in office and the early months of 2019 treating newly re-installed Speaker Pelosi with kid gloves, it marks the latest development in a relationship that has rapidly gone downhill. In December 2018, for example, on the eve of the record-breaking government shutdown that lasted until the end of January, Trump went on a nearly 20-minute rant about his border wall in a meeting with Pelosi and Schumer which only guaranteed bad future relationship between the two sides. Later, during a January meeting that reportedly ended when Trump began loudly and angrily banging his hand on a table and then walked out without engaging in any substantive talks. The same thing happened in May during a meeting that was supposed to be all about infrastructure. In the ensuing time, he has launched frequent, and increasingly vicious and irrational attacks against Pelosi and the House Democrats, attacks that have not surprisingly gotten more common as impeachment has become more and more likely. As Politico puts it these attacks are " textbook examples of dysfunction that would be laughable if the stakes weren't so high, both for them and for the nation."
If anything, this latest incident is worse than all of those together:
The new chapter in their feud had Pelosi and other top Democrats exiting a White House meeting Wednesday complaining Trump resorted to name-calling and personal insults. Their departure abruptly ended an attempt by congressional leaders in both parties to discuss Trump's troop withdrawal from northern Syria.

During the latest session, Trump laced into Pelosi, launching into a "nasty diatribe" that culminated in him calling her a "third-rate politician," according to Schumer.

Pelosi shot back after the meeting, saying Trump had a "meltdown" and was "rattled" by the House's overwhelming bipartisan vote earlier Wednesday to condemn the president's actions in Syria.

Trump later countered in a series of tweets that it was in fact Pelosi who had a "a total meltdown," adding, "Nancy Pelosi needs help fast! There is either something wrong with her 'upstairs,' or she just plain doesn't like our great Country."

Trump also tweeted a photo of the meeting with the caption, "Nervous Nancy's unhinged meltdown!" Pelosi apparently didn't mind the picture; she made it part of her Twitter profile.

According to Democrats, Trump began Wednesday's meeting with a "lengthy monologue" on Syria, and then "bragged about his 'nasty' letter" to Turkish President Recep Tayyip Erdogan, which the White House released afterward. Trump even distributed copies of the letter at the meeting.

At one point, "Trump suggested that there were communists in Syria and said Democrats would like that," said a senior Democratic aide, although lawmakers said that comment was related to the Kurds.

Pelosi responded that Russia has always wanted a "foothold in the Middle East," and blamed Trump for now giving one to Russian President Vladimir Putin. "All roads with you lead to Putin," Pelosi declared, a Democratic aide said.

Trump later told Pelosi, "I hate ISIS more than you do," to which Pelosi replied, "You don't know that."

During one exchange, Trump blamed former President Barack Obama for the mess in Syria, although part of his insult was aimed at Pelosi, too.

House Majority Leader Steny Hoyer (D-Md.) then jumped in to back Pelosi: "This is not useful."

As Trump took aim at her, Pelosi stood up to go. She began to sit back down until Hoyer suggested that Democrats should leave, according to a Democratic source familiar with the meeting.

The two top House Democrats then left, followed shortly afterward by Schumer, who had briefly stayed behind to press Defense Secretary Mark Esper about the fate of ISIS prisoners in Syria.
Here are the President's tweets about the meeting, which are even more unhinged than the reports about his behavior with the leaders of a co-equal branch of government:
As with Trump's letter to Erdogan, there's very little that one can actually say about this incident that would not be a repetition of things that have already been said about this President. Taken together with other examples of his recent behavior, though, it seems clear that the ongoing impeachment inquiry, as well as the near-universal negative reaction to his actions in Syria, have thrown Trump for a loop and that he is lashing out in response in much the same way he has in the past. The difference this time, of course, is that he is doing it as President of the United States and the person through him people all around the world judge the United States by how he acts. More importantly, how he acts has a real impact on the daily lives of Americans, the safety of Americans abroad, and the national interests of the United States.
I am not a medical professional so I am not going to say definitively that the President is somehow mentally impaired. That is for an appropriate doctor to judge after examining, not a blogger. That being said, this incident in particular, combined with other examples of the President's recent behavior and reports about the environment inside the West Wing, make it clear that Donald Trump is, at least in the colloquial sense "losing it" as the pressures around him, which now include not just an impeachment inquiry but also the first real international crisis of his Presidency, one which he clearly caused through his own actions, mount, What this means for the future is unclear but I don't think it's going to be good news.