Biden's $3 Trillion Infrastructure Bill
We're about to spend a whole lot more money.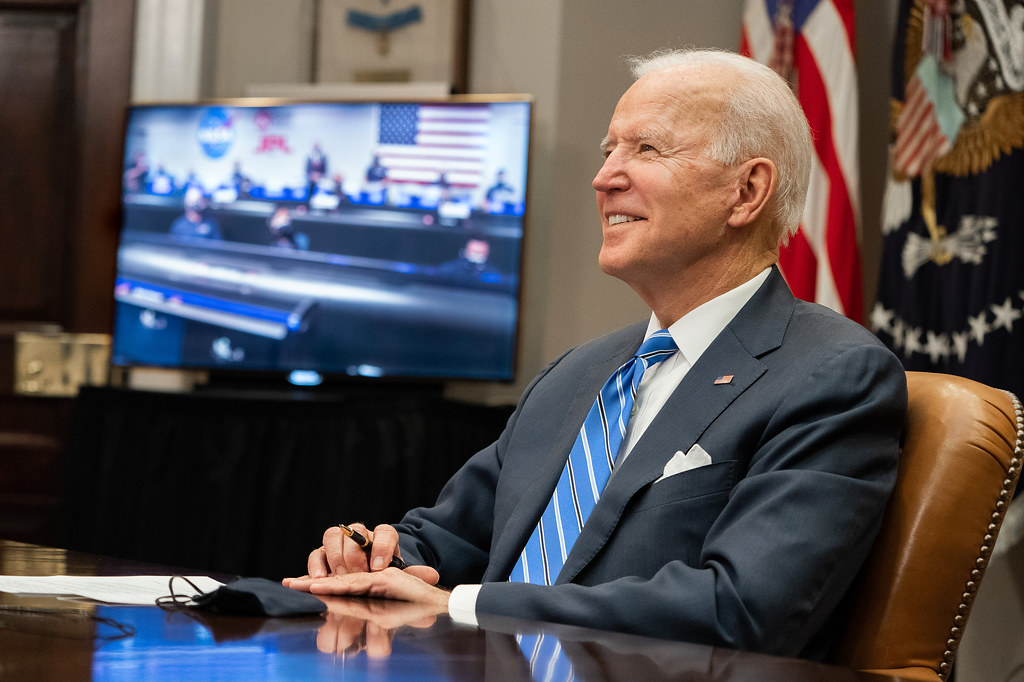 Fresh off a $1.9 trillion stimulus package to boost an economy that's nearly recovered from the pandemic, the President is about to introduce a massive package to rebuild America's infrastructure and invest in some pet projects.
The YahooNews headline, "Buttigieg looks to remake America's crumbling infrastructure — and boost his own brand in the process," was amusing on two fronts. First, while Transportation Secretary is a much bigger job than most people realize, this is hardly Buttigieg's initiative. Second, since when is it a problem that people get credit for doing their job well?
Within weeks, the Biden administration will introduce a massive infrastructure plan that, if realized, could be as transformative as the Works Progress Administration was during the Great Depression. But much like that famed antecedent, the infrastructure plan is sure to be criticized by Republicans as a ploy to usher in socialism.

An early outline of the plan, published on Monday by the New York Times, has the Biden administration spending $3 trillion on everything from rural Internet to green housing. Few other details are available, in particular how Biden will find the requisite congressional support, and funding, for the plan. But the fight over infrastructure is coming, and Buttigieg will be in the middle of the scrum.

First and foremost, he'll be the administration's salesman, making the case to Republican governors and mayors that supporting the infrastructure plan will be in their best interests. He has also pledged to turn the Transportation Department into an unlikely crucible of progressive policy, vowing when he first came to Washington that the agency would "rise to the climate challenge." He has also promised to apply an "equity lens" to infrastructure projects.

"Black and brown neighborhoods have been disproportionately divided by highway projects or left isolated by the lack of adequate transit and transportation resources," Buttigieg tweeted in December. "In the Biden-Harris administration, we will make righting these wrongs an imperative."

National infrastructure, racial equity and climate change are an ambitious portfolio for the young secretary. They also sound like the sturdy pillars of a Democratic presidential campaign, something Buttigieg won't talk about but that is not lost on his former staffers.

"He gets to be Build Back Better," a former staffer on his presidential campaign said, echoing one of the slogans of the Biden presidential campaign. "He gets blank checks. He can tie himself to feel-good projects coming out of the administration." He also gets to tour the nation, introducing himself to prospective voters, and tout those aforementioned feel-good projects to media both national and local.

The goal, as one flattering recent profile on Buttigieg put it, is to "quest to make transportation cool again." More practically, the administration believes there is no serious constituency advocating for keeping the nation's infrastructure in a state of disrepair. The challenge will be in preventing Republicans from painting the plan as tunnels for turtles, a series of giveaways to progressive groups for progressive imperatives.

"The secretary believes that no matter where you live and what your politics are, the American people will benefit from an investment in infrastructure that is focused on jobs, climate and equity," Transportation Department spokesman Ben Halle told Yahoo News. "And he will work with the White House to deliver that message directly to the American people."
I liked Buttigieg in the 2020 primaries but thought he was too inexperienced to be President. Transportation has never been a ticket to future elective office, with Elizabeth Dole the only one to move on to a higher post, but there's no reason that Buttigieg couldn't leverage this project, a changed media environment, and his natural skills to his advantage. One imagines, though, that Kamala Harris will get at least as much credit as he does.
As to the merits of the package itself, we have little to go on besides rhetoric. That we have underinvested in maintaining existing roads, bridges, and railways has been a complaint going back as long as I can remember. Our airports are mostly out-of-date. And we're well behind competitors in things like high-speed rail.
Certainly, $3 trillion could fix a lot of that if there's the political will to do so but NIMBY makes it incredibly difficult. While racism should never be discounted as an explanation for American policy decisions, the main reason we've tended to build interstate highways, airports, and the like in their neighborhoods is that they're poorer and less politically organized. We're not going to tear down rich neighborhoods to build these things.
The linked New York Times story ("Biden Team Prepares $3 Trillion in New Spending for the Economy") doesn't fill in many details, even over how many years the $3 trillion is intended to be spent. Apparently, we're going to get some of the money from "tax increases on corporations and the rich," which is the Democratic Party's version of "cut waste, fraud and abuse"—a chimera that appeals to the masses allows deferring hard choices.
Administration officials caution that details remain in flux. But the enormous scope of the proposal highlights the aggressive approach the Biden administration wants to take as it tries to harness the power of the federal government to make the economy more equitable, address climate change, and improve American manufacturing and high-technology industries in an escalating battle with China.

The $1.9 trillion economic aid package that Mr. Biden signed into law this month includes money to help vulnerable people and businesses survive the pandemic downturn. But it does little to advance the longer-term economic agenda that Mr. Biden campaigned on, including transitioning to renewable energy and improving America's ability to compete in emerging industries, like electric vehicles. Administration officials essentially see those goals — building out the nation's infrastructure and shifting to a low-carbon future — as inseparable.
To the extent we're investing taxpayer money in "renewable energy," it makes sense to consider its effects on the climate.
It's not at all clear why America can't already compete in electric vehicles, which is hardly an "emerging" industry. Tesla, after all, is based in California. And all manner of electric vehicles are already coming from American automakers over the next year or three. It's not obvious what the federal government's role is here. Backing the establishment of rapid charging stations might be a worthwhile investment of public funds but the risk of forcing standardization early is that it might short-circuit innovation.
Just how to approach the legislative strategy is still under discussion given the size of the proposal and the thin majority that Democrats hold in the House and the Senate.

Mr. Biden's advisers plan to recommend that the effort be broken into pieces, with Congress tackling infrastructure before turning to a second package that would include more people-focused proposals, like free community college, universal prekindergarten and a national paid leave program.
Leaving aside the politics, it's not at all obvious how these would work. Presumably, we're not going to establish federal community colleges. So, we're just going to pay for people to attend existing community colleges? With what guarantee that they won't jack up prices? Subsidizing early childhood education and, indeed, childcare, would bring us in line with most other developed nations. But details on how this would work are needed. And paid leave for whom? And why is that a taxpayer responsibility?
Some White House officials believe the focus of the first package may be more appealing to Republicans, business leaders and many moderate Senate Democrats, given the longstanding bipartisan push in Washington for an infrastructure bill.

That plan would spend heavily on clean energy deployment and the development of other "high-growth industries of the future" like 5G telecommunications. It includes money for rural broadband, advanced training for millions of workers, and one million affordable and energy-efficient housing units. Documents suggest it will include nearly $1 trillion in spending on the construction of roads, bridges, rail lines, ports, electric vehicle charging stations, and improvements to the electric grid and other parts of the power sector.

Whether it can muster Republican support will depend in large part on how the bill is paid for.
Let's leave aside for now whether any bill at all proposed by a Democratic administration will get Republican support. But the sheer hodgepodge of programs lumped into "infrastructure" here is mindboggling.
"Rural broadband" sounds very much like a 1990s project, although one presumes that we're now talking about whatever the 5G version is of cellular towers rather than running miles of fiberoptic cable to serve a handful of people who choose to live in the middle of nowhere.
A million housing units is not a lot of housing units in a country of 330 million people and it's not clear why the federal government needs to build them. Presumably, for the poor and homeless? But if so, I thought we figured out decades ago that it was better to subsidize their living in existing housing rather than segregating them into "projects."
But "construction of roads, bridges, rail lines, ports, electric vehicle charging stations, and improvements to the electric grid and other parts of the power sector" seems more-or-less unobjectionable on its face. Rail is easily the most controversial of these, with those living outside the major metropolitan areas seeing no benefit. Beyond the politics, the logistics are simply a nightmare. Once-great subway systems like those in New York and DC are falling apart but it's next to impossible to upgrade them without months- or even years-long shutdowns. And it's nearly impossible to build new ones in big cities because of the massive disruption of existing routines that stretch on for years and years.
Officials have discussed offsetting some or all of the infrastructure spending by raising taxes on corporations, including increasing the 21 percent corporate income tax rate and a variety of measures to force multinational corporations to pay more tax in the United States on income they earn abroad. That strategy is unlikely to garner Republican votes.

"I don't think there's going to be any enthusiasm on our side for a tax increase," Senator Mitch McConnell of Kentucky, the Republican leader, told reporters last week. He predicted the administration's infrastructure plan would be a "Trojan horse" for tax increases.
Again, even aside from the politics, it's not obvious the money is there. The 2017 tax cut under President Trump took corporate rates from 35 to 21. Biden wants to raise them to 28 percent, which is what the Obama-Biden administration had proposed cutting them to but failed. Even if the support to do that exists, it's not clear that it will yield much money since corporations have the means to shift their earnings to shield them from taxation. Indeed, the reason Obama wanted to cut them from 35 percent to begin with is to encourage more compliance.
The overall price tag of the package could approach $4 trillion since it includes several tax incentives, like credits to help families afford child care and to encourage energy efficiency in existing buildings. It could also extend temporary tax cuts meant to fight poverty, which could increase the size of the proposal by hundreds of billions of dollars, according to estimates prepared by administration officials.

Mr. Biden supports all of the individual spending and tax proposals under consideration, but it is unclear whether he will back splitting his agenda into pieces, or what legislative strategy he and Democratic leaders will pursue to maximize the chances of pushing the effort through Congress.
Apparently, they'll have Buttigieg do it.
And, yes, the "temporary" child tax credit that was part of the "relief" bill is almost certainly going to become permanent. Again, that may be a good thing on a number of fronts but it's expensive.
On the broader political front, even leaving aside the question of whether Republicans will support any of this, I'm not sure I understand the logic of getting out so early with the massive cost of the bill will offering so few details. "How will we pay for it?" no longer seems a relevant question, given that we now have a bipartisan consensus that we can just spend all the money we want, borrow it on really low interest rates, and the debt will magically go away at some point. So, right now, we're just left with we're going to spend $3 trillion—or, more likely, $4 trillion—on a huge grabbag of stuff and call it all "infrastructure."