Biden's First 50 Days
A way-too-early assessment of how it's going.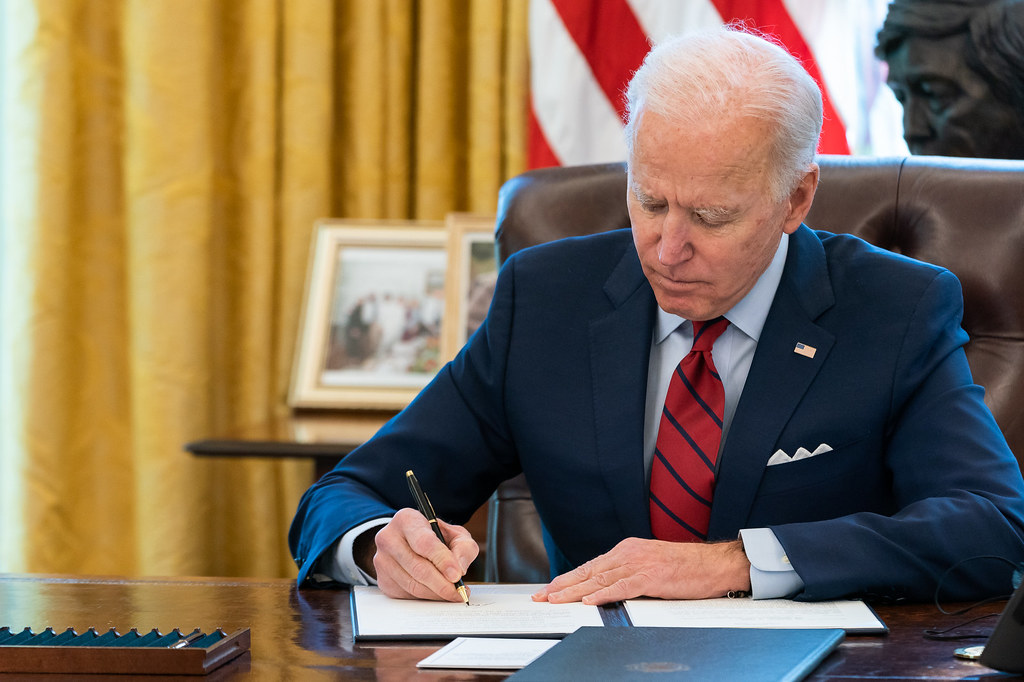 Business Insider's John Haltiwanger argues, "Biden inherited a mess, but his first 50 days as president have been a historic success." I largely agree, with some quibbles.
President Joe Biden was inaugurated two weeks after a violent insurrection at the Capitol and at the height of a pandemic that had already claimed over 400,000 American lives and dealt serious damage to the economy by the time he was sworn in.
I would argue that this is the worst starting point for any modern President; you'd have to go back to Abraham Lincoln taking over on the eve of a by-then-unavoidable Civil War for a serious contender. Then again, there's nowhere to go but up.
But 50 days into his presidency, Biden already has a major legislative achievement under his belt. The House on Wednesday passed his $1.9 trillion COVID-19 stimulus package, which economists have predicted will provide a massive jolt to the economy. The White House said Biden is set to sign the bill — one of the largest economic relief measures in US history — on Friday. 
Here, I would quibble. Sure, it's a massive bill pushed through on a party-line vote. But it's mostly just handing out borrowed money. While I expect the one-year child credit to become the seeds for a permanent program, it's not yet a fundamental restructuring in the way ObamaCare, much less Social Security, was. It's not even the Reagan tax cuts.
Biden, who was in the Senate for decades before becoming vice president in the Obama administration and eventually president, campaigned on bringing "consensus" back to Washington. He's failing miserably on that front so far, as not a single Republican voted in favor of the stimulus. That said, he still got it done. And polling shows a strong majority of Americans support the rescue package.
Here's my more fundamental disagreement: it's silly to blame Biden for "failing miserably" on getting the opposition party to engage in normal politics. He would happily have negotiated with them had they shown the slightest inclination.
And, more of a quibble, the fact that getting free money is popular is hardly surprising. That doesn't make it good policy. (The Trump stimulus was similarly expensive and untargeted but the economic shutdown at that point in the crisis was so crushing that it overkill was the lesser of evils. It's not obvious that's still the case.)
Still, this is fair:
Democrats are portraying the $1.9. trillion package as a historic anti-poverty measure.

Early analysis of the legislation found it primarily benefits middle and low-income households, and suggests it could drastically reduce poverty in the US. The non-partisan Urban Institute projected that the bill would reduce the annual poverty rate to 8.7% percent, as opposed to 13.7% without the legislation.  
That's huge although, again, a one-shot that could certainly have been achieved far more cheaply with more reasonable means-testing. It's silly to argue that couples making $149,000 should get stimulus checks. That's a solid income anywhere in the country.
The ultimate impact of Biden's $1.9 trillion bill remains to be seen and the president has faced criticism from progressives for not fighting harder to keep a provision to raise the minimum wage to $15. 
The votes just didn't exist. Even if Democrats fired the Senate parliamentarian who ruled that this measure didn't meet the requirements for the reconciliation bypass, at least two Senate Democrats were publicly opposed to the measure. I'm not sure how hard Biden was supposed to "fight" if it meant alienating Joe Manchin and Kyrsten Sinema.
Regardless, the stimulus stands as among the most significant legislative accomplishments of any recent president in their first 100 days. It's akin to the roughly $800 billion economic relief package former President Barack Obama signed roughly a month into his tenure amid the Great Recession, which has been credited with staving off a second Great Depression.
Again, I'm not sure that an emergency spending bill—even one used as a vehicle to ram through programs you wanted to pass, anyway—is the same a passing permanent programs. And, while the forms would certainly have been different, we would almost certainly have gotten a massive stimulus under a President McCain and another one now under a re-elected Trump. (Indeed, he was pushing for one.)
Seeking to emulate the standard set by President Franklin D. Roosevelt during the Great Depression, Biden placed great emphasis on putting a significant dent in the COVID-19 crisis in his first 100 days. The stimulus is set to play a key role in this, and could be viewed as an inflection point in America's fight against the virus in the days, months, and years to come. With the pace of vaccination increasing across the US, Americans are beginning to see the light at the end of the tunnel almost a year after lockdowns first began
Here, again, I quibble only slightly. Trump was simply awful in his management of COVID in pretty much every conceivable way and Biden has been simply outstanding. Full stop.
That said, I don't think it's fair to credit him for much of the increase in vaccination rates in these early days—any more than it's fair to blame him for the rapidly-escalating death toll in his early days in office. These things simply don't turn on a dime and, even as bad as Trump was, the vaccination curve was on a massive upturn.
Where Biden gets credit is for the longer haul. Not only has he done a much better job in setting the example and issuing executive orders to demonstrate seriousness (if, frankly, some overkill in such things as mandates to wear masks outdoors on federal installations) but he has been far more aggressive in ramping up vaccine purchases. I don't think we've seen much, if any, benefit from the latter yet but the payoff will be huge.
Biden still faces a slew of convoluted challenges on the road ahead, and the pandemic is far from over. On the foreign policy front, there are significant roadblocks to Biden's plan to restore the 2015 Iran nuclear deal. He's also faced bipartisan criticism from congressional lawmakers over the first major military action of his presidency — airstrikes targeting Iran-backed militias in Syria in late February. Meanwhile, a surge in migrants at the border is complicating Biden's pledge to take a more humane approach to immigration than his predecessor.
This is doubtless true. Being President is harder that campaigning for President. Biden inherited realities and can't simply snap his fingers to return to the end of the Obama administration. I trust him infinitely more than I do Trump to handle all these crises but none have an easy, quick fix.