The Final Verdict On The 2009 Stimulus: A Failure
President Obama smiled as he signed the 2009 stimulus into law, but the results aren't anything to smile about.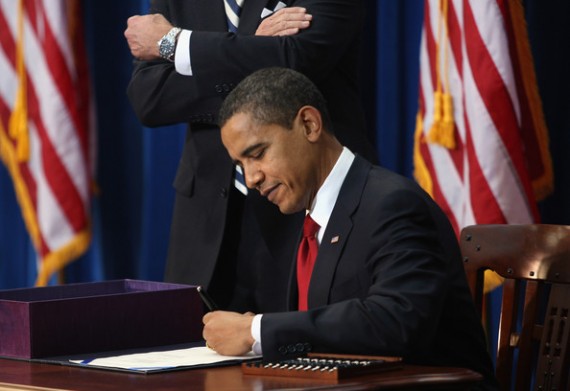 The final verdict is in on the 2009 stimulus bill, and it's pretty clear that the entire thing was one massive boondoggle:
When the Obama administration releases a report on the Friday before a long weekend, it's clearly not trying to draw attention to the report's contents. Sure enough, the "Seventh Quarterly Report" on the economic impact of the "stimulus," released on Friday, July 1, provides further evidence that President Obama's economic "stimulus" did very little, if anything, to stimulate the economy, and a whole lot to stimulate the debt.

The report was written by the White House's Council of Economic Advisors, a group of three economists who were all handpicked by Obama, and it chronicles the alleged success of the "stimulus" in adding or saving jobs. The council reports that, using "mainstream estimates of economic multipliers for the effects of fiscal stimulus" (which it describes as a "natural way to estimate the effects of" the legislation), the "stimulus" has added or saved just under 2.4 million jobs — whether private or public — at a cost (to date) of $666 billion. That's a cost to taxpayers of $278,000 per job.

In other words, the government could simply have cut a $100,000 check to everyone whose employment was allegedly made possible by the "stimulus," and taxpayers would have come out $427 billion ahead.
The White House has disputed this report:
The Council of Economic Advisers report, issued last Friday, states that in the first quarter of 2011, the stimulus bill "has raised employment relative to what it otherwise would have been by between 2.4 and 3.6 million."

The White House has long disputed the math of dividing the cost of the stimulus by the number of jobs created – we asked a similar question back in October 2009, when that computation resulted in the comparable bargain of $72,408 per stimulus job, as you can read at this blog post.

Then, as now, White House officials note that the spending didn't just fund salaries, it also went to the actual costs of building things — construction materials, new factories, and such. So the math is flawed, White House officials say, since reporters are not including the permanent infrastructure in the computation, thus producing an inflated figure. White House officials also questioned why the Weekly Standard would use the lower figure from the projection of the number of jobs created, and noted that the temporary nature of the stimulus bill meant that its impact would diminish over time, when the private sector began hiring again. In other words, the number of jobs created at its peak – as many as 3.6 million, according to the Congressional Budget Office's May 2011 report – would be more appropriate, White House officials say.
Even if we're generous and take that larger number, though, that leaves us with a ratio of stimulus spending to job "saved or created" of $185,000. Again, it would have been cheaper to just write a check to those people, and it might have actually had a more beneficial impact on the economy.
Hank Adler writes:
What should we have expected from the stimulus? Actually, what we should have expected was stimulus. For $800 billion, of course gross domestic product had to go up in the first quarter and at least someone should have been employed. But and it is a big but, the stimulus should have reduced overall unemployment and brought private investment dollars into the economy that would have sustained any short term economic gains from the stimulus. The real benefit of stimulus, not simply increased spending, should be appearing in current economic news. It is not.

And what should a new job cost? If 2.4 to 3.2 million jobs cost $800 million, that is a cost of $250,000 to $350,000 per job. It makes one ask for a more precise accounting of the spending. Shouldn't we have expected more jobs?  Weren't we promised an unemployment rate of less than 8%? And there appears to be little or no sign that these jobs were not, in part, a continuation of state and city government jobs which are going to be lost in 2011 and 2012 due to state finances.

What is the solution now? Did we sell the seed corn by using up our borrowing opportunity and maxing out the nation's debt?
It seems that we have. Not only is another $800,000,000 stimulus package out of the question politically, it is out of the question fiscally. We simply don't have the money to try this again, and that particular outcome was fairly apparent at the time the bill was being debated. In retrospect, it's clear that the promises the Administration made about the bill were completely unrealistic and that the unemployment picture would not be improving for a very long time, but of course that would have made people even more skeptical about spending money we didn't have on the promise that "something" would happen.
There's also a point to be made about the Administration's "saved or created jobs" metric, and it's one that Steve Verdon addressed back when the stimulus bill was being debated:
It is brilliant. Why? It is possible to measure how many jobs have been created between two points in time. However it is not possible to measure how many jobs were saved. These "saved jobs" never show up in any of the official statistics. As such It is a measure of performance that simply cannot be measured. Hence President Obama can claim it is true no matter if we lose 5 million jobs in the next year. Without his plan it would have been 9 million jobs lost.
I made a similar observation back in December 2008 when Obama was still just President-Elect:
Obama's not saying that his policies will create 3 million new jobs. Heck, he's not even really saying that his policies will create a single new job. As long as the Obama Administration can say two years from that they have "created or preserved" three million jobs, they can claim a victory.

Given the numbers that they're relying upon, that essential means that unemployment can be at exactly the same level it is today, and Obama will be able to claim he's "preserved" 3 million jobs.
Which is basically what they've done, isn't it?
The economy is still stagnant not because the government isn't spending enough money, but because there is still far too much uncertainty on the part of business owners and bankers, meaning they simply aren't willing to take the economic risks that would lead to ventures that would restart the jobs engine. Some of that uncertainty is due to government policies implemented in the past two years, some of it is due to the fact that the world economy still seems to be teetering on the brink of something cataclysmic, and some of it is due to the fact that people just don't think that things are going to get better anytime soon. Until that changes, no amount of "stimulus" is going to change anything.