Economic Crisis: What Could Government Have Done Better?
With the advantage of hindsight, it's clear that more creative strategies were needed. But they probably couldn't have been passed.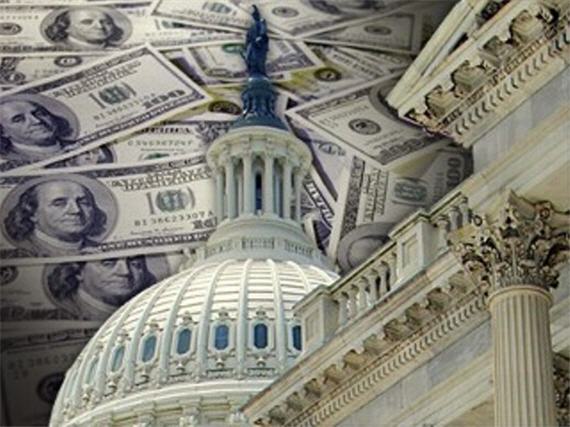 Ezra Klein reports on a briefing six months after the 2008 election that was designed to scare the president-elect about how bad the economy was going to get. Christina Romer, who would head Obama's Council of Economic Advisers, delivered predictions that were even more dire than the conventional wisdom. Alas, they were wrong.
By that point, the shape of the crisis was clear: The housing bubble had burst, and it was taking the banks that held the loans, and the households that did the borrowing, down with it. Romer estimated that the damage would be about $2 trillion over the next two years and recommended a $1.2 trillion stimulus plan. The political team balked at that price tag, but with the support of Larry Summers, the former Treasury secretary who would soon lead the National Economic Council, she persuaded the administration to support an $800 billion plan.
The next step was to persuade Congress and the people when the new president took office. So they went to work on putting together a briefing.
The incoming administration loved their report and wanted to release it publicly. Romer took it home over Christmas to double-check, rewrite and pick over. At 6 a.m. Jan. 10, just days before Obama would be sworn in as president, his transition team lifted the embargo on "The Job Impact of the American Recovery and Reinvestment Act." It was a smash hit.

"It will be a joy to argue policy with an administration that provides comprehensible, honest reports," enthused columnist Paul Krugman in the New York Times.

There was only one problem: It was wrong.

The issue is the graph on Page 1. It shows two blue lines sloping gently upward and then drifting back down. The darker line — "With recovery plan" — forecasts unemployment peaking at 8 percent in 2009 and falling back below 7 percent in late 2010.

Three years later, with the economy still in tatters, that line has formed the core of the case against the Obama administration's economic policies. That line lets Republicans talk about "the failed stimulus." That line that has discredited the White House's economic policy.

But the other line — "Without recovery plan" — is more instructive. It shows unemployment peaking at 9 percent in 2010 and falling below 7 percent by the end of this year. That's the line the administration used to scare Congress into passing the single largest economic recovery package in American history. That line is the nightmare scenario.

And yet this is the cold, hard fact of the past three years: The reality has been worse than the administration's nightmare scenario. Even with the stimulus, unemployment shot past 10 percent in 2009.
How did they it so wrong?
The Bureau of Economic Analysis, the agency charged with measuring the size and growth of the U.S. economy, initially projected that the economy shrank at an annual rate of 3.8 percent in the last quarter of 2008. Months later, the bureau almost doubled that estimate, saying the number was 6.2 percent. Then it was revised to 6.3 percent. But it wasn't until this year that the actual number was revealed: 8.9 percent. That makes it one of the worst quarters in American history. Bernstein and Romer knew in 2008 that the economy had sustained a tough blow; they didn't know that it had been run over by a truck.
Klein blames the administration, too.
But the administration insisted on optimism. There was talk of "green shoots" and the "recovery summer." Events in Greece and in oil markets were chalked up to bad luck rather than the predictable aftershocks of a financial crisis. The promised recovery was always just around the corner, but it never quite came. Eventually, the American people stopped listening. A September poll showed that 50 percent of Americans thought Obama's policies had hurt the economy.
In addition to shooting themselves in the foot by using a worst-case scenario that actually wasn't, Klein believes they simply misapprehended the problem.
The basic thesis of "This Time Is Different" is that financial crises are not like normal recessions. Typically, a recession results from high interest rates or fluctuations in the business cycle, and it corrects itself relatively quickly: Either the Federal Reserve lowers rates, or consumers get back to spending, or both.

But financial crises tend to include a substantial amount of private debt. When the market turns, this "overhang" of debt acts as a boot on the throat of the recovery. People don't take advantage of low interest rates to buy a new house because their first order of business is paying down credit cards and keeping up on the mortgage.

In subsequent research with her husband, Vincent Reinhart, Carmen Reinhart looked at the recoveries following 15 post-World War II financial crises. The results were ugly. Forget the catch-up growth of 4 or 5 percent that so many anticipated. Average growth rates were a full percentage point lower in the decade after the crisis than in the one before.

Perhaps as a result, in 10 of the 15 crises studied, unemployment simply never — and the Reinharts don't mean "never in the years we studied," they mean never ever — returned to its pre-crisis lows. In 90 percent of the cases in which housing-price data were available, prices were lower 10 years after the crash than they were the year before it.
But Klein also understands that, even if the administration had known how it would play out, politics weren't on their side.
But it is hard to credit the argument that the stimulus could have been much larger at the outset. This was already the biggest stimulus in U.S. history, and congressional leaders had been quite clear with the White House: Don't send over anything that passes the trillion-­dollar mark. To try and double the bill's size based on a suspicion that the recession was much worse than the early data indicated would have been a hard sell, to say the least.

Even if Congress had been more accommodating, there was a challenge to vastly increasing the size of the initial stimulus: The more you spend, the less effective each new dollar would become.

"We were trying to spend 10 times what had ever been spent in a year," says Goolsbee, who chaired the Council of Economic Advisers until this year. "The tension was that the biggest bang for the buck comes from direct spending like infrastructure, but once you use up the big-ticket items, you eventually come to a point where the tax cuts are better bang for the buck than the 300 billionth infrastructure dollar." And tax cuts, frankly, aren't a very good bang for the buck.
Apparently, though, they thought that the initial stimulus would be successful and that, if it didn't quite do the trick, they could go back to Congress and ask for another stimulus based on the success of the first.
"The biggest problem we had in terms of the loss of political capital is we came in and did a bunch of stuff, and things got worse," says Ron Klain, who served as chief of staff to Biden. "And some of that was just bad luck. If we didn't have the 22nd Amendment and Barack Obama became president in late March rather than in late January, things would have been much worse when we came in than they were. And then the Recovery Act would have come not in February, but in May. We would already have hit bottom, and it would seem like things were getting better."

This has led to a what-if that torments the White House's political team: What if it hadn't taken on so much? The administration rushed from the second bucket of bailout funds to the stimulus to the auto-industry rescue to health care to climate change legislation to financial regulation. In a world where the economy was steadily recovering, Obama might have amassed a record comparable to Franklin Roosevelt's. But as the situation slowly deteriorated, the American people turned against the administration's crush of initiatives. The frenetic pace made the White House seem inattentive and unfocused amid a mounting crisis.
Ironically, in hindsight it looks like Team McCain had a better idea.
It's hard to get through a debt-driven crisis without doing anything about, well, debt.

In our crisis, the "debt" in question is housing debt. Home prices have fallen almost 33 percent since the beginning of the crisis. All together, the nation's housing stock is worth $8 trillion less than it was in 2006. And we're not done. Morgan Stanley estimates there are more than 2.2 million homes sitting vacant, and 7.5 million more facing foreclosure. It is housing debt that has weakened the banks, and mortgage debt that is keeping consumers from spending.

In late 2008, when the economy was cratering, Holtz-Eakin convinced McCain that the way out of a housing crisis was to tackle housing debt directly. "What we proposed at the time was to buy up the troubled mortgages, pay them off and let people refinance at the lower rates," he recalls. "That would have filled up the negative equity and healed bank balance sheets."

To this day, Holtz-Eakin thinks the proposal made sense. There was one problem. "No one liked that plan," he says. "In fact, they hated it. The politics on housing are hideous."

The Obama administration, perhaps cognizant of the politics, was not nearly so bold. It focused on stimulus rather than housing debt. The idea was that if people could keep their jobs and pay their bills, they could pay their mortgages. But today, few on the Obama team will mount much of a defense of its housing policy.
But good policy isn't necessarily good politics. The best paragraph in the whole long feature:
On first blush, there are few groups more sympathetic than underwater homeowners or foreclosed families. They remain so until about two seconds after their neighbors are asked to pay their mortgages. Recall that Rick Santelli's famous CNBC rant wasn't about big government or high taxes or creeping socialism. It was about a modest program the White House was proposing to help certain homeowners restructure their mortgages. It had Santelli screaming bloody murder.
This was, of course, the launch of the Tea Party movement.
Four pages of setup later, Klein gets to the heart of his essay:
There was, however, one institution that some think could have reduced the debt overhang crushing the economy and that didn't face such political obstacles: the Federal Reserve.

The central bank manages the nation's money supply and credit and sits at the center of its financial system. Usually, it spends its time guarding against the threat of inflation. But in December 2008, Rogoff argued that the moment called for the reverse strategy.

"It is time for the world's major central banks to acknowledge that a sudden burst of moderate inflation would be extremely helpful in unwinding today's epic debt morass," he wrote.

Inflation — the rate at which prices for goods go up and buying power goes down — makes any amount of money worth less over time. It can help a depressed economy in three ways: It erodes the real value of debt. It gives people an incentive to spend and invest now, as their money will not go as far later. And it tends to drive down the value of the dollar against other currencies, making U.S. exporters more competitive.
It also wipes out the value of people's savings, which is especially problematic for retirees. An inflation policy would have effectively bailed out people who took out bad loans by punishing those who spent their working years doing everything right: living within their means and putting away money for later.
Some more pie-in-the-sky ideas that might have worked but had no chance of being implemented:
"We're trying right now to keep our lifestyles going," says Michael Spence, a Nobel Prize-winning economist at New York University. "It's not really working, but the way we're doing it is putting all the burden on the unemployed while trying to leave the employed untouched. Eventually, this is going to require a redistribution of that burden."

In other countries, he says, the burden is more widely shared. The employed work less — and get paid less — so there are more jobs to go around. That leads to a little pain for a lot of people, rather than a lot of pain for fewer people. It also keeps more workers on the job, which means their skills don't deteriorate and the economy isn't left with people who became unemployed and then found themselves unemployable.

[…]

Germany's response to the recession included a work-sharing program that subsidized salaries when employers trimmed the hours of individual workers to keep more people on the job. If workers attended job training, the government gave a more generous subsidy.

The program worked. Even though Germany's economy was devastated by the recession — declining by almost 7 percent — the jobless rate fell slightly, from 7.9 percent at the start of the recession to 7 percent in May 2010.

There are reasons to question whether work-sharing programs would have been as effective here as they were in Germany. For one thing, they work best in sectors where jobs are bound to return after a recession — such as Germany's export sector — rather than sectors that need to be downsized after being inflated by a credit boom.

Germany also has a different labor market. Employers, unions and the government work together with an unusual level of cooperation. The culture is much more hostile toward layoffs than the United States' is, which has caused Germany problems in the past but has been a boon throughout this recession.
A much more plausible counterfactual:
For one thing, the government could have refused to fire anyone. Says Baker, of the Center for Economic and Policy Research: "We've lost 500,000 state and local jobs, and before that, we were creating 160,000 a year. If we hadn't had those losses and had done more to keep creation at that pace, we would have almost another million jobs."

It also could have started hiring. Romer, for instance, proposed to add 100,000 teacher's aides. Imagine similar proposals: Every park ranger could have had an assistant park ranger. Every firefighter station could have added three trainees. Every city could have expanded its police force by 5 percent. Everyone between ages 18 and 26 could have signed up for two years of paid national service.
Basically, paying people to do jobs that aren't actually needed and don't build skills likely to lead to useful employment when the economy finally recovers? Klein admits this is usually a really stupid idea but one that may make sense in desperate times in order to stimulate demand.
Ultimately, then, Klein argues that both the Bush and Obama administrations did pretty much all they could.
Of course, ideas always sound better than policies. Policies must be implemented, and they have unintended consequences and unforeseen flaws. In the best of circumstances, the policymaking process is imperfect. But January 2009 had the worst of circumstances — a once-in-a-lifetime economic emergency during a presidential transition.
Reinhart, for one, thinks the Bush and Obama administrations don't get sufficient credit for all they did.
"The initial policy of monetary and fiscal stimulus really made a huge difference," she says. "I would tattoo that on my forehead. The output decline we had was peanuts compared to the output decline we would otherwise have had in a crisis like this. That isn't fully appreciated."

[…]

Yet the Obama administration did too little. Its team of interventionist Keynesians immersed in the lessons of the Depression and Japan did too little. Everyone does too little, even when they think they're erring on the side of doing too much. That's one reason "this time" is almost never different.

[…]

These sorts of economic crises are, in other words, inherently politically destabilizing, and that makes a sufficient response, at least in a democracy, nearly impossible.

There's some evidence for this internationally. Larry Bartels, a political scientist at Vanderbilt University, examined 31 elections that took place after the 2008 financial crisis and found that "voters consistently punished incumbent governments for bad economic conditions, with little apparent regard for the ideology of the government or global economic conditions at the time of the election." Just look to Europe, where the path to ending the debt crisis and saving the euro zone — the group of nations that use the currency — is clear to most economists but impossible for any European politician.

That isn't to say that this time couldn't have been different or that next time won't be. But it is no accident that these crises so often turn out the same, in so many countries, with so many types of governments, who have tried so many kinds of responses.

In general, the policies that are vastly better than whatever you are doing are not politically achievable, and the policies that are politically achievable are not vastly better. There were many paths that could have been taken in January 2009, and any one would have made this time a bit different. But not different enough. Not as different as we wish.
Not exactly cheery. But, I think, right. If everyone understood at the time how bad things were and what the alternatives of various policy options were, we might have done something much smarter and bolder. But that precondition never exists.