Birtherism Lives
While it may be true that facts are stubborn things, a lot of American are stubborn in the face of them.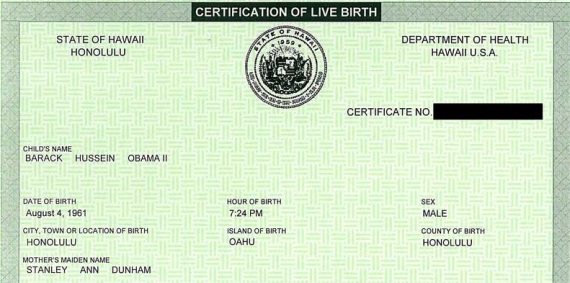 A new CNN poll [PDF] illustrates the amazing fact that even a simple, empirically knowable fact can have a very hard time fully establishing itself in the mind of the public—specifically the fact that Barack Obama was born in Hawaii:
Forty-two percent of those questioned say they have absolutely no doubts that the president was born in the U.S., while 29-percent say he "probably" was.
How can it be that only a plurality of Americans "have absolutely no doubts that the president was born in the U.S."?  Especially when we have a birth certificate and contemporaneous newspaper birth announcements, along with assurances from the Hawaiian state government?
And stuff like the following isn't helpful:
On Tuesday, conservative radio talk show host Rush Limbaugh quipped on his program, "They tell us August 4th is the birthday. We haven't seen any proof of that!"
Joke or no, it fuels the fire (and I will charitably interpret the statement as a joke).  However, according to the poll, 27% of Republicas think Obama was "probably born in another country" and 14% think he was "definitely born in a foreign country"—that's 41% combined.
Yet, as CNN rightly notes:
Yet there is ample evidence that defies Limbaugh's statement and the beliefs of the 27-percent of Americans that, according to the poll, doubt the president's birthplace. CNN and other news organizations have thoroughly debunked the rumors.

Hawaii has released a copy of the president's birth certificate – officially called a "certificate of live birth." And in 1961 the hospital where the president was born placed announcements in two Hawaiian newspapers regarding Obama's birth.
It honesty makes one wonder how basic discourse is possible  if such simple issues like this can't be settled in a reasonable fashion across the public.  After all the evidence is irrefutable and not the kind of thing opened to interpretation (although, no doubt, someone will take issue with that statement).