Bizarre Lucille Ball Statue Outrages Fans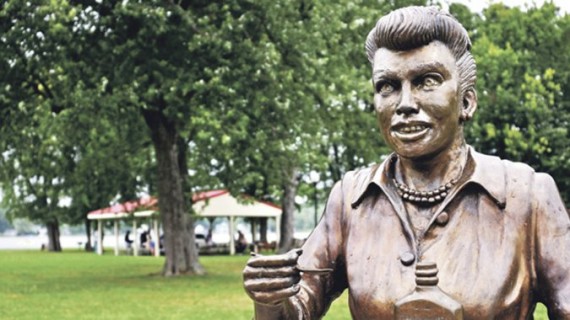 A statue supposedly intended to honor the late Lucille Ball has many of her fans in an uproar:
Locals from Lucille Ball's hometown are not happy with a public statue that was erected to honor the actress' legacy, complaining that it's "frightening" and looks nothing like her, and are now looking into fundraising options to fix it.

The Celoron, NY, residents have been clamoring to refurbish the statue on a Facebook group called "We Love Lucy! Get Rid of this Statue." One user suggested starting a GoFundMe page to raise money to replace it; another suggested a Kickstarter.

The 400-pound life-size bronze statue was erected in 2009 after being privately commissioned. The artist Dave Poulin has not responded to the media, including a request for comment by The Hollywood Reporter.

(…)

But replacing the statue is no small feat. "It would be a lot of money," Celoron mayorScott Schrecengost told the local Post-Journal. "Over the past couple of years, I've reached out to Dave Pouli and have had at least four conversations with him about redoing the statue. He finally came back and said he wanted $8,000 to $10,000 to do it. I've also reached out to several other sculptors in the region, and some said they would do it, but we're still looking at about $5,000. We'd like to work with the original sculptor and wish he would stand behind his work enough to step up and fix it for free."
While one must leave some room for artistic interpretation,  a statue like this should at least bear some resemblance to the person it's supposed to honor. That's obviously not the case here.
This artist has some `spalinin' to do