Penn State Alumni Want New Paterno Statue In State College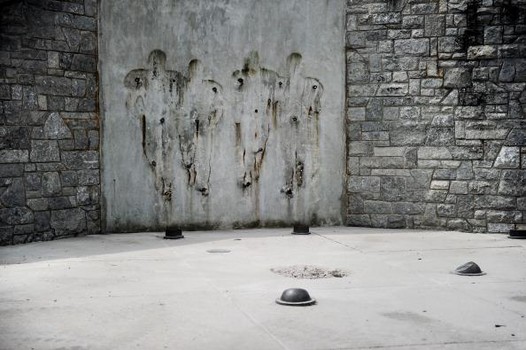 Shortly after we learned that Penn State officials, including famed football coach Joe Paterno had failed to act when first learning of reports that former Assistant Coach Jerry Sandusky had been abusing young boys, the statute of Joe Paterno on the Penn State campus was removed in the dead of night. Now, some almuni are quietly lobbying to get a JoePa statue erected in State College, even if it isn't on campus:
STATE COLLEGE, Pa. — Construction workers tore down Penn State's iconic Joe Paterno statue on campus two years ago — but this town might not be without one for much longer.

Two alumni already have received the OK from the borough to install a projected $300,000 life-sized bronze sculpture downtown, about two miles from the original site. And they're hoping the statue, which will feature Paterno sitting on a bench reading Virgil's "Aeneid," will be installed by fall of next year.

They have already commissioned an artist, Zenos Frudakis, and will seek to raise $50,000 for "Joe's Bench" on the funding platform Kickstarter come July.

"We just felt that the university was not ready yet" to honor Paterno, said Kim Intorre, one of the organizers. "But the community is."

Intorre said the idea for the statue came shortly after Paterno's death in January 2012 and was not launched in relation to university officials' decision to remove the Paterno statue outside of Beaver Stadium. That 900-pound statue was taken down in July 2012 during the aftermath of the child-sex abuse scandal involving ex-Penn State defensive coordinator Jerry Sandusky.

The NCAA stripped Paterno of 111 wins and levied unprecedented sanctions against the football team, including a four-year postseason ban. But the town here has not forgotten its longtime coach, who spent 61 years on the sideline. If anything, the move has highlighted the growing divide between fans and university officials, who have declined to disclose where the original statue currently resides.

"It's clear the university isn't ready to do anything; they're certainly not ready to put the statue back," said Ted Sebastianelli, one of the project's organizers. "That's their call. Everybody has their own views on the statue and when it should be back up, where it should be and so forth.

"For me, this is something we can do ourselves and it's a great way — a wonderful way — to honor Joe for his 61 years of service. It doesn't have anything to do with the statue on campus."
I'm somewhat ambivalent on whether or not this is a good idea. On the one hand, Paterno was a legendary college football coach and had been a fixture in the community surrounding the Penn State campus for six decades. Even today after all of the revelations about the Sandusky scandal, there are still many alumni and Penn State fans that defend Paterno and contend that his record his being unfairly tarnished when the reality is that officials at the university higher placed than he were the ones who failed to follow up on the allegations against Sandusky. At the same time, though, the whole Sandusky affair was an excellent example of the kind of corruption that seems to inevitably come when a sports program is placed ahead not only of the university but also the well being of children in the community. Why Penn State or State College would want to commemorate any of that is beyond me.