Mob Tears Down Baltimore Columbus Statue
A controversial monument in Little Italy has been destroyed.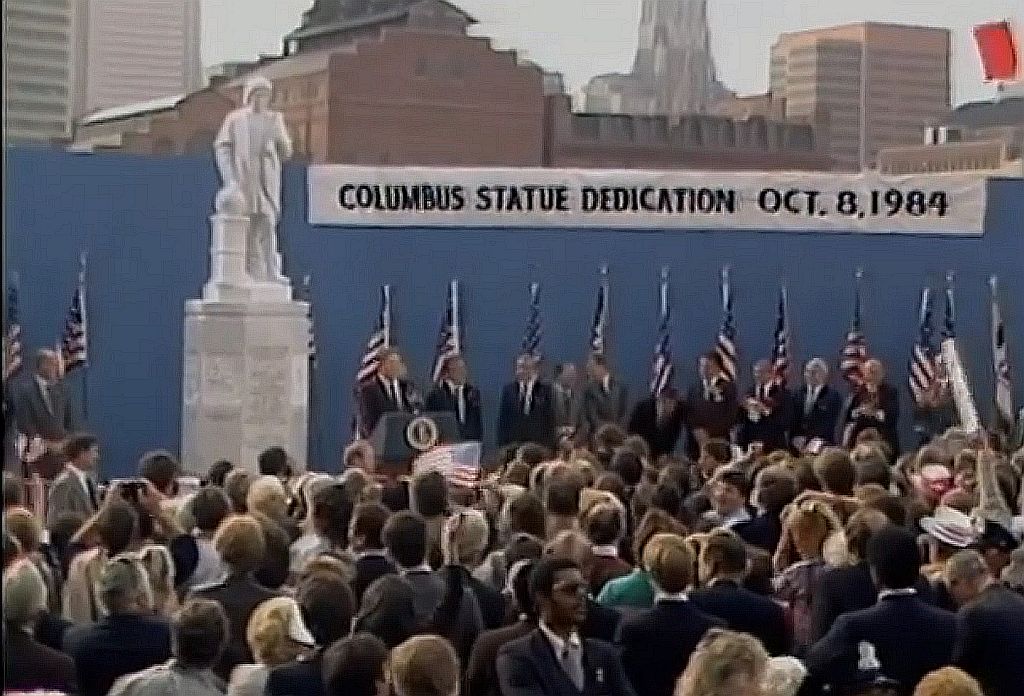 Rioters have torn down a statue owned by the city of Baltimore and installed in 1984, breaking it into pieces and throwing it into the harbor. City officials seem to be cheering the move.
Baltimore Sun ("Christopher Columbus statue near Little Italy brought down, tossed into Baltimore's Inner Harbor"):
A crowd of shouting protesters yanked down the Christopher Columbus statue near Little Italy, dragged it to the edge of Baltimore's Inner Harbor and rolled it with a splash into the water as fireworks went off around the city on the night of the Fourth of July.

Dedicated in 1984, the statue is the latest monument in the U.S. to fall this year during the national reckoning over racism and police violence that also has toppled statues of Confederate figures and enslavers around the country.

The debate drew renewed attention to Baltimore's Christopher Columbus memorials — including one in Herring Run Park believed to be the nation's oldest. The legacy of the 15th-century Italian explorer, who had long been credited by history textbooks as a hero who discovered America, has come under fire over his violent enslavement of native people.
The statue was erected in 1984, the year I graduated high school. By that time, we had long since reckoned with the genocide against Amerindians and the mixed legacy of Columbus. City leaders nonetheless decided to erect the statue and, while there has been debate about taking it down since, they had not decided to do so.
The torn-down Columbus statue is part of a "re-examination taking place nationally and globally around some of these monuments and statues that may represent different things to different people," said Lester Davis, a spokesman for Democratic Mayor Bernard C. "Jack" Young, on Saturday night.

"We understand the dynamics that are playing out in Baltimore are part of a national narrative," Davis said. "We understand the frustrations. What the city wants to do is serve as a national model, particularly with how we've done with protesting. We've seen people who have taken to the streets, we have supported them. We are going to continue to support it. That's a full stop."
This is an outrageous statement coming from the mayor's office. He's supporting criminal violence from a mob. Full stop.
The Columbus statue was dragged down as people marched across the city Saturday demanding reallocation of funds from the police department to social services, a reassessment of the public education system, reparations for Black people, housing for the homeless, and the removal of all statues "honoring white supremacists, owners of enslaved people, perpetrators of genocide, and colonizers," according to a flyer.
The way protest is supposed to work is by galvanizing support by calling attention to a cause that was getting too little attention. Not by rioting and mayhem.
Davis said he did not know whether police officers were ordered to allow the statue to be torn down. But he made clear that protecting statues was not a priority of the city police department in the face of homicides and other violent crime.

"Our officers in Baltimore City, who are some of the finest in country, they are principally concerned with the preservation of life," the mayor's spokesman said. "That is sacrosanct. Everything else falls secondary to that, including statues."
That's just a nonsensical response. With exceedingly rare exception, police don't prevent homicides, they investigate them. Stopping violence in the streets at events at which they're present is hardly diverting them from "preservation of life."
It's not just the mayor abetting criminality.
City Council President Brandon Scott issued a statement Saturday night saying he suggested former Mayor Catherine Pugh remove the Columbus statue in 2017 when she ordered the removal of several Confederate monuments in the city following a violent conflict in Charlottesville, Virginia.

"I support Baltimore's Italian-American community and Baltimore's indigenous community. I cannot, however, support Columbus," Scott said.
So, a city council leader urged the mayor to remove the statue. It was still standing. Presumably, that meant that, as of yesterday morning, there was not a consensus among the elected representatives of the people of Baltimore for removing the statue.
Instead, it was torn down by a handful of criminals. Who elected them?
Here in Virginia, we're seeing monuments to Confederate leaders taken down all over the state, at least partly in response to the Black Lives Matter protests. In Richmond, the governor ordered taking down the one statute under state ownership weeks ago and the mayor followed suit this past week, ordering down those under city control. In Alexandria, city officials working with the United Daughters of the Confederacy took down a statue that had sat prominently in a downtown intersection for 131 years.
That's how a functioning society is supposed to operate.
Post updated with a photo of the statue in question.