Blast from the Past: Newt and Drug War Logic
Back in the late 90s, Newt wanted to execute marjiuana traffickers.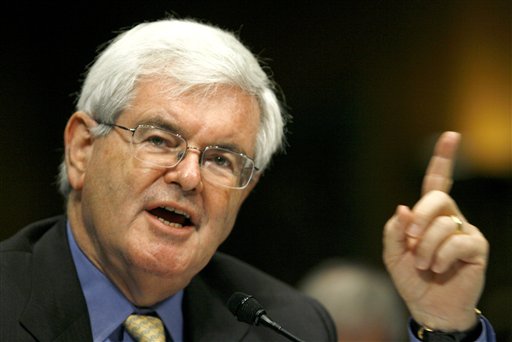 The Raw Story notes the following from Gary Johnson (aka the Forgotten Candidate):  Gary Johnson: Gingrich 'proposed the death penalty for marijuana'
"Newt Gingrich, in 1997, proposed the death penalty for marijuana — for possession of marijuana above a certain quantity of marijuana," Johnson explained. "And yet, he is among 100 million Americans who've smoked marijuana."

"I would love to have a discussion with him on the fact that he smoked pot, and under the wrong set of circumstance he proposed the death penalty for, potentially, something that he had committed. I have troubles with that," he added.
Now, Johnson exaggerates a bit for effect:  Newt didn't propose executing the casual toker, but rather  drug traffickers.  However, as the RS piece notes, the amount that would qualify one as such was not exactly immense:
As Speaker of the House, Gingrich introduced the "Drug Importer Death Penalty Act of 1996."

The bill would have required a "sentence of death for certain importations of significant quantities of controlled substances." It would have applied to anyone convicted more than once of carrying 100 doses — or about two ounces — or marijuana across the border. Defendants would have had a window of 18 months to file their one and only appeal.
As such, Nate Newton, one-time Pro Bowl offensive lineman for the Dallas Cowboys and current radio personality in the DFW area would be on death row at the moment, having been twice arrested for transporting, um, quite a bit more than two ounces of weed twice (he served jail time).
Newt's proposal (which, granted, was over a decade ago) represents some classic examples of what I like to call "drug war logic."  I have highlighted three such classics from the following 1995 NYT piece:
Speaker Newt Gingrich said on Friday that he would ask Congress to enact legislation imposing the death penalty on drug smugglers, and he suggested that mass executions of people convicted under such a law might prove an effective deterrent.

Mr. Gingrich, speaking to about 400 people at a money-raising event here for Representative Charlie Norwood, Republican of Georgia, said, "The first time we execute 27 or 30 or 35 people at one time, and they go around Colombia and France and Thailand and Mexico, and they say, 'Hi, would you like to carry some drugs into the U.S.?' the price of carrying drugs will have gone up dramatically."

[…]

"If you import a commercial quantity of illegal drugs," he said, "it is because you have made the personal decision that you are prepared to get rich by destroying our children. I have made the decision that I love our children enough that we will kill you if you do this."
Ok, so in order:
1.  If we punish enough, the will stop.  This is what Bertam, et al. called the "punitive paradigm"—i.e., the notion that we can win the drug war if we just apply enough punishment.  However, we have been fighting the war on drugs, depending on how one reckons the dates, since either 1969 (when Nixon first declared said war) or the early 1980s (when Reagan escalated after a bit of a lull).  This is a rather long time, to put it mildly, and yet the basic supply of drugs coming into the US remains largely the same.  Force has not accomplished the stated goals (nor has repeated escalations).
Further, we need look no further than places like Colombia or Mexico to see that, in fact, violence does not deter the drug trade.  Forget the US executing people, do some research on La Familia or Los Zetas, two rather violent Mexican cartels who have engaged in substantial violence against their opposition (and yet said opposition continues to traffic in drugs).  The reason that violence will not stop the flow of cocaine, heroin, and friends is that a) there is a ton (and I mean that pretty much literally) of money to be made in this business, and b) the cartels can entice really poor people (of which there is, sadly, a large supply in Latin America and elsewhere) to work in the business.  It is impossible to kill enough traffickers to stop the drug business.  Even taking out the capos will solve nothing.  Pablo Escobar was once one of the wealthiest men in the world and he controlled a vast cocaine-financed empire.  He eventually died on the rooftop of a Medellín row house after a rather impressive unleashing of violence in his direction.  His death did not stop the cocaine business in Colombia.  Nor did the arrest of the heads of the Cali Cartel, the Rodríguez Orejuela brothers.  These cartels are no more, and yet cocaine is as easy to get in the US in 2011 as it was in 1990, when both cartels were in operation and Pablo Escobar seemed untouchable.
2.  The profit paradox.  This is a favorite of mine:  if the price of drugs goes up (which is what would happen if the price of smuggling increased), who benefits?  That would be the drug dealers.  One of the key tenets of the drug war is that interdiction will lead to constricted supply and that, in turn, will lead to higher prices and dissuade some consumers from buying.  There are two problems here:  1) this hasn't worked (despite all the billions expended, the street price of cocaine has been pretty steady) and, 2) even if there is a price spike, all that does is make selling drugs more profitable and since the main incentive for selling drugs in first place is making money, policies that make drugs more expensive are good for traffickers.
3.  It's all about the children.  This is, perhaps, the go-to line of the drug warrior.  He or she is there to protect the kids.  That is why we need to spend billions, dump herbicide on Colombia peasants, and use no-knock raids to bust down the neighbor's door (amongst other things):  to protect the children.  The state must be empowered (e.g., the aforementioned non knock raids and the chance to execute you after one appeal) because it will keep drugs out of the hand of kids.  Of course, the problem is:  none of this works.  As noted above:  drugs are widely available for those who really want them.  And this means, sadly, children do get access.  But of, course, what this should underscore is that despite all the extreme measures, the children aren't being protected anyway.  The cost is not even providing the promised benefit.  However, because all parents do fear for their children to one degree or another (and often irrationally*), many parents will support the drug war because of pleas like Newt's above.
Don't get me wrong:  I don't want my kids using drugs and I think the best way to keep them from so doing is to teach the perils of consumption.  I will say this, however, I also do not want my children executed for possession of two ounces of marijuana nor do I want my door knocked down, my house trashed, and my dog shot because the police made a mistake when looking for drugs.
*I am the father of three boys, for those who do not know, so I know whereof I speak.