Blockbuster Goes Bust
Blockbuster is trying to reorganize itself, but it's probably too late.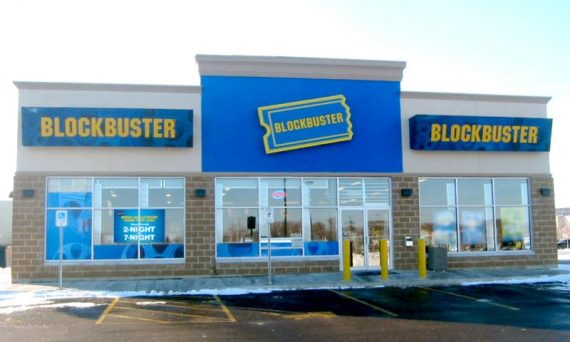 In what may constitute the least surprising business news of the day, the company that pioneered the idea of video rental has filed for Chapter 11 Bankruptcy:
Blockbuster, the video rental chain, on Thursday filed for Chapter 11, hoping to slash its hefty debt load and retrench in the face of competition from rivals providing online and mail-based services.

Blockbuster has reached an agreement with its senior bondholders to cut its debt by roughly 90 percent, to about $100 million, by exchanging bonds for equity in the reorganized retailer.

The company's Chapter 11 petition in federal bankruptcy court lists $1.02 billion in assets and $1.46 billion in debt.

The company plans to whittle its store count down as it seeks to better compete against Redbox, which operates movie-rental kiosks in stores, and Netflix, which mails movies to subscribers and also provides digital streaming. It is also struggling against the likes of Apple, which also rents out movies via its iTunes service.

During the Chapter 11 process, Blockbuster will continue to operate as normal.
If by "normal" you mean slowly treading water until the inevitable collapse, that is.
Blockbuster's problem is that the whole idea of having to go to a store to rent movies is quickly fading away for most people. Not only are services like  Netflix and On Demand taking that territory over, but so is RedBox. Why drive to your local Blockbuster if you can just pick up a video along with the groceries at Safeway ?
In the long run, Blockbuster doesn't have an answer to that question. Which is why I think we'll see them entering liquidation sooner rather than later.