Blogging Liberty and Tyranny, Chapter One, Part One
I'm blogging Mark Levin's Conservative Manifesto. Here's part one...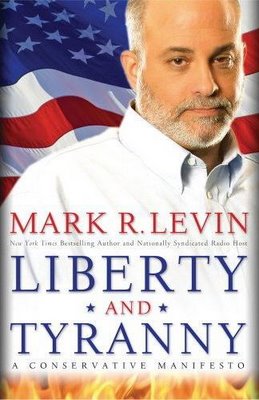 A few days ago, I realized that I have, in some way, shape or form, been actively blogging about politics for almost ten years, which is a rather staggering amount of time — almost a third of my life, actually, which is kind of scarier. And for the past few weeks, people I know in "real life" have discovered this. (I usually don't talk about politics unless directly asked–politics is for the internet. Also, when it comes to controversy, I prefer to stick to more enjoyable subjects in person, like religion). Inevitably, when someone discovers I write about politics, and they are also into politics, I'm always asked what I think of Glenn Beck/Keith Olbermann/Ann Coulter/Joe Scarbrough/Michael Moore etc etc etc. To which I invariably reply that I don't watch TV pundits. Nor do I listen to opinion talk radio shows apart from the Scottish Calvinist preacher who sermonizes on one of the Christian stations. He's awesome in his pure Calvinism.
Since this information is often greeted with shock, followed by exhortations to watch a favorite pundit or read one of their books.
Having given this some thought, it occurs to me that I might be missing something from the tenor of American politics, since I pretty much only interact with it through blogs, magazine pieces and straight news reporting. So I decided to embark on a project to pay more attention to the pundits. And blog about it. This is probably bad for my sanity, but losing my mind and blogging about it is probably good for pageviews so James will be happy.
I realized right away that there's no way that I will be able to interact with pundits through the prism of radio or TV. Both formats are just TOO SLOW and not nearly as information dense as reading. So reading books it is.
So over the next few months or years, I'll be reading books written by radio/TV pundits and blogging them. First up is Mark Levin's Liberty and Tyranny: A Conservative Manifesto, which I selected based on the fact that it was on an endcap at my local library. Mark Levin is a former lawyer and now a talk radio host of a show I've never listened to. I have also never read any of his op-eds, although it appears he's written a few here and there. He also got into some sort of internet tussle with Conor Friedersdorf a while back. I'm a fan of Conor's, but I'll try not to let that bias me to much. Liberty and Tyranny is, as it turns out, a pretty good book to start this project with, both because of its bold decision to feature a burning flag on the cover as well as the fact that it was a New York Times best seller.
Okay, that's quite enough introduction for now. Let's take a look at the book.
* * *
Chapter 1 – On Liberty and Tyranny
Levin starts out by noting that there's no way to define conservatism, so even though his book is subtitled "A Conservative Manifesto", what's really being presented are Levin's own views about what it is to be a conservative. This takes up the first two paragraphs, and is quite possibly one of the most boring ways to start out a non-fiction book I have ever read. But let's press on.
The next few paragraphs are an attempt by Levin to equate conservative ideas with the ideas of the Founding Fathers (and Edmund Burke), particularly that both groups of folks are influenced by Adam Smith, Charles Montesquieu, and John Locke. Which is pretty much what you'll find in an 8th Grade history textbook. And, like an 8th Grade History textbook, it completely misses any nuance, sophistication, or support for its assertions.
Here's the thing. Lately I have been having issues with the term "Founders" or "Founding Fathers" because it's pretty nebulous and undefined. There's Thomas Jefferson and John Adams, who signed the Declaration of Independence but had no involvement in the Constitution. Alexander Hamilton and James Madison did a lot of the heavy lifting in drafting the Constitution but neither signed the Declaration of Independence. Thomas Paine wrote Common Sense and worked for the Continental Congress but pretty soon became a persona non grata thanks to his religious views. Patrick Henry gave the famous "Liberty or Death" speech but was also one of the most articulate voices against adopting the Constitution. Which of these are "Founders"? All of them? None?
Even if we accept all of these men as "Founding Fathers" (which I think most would), to say that they disagreed on fundamental political principles is the height of understatement. And an attempt to put together the varying strains of conservative thought under the same "Founders" rubric is overly simplistic and misguided.
Levin then goes on to explicate his Conservative political philosophy through the lens of traditional social contract theory, where "the individual is recognized and accepted as more than an abstract statistic…[and] is free to discover his own potential and pursue his own legitimate interests, tempered, however, by a moral order that has its foundation in faith and guides his life and all human life through the prudent exercise of judgment." (The italics are in the original. If there's one thing I've gotten out of the first few pages of this book, it's that Mark Levin loves italics.)
Levin goes on to express the rather strange notion that people have a "duty to respect the unalienable rights of others" — so far so good, and I'm with him there — "and the values, customs, and traditions, tried and tested over time and passed from one generation to the next, that establish society's cultural identity." And there he loses me. There are, after all, lots of "values, customs, and traditions" that are in conflict with respecting the rights of others. Moreover, in a diverse society such as here in the United States, there are lots of different "values, customs and traditions" — not all of them compatible. So what should the individual do? Levin doesn't answer that question in this chapter (or even address it, for that matter). I'm interested to see if he picks it up later, but given the four pages of long, banal platitudes that have constituted this book so far, I'm not going to bet on it.
The next paragraph leads me to believe that Mark Levin has lived his entire life in his basement, shut away from the world, with no concept of history, economics, or how the world works. This is a brief discussion of the "right to acquire and possess property", which he defines as representing "the fruits of [one's] own intellectual and/or physical labor", the "illegitimate denial" of which is akin to slavery. This, obviously, begs several questions, and I'm flabbergasted by the naive, simplistic, elegantly self-contradictory description of property in this paragraph. So rather than spend too much time trying to unpack it, I'm going to cross my fingers and hope he comes up with a more rational basis for property later. If not, I may come back to this in a later post. Property is way more complicated than this.
At any rate, that's enough for now. Stay tuned for our next exciting blog installment, in which we learn what Levin's Manifesto is manifesting against.