Bob Dole Lambastes The GOP
Former Senator Bob Dole joins the list of those not too happy with the current state of the Republican Party.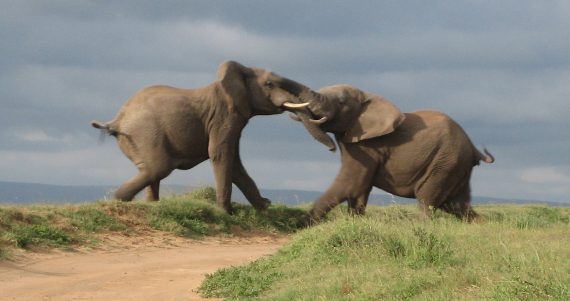 Former Senator, and 1996 Republican Presidential nominee, Bob Dole isn't too pleased with the current state of his party:
The Republican Party has changed so drastically in recent years, the current GOP wouldn't welcome the likes of Ronald Reagan, former Senate Majority Leader Bob Dole said Sunday.

The current GOP ought to be "closed for repairs" because it lacks a vision and is unable to strike deals with Democrats, Dole said during an appearance on "Fox News Sunday".

The Kansas Republican said he was disturbed by his party's obstructionist behavior on Capitol Hill.  "It seems almost unreal that we can't get together on a budget or legislation," he said.

(…)

Asked whether he would be welcomed by the Republican Party today, Dole said, "I doubt it. Reagan wouldn't have made it, certainly Nixon wouldn't have made it, because he had ideas. We might have made it, but I doubt it."

Dole said his party needs stronger leadership. "Somebody has to stand up and say, 'We're not going to do this,'" he said.
To be honest, a Republican Party that wouldn't have been friendly to Richard Nixon isn't necessarily a bad thing. Not only was he corrupt, but he enacted some pretty dumb and disastrous domestic policies during six years in the White House.  As for Reagan, we've written here several times about how the current conservative vision of Reagan differs significantly from the reality of the man who ran for President in 1980 (and 1976, nearly defeating a sitting President at the Republican National Convention) and governed from for most of the 1980s. The argument that Ronald Reagan wouldn't make it in today's GOP has been made many times in the past, but I tend to agree with Rick Moran that it's an argument that ignores not so much Reagan's ideology as it existed at the time, but his political talents:
Reagan was the most ideological president in history up to that time. But his geniality and heartfelt passion for America — along with a pragmatic streak that allowed him to work with the Democratic majority in Tip O'Neill's House to advance some of the most significant legislation of the 20th century — made him a winning politician, one of the most successful in American history.

How would those strengths play in today's GOP? I think Dole and other critics are wrong to suggest that Reagan couldn't have made it in the Republican party today. His gifts as a politician would have transcended any disagreements about policy that might have hurt him with many on the right today — just as they did in his own time. In fact, Reagan was never able to satisfy the right on almost anything and ended up hugely disappointing them when he began to deal with Soviet leader Gorbachev, passed  massive tax increases in 1982 and 1984,  signed off on immigration reform in 1986, and appointed less than conservative cabinet members in his second term.

Reagan would have done very well in any election from 1976 until today. But would his popularity have survived in the internet era? I think his opponents on the right would have been better organized and had a louder megaphone to amplify his weaknesses. But it's hard to see him failing in any realistic political context.
It's impossible to really get a right answer to this question, but I think Moran has a good point here. Ronald Reagan was perhaps the best campaigner that the GOP has elected in a long time. Certainly nobody that followed him has lived up to that part of his record except, perhaps, for Bill Clinton on the Democratic side. Those skills would have served him just as well in the modern era as they did in the 1980s.
More broadly, Dole's comments will likely fall upon deaf ears inside the GOP itself. Although he was considered quite conservative during his time in office, the way the party has moved pretty far to his right since he left politics. Additionally, conservatives now view his 1996 defeat at the hands of Bill Clinton as proof for their (largely invalid) hypothesis that the GOP only wins when it nominates "conservative" candidates for President. Of course, the reality is that Clinton was likely unbeatable that year given his own popularity at the time and the state of the economy. Nonetheless, Dole has a point here. The GOP has become far too rigid in its ideology and essentially now acts in a manner that makes Congress nearly ungovernable. And I say that as someone who has never really been much of a Bob Dole fan.