Bobby Jindal: Sell Birth Control Over The Counter
Louisiana Governor Bobby Jindal has a good idea.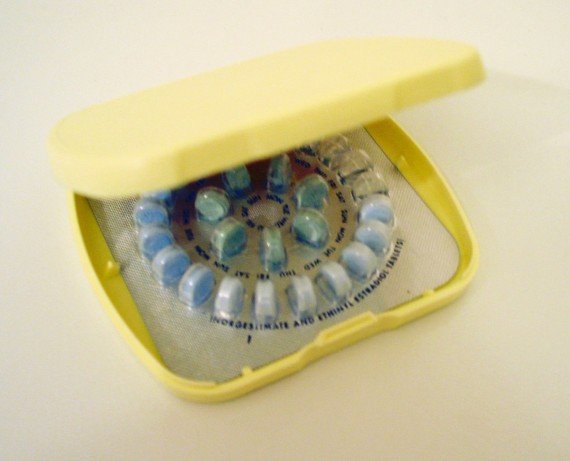 Louisiana Governor Bobby Jindal's pro-life bona fides are beyond question, so he's raised some eyebrows today with an Op-Ed in The Wall Street Journal calling for birth control pills to be sold over the counter:
As an unapologetic pro-life Republican, I also believe that every adult (18 years old and over) who wants contraception should be able to purchase it. But anyone who has a religious objection to contraception should not be forced by government health-care edicts to purchase it for others. And parents who believe, as I do, that their teenage children shouldn't be involved with sex at all do not deserve ridicule.

Let's ask the question: Why do women have to go see a doctor before they buy birth control? There are two answers. First, because big government says they should, even though requiring a doctor visit to get a drug that research shows is safe helps drive up health-care costs. Second, because big pharmaceutical companies benefit from it. They know that prices would be driven down if the companies had to compete in the marketplace once their contraceptives were sold over the counter.

So at present we have an odd situation. Thanks to President Obama and the pro-choice lobby, women can buy the morning-after pill over the counter without a prescription, but women cannot buy oral contraceptives over the counter unless they have a prescription. Contraception is a personal matter—the government shouldn't be in the business of banning it or requiring a woman's employer to keep tabs on her use of it. If an insurance company or those purchasing insurance want to cover birth control, they should be free to do so. If a consumer wants to buy birth control on her own, she should be free to do so.

Over-the-counter contraception would be easier to obtain if not for some unfortunate aspects of President Obama's health-care law. One of the most egregious elements of that law is the hampering of Health Savings Accounts, which have become increasingly popular in recent years because they give Americans choices in how to spend their money on health care. By removing the ability of citizens to use their HSAs to purchase over-the-counter medicine tax-free if they don't have a doctor's prescription, President Obama hurt many middle-class families who counted on using their HSA dollars every flu season to take care of their children. Health Savings Accounts should cover over-the-counter purchases, and those should include contraception.

It's time to put purchasing power back in the hands of consumers—not employers, not pharmaceutical companies, and not bureaucrats in Washington. The great thing about America is that power doesn't come from government, but from people. It's time to reclaim that power. It's time to stop government from dividing people or insulting deeply held religious beliefs, and return the country to the path that has always made it great—one where Americans respect and value their fellow citizens, no matter their creed.
Kevin Drum calls this is a smart play on Jindal's part:
Jindal understands that, like it or not, Democrats were quite successful at demagoguing Republicans this year over their opposition to the contraception mandate. And yet, the Republican base is still dead set against the idea that "religious institutions" should be required to pay for contraceptives for their employees. How to square this circle?

Easy: if contraceptives are sold over the counter, then the issue disappears. Insurance doesn't usually cover non-prescription drugs, which means the mandate goes away. No employer-provided insurance plan will have to cover contraceptives, so the whole fight over religious objections evaporates.

What's more, smart liberals would probably support this idea too, for several reasons. First, the evidence suggests that oral contraceptives are safe enough to be sold OTC. So it's good public policy in general. Second, the cost of contraceptives would almost certainly drop substantially if this happened. They're cheap to manufacture, after all. Third, all things considered, OTC availability would probably make contraceptives more available and more widely used than prescription contraceptives subsidized by insurance companies.

This is why I said Jindal is smart. He's picked an issue that has good scientific backing, offers a strong chance of bipartisan support, and eliminates an emotional fight that conservatives are losing. It also gives him some street cred as a guy who wants to turn down the temperature on the culture wars. Not bad.
I largely agree that this is a politically smart move for Jindal, but beyond the politics this strikes me as very good policy. It was less than a month ago that the American College of Obstetricians and Gynecologists formally endorsed the idea that birth control pills should be sold over the counter, arguing that the pills themselves are generally safe enough to be sold over the counter and that wider availability of birth control would go a long way toward cutting down on unintended pregnancies, something that should appeal to both the left and the right in the end. Obviously, it would be unwise for this OTC policy to apply to children, largely because of the fact that teenagers are going through hormonal changes that arguably make it advisable that they be under a doctor's supervision when taking what essentially amounts to hormone therapy. Additionally, this would be another of the many areas where the rights of children are circumscribed because they aren't fully able to make decisions for themselves. For adult women, though, I don't see any reason why they should need to get a doctor's prescription for birth control.