Body Scanners (and Groping?) Coming To A Train Station Near You?
If some security "experts" get their way, the security procedures we encounter at airports could start showing up elsewhere. Will Americans stand for it?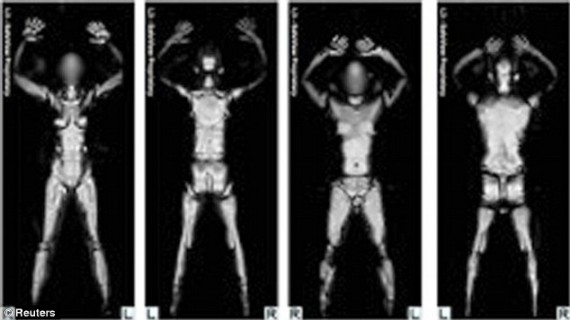 If Secretary of Homeland Security Janet Napolitano has her way, the enhanced security procedures just starting to make their way into American airports will be showing up elsewhere in the near future:
The next step in tightened security could be on U.S. public transportation, trains and boats.

Homeland Security Secretary Janet Napolitano says terrorists will continue to look for U.S. vulnerabilities, making tighter security standards necessary.

"[Terrorists] are going to continue to probe the system and try to find a way through," Napolitano said in an interview that aired Monday night on "Charlie Rose."

"I think the tighter we get on aviation, we have to also be thinking now about going on to mass transit or to trains or maritime. So, what do we need to be doing to strengthen our protections there?"
In addition to mass transit, there's also discussion about enhanced search techniques popping up in other places, like the nation's Courthouses:
Taking a trip during the holidays isn't the only time that people might get a full-body scan to pass through security. People heading to court to testify, get a restraining order, pay a ticket or answer criminal charges could also face a full-body scan at courthouses.

The U.S. Marshals Service, which is in charge of protecting federal judges nationwide, is exploring their use at federal courthouses. And two state courthouses in Douglas and El Paso counties in Colorado have already deployed full-body scanners that use radio waves to detect all objects on a person, including paper.

(…)

The new security techniques are meant to thwart plots by would-be terrorists to use liquid explosives and bombs hidden in shoes and inside underwear. Court observers note that the threat in a courtroom is somewhat different.

"What we are still worried about at a courthouse is angry divorce litigants with a gun," said Sam Kamin, a law professor at the University of Denver Sturm College of Law. "Metal detectors are pretty good at that."
Honestly, I can see Americans eventually accepting enhanced security at airports given the history of security threats to the airline industry, and the palpable evidence we've all experienced of what can happen if those security threats are allowed to succeed. It becomes a different story, though, when you're talking about making things like naked image body scanners and, presumably, enhanced pat-downs, part of everyday American life.
For one thing, the sheer logistical problems associated with subjecting everyone who boarded a train, or a subway in a city like New York or Washington, to some kind of security screening would grind both of those systems to a fault. It would be essentially equivalent to requiring every single car entering Manhattan to be subjected to a stop and search. It would make life, and commerce, unmanageable and it would affect the daily life of enough Americans that the revolt we're seeing now over airport security would be a tempest in a teapot. That's why I think, in the long run, it's not going to happen except perhaps at some high-security federal installations.
For another, the liberty v. security trade-off has a different connotation when it implicates more than just the 45 minutes or so that you might spend in an airport security line. The idea of having to be felt up by a security officer every time you want to get on a train, subway, or boat is something that I would venture to guess the average American would not be willing to accept. Of course, that could change in the event of a wave of terrorist attacks aimed at these facilities but at that point, I'm afraid whatever is left of the American way of life as we've known it would be long gone.