Janet Napolitano To Step Down As DHS Secretary To Run University Of California System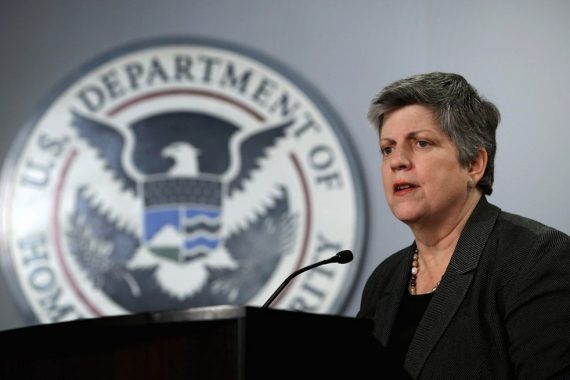 The Los Angeles Times is reporting that Secretary of Homeland Security Janet Napolitano will resign later today to accept a position as the head of the University of California system:
Janet Napolitano, the U.S. secretary of Homeland Security and former governor of Arizona, is being named as the next president of the University of California system, in an unusual choice that brings a national-level politician to a position usually held by an academic. Her appointment also means the 10-campus system will be headed by a woman for the first time in its 145-year history.

Napolitano's nomination by a committee of UC regents came after a secretive process that insiders said focused on her early as a high-profile, although untraditional, candidate who has led large public agencies and shown a strong interest in improving education.

UC officials believe that her Cabinet experiences — which include helping to lead responses to hurricanes and tornadoes and overseeing some anti-terrorism measures — will help UC administer its federal energy and nuclear weapons labs and aid its federally funded research in medicine and other areas.

"While some may consider her to be an unconventional choice, Secretary Napolitano is without a doubt the right person at the right time to lead this incredible university," Sherry Lansing, the regent and former film industry executive who headed the search committee, said in a statement being released Friday. "She will bring fresh eyes and a new sensibility — not only to UC, but to all of California. She will stand as a vigorous advocate for faculty, students and staff at a time when great changes in our state, and across the globe, are presenting as many opportunities as challenges."

Napolitano, who is a Democrat, was appointed by former President Clinton as the U.S. attorney in Arizona and then won elections as state attorney general and twice as governor, a position she held from 2003 to 2009. President Obama then named her to lead Homeland Security, an agency with an annual $60-billion budget and 240,000 employees.

She has been a strong voice in favor of immigration reform that would provide a path to citizenship for those in the country illegally, a stance that has angered some Republicans who contend she has not done enough to secure the nation's borders.

A source close to Napolitano, who asked not to be identified because he was not authorized to discuss the matter publicly, said that Napolitano deliberated for a long time after the executive search firm hired by UC quietly contacted her.

"I think she loves working for President Obama and serving the American people, but at the same time, this is a unique opportunity," he said. Napolitano knows "UC is probably the premier institution in the country. She is motivated by the fact that being a part of UC, she will be a part of educating future leaders of tomorrow and be part of a state that sets so much of the agenda nationally."

Napolitano, 55, is no stranger to California colleges since she attended Santa Clara University and was its first woman valedictorian before earning her law degree at University of Virginia. Her father was dean of the University of New Mexico School of Medicine, a family connection that UC regents also liked since they oversee medical centers. In Arizona, she helped to enact plans to provide full-day kindergarten and to renovate university buildings, winning fans among educators.

The Napolitano friend insisted that nothing was pushing her out of Washington now, although the Senate's recently approved compromise plan on immigration faces an uncertain fate in the Republican-controlled House.

The secretary faced some controversy in Congress when critics alleged the Boston Marathon bombings, reportedly perpetrated by ethnic Chechens from Russia who had been granted political asylum, exposed shortcomings in security.
Since there had been no hint that this was coming, it comes as something of a surprise to "official" Washington, but there doesn't seem to be anything forcing Napolitano out. Instead, she's received what is no doubt a very lucrative offer compared to her salary as a Cabinet Secretary, not to mention its pretty far removed from the politics of Washington, which aren't exactly very good right now.
Speaking of which, this now means that President Obama will have to find a DHS replacement that has a decent chance of making it through the Senate. This may come out of left, or right, field, but might I suggest former Senator Joe Lieberman? Just a thought.
Update: From the DHS Press Office's website:
For more than four years I have had the privilege of serving President Obama and his Administration as the Secretary of Homeland Security. The opportunity to work with the dedicated men and women of the Department of Homeland Security, who serve on the frontlines of our nation's efforts to protect our communities and families from harm, has been the highlight of my professional career. We have worked together to minimize threats of all kinds to the American public. The Department has improved the safety of travelers; implemented smart steps that make our immigration system more fair and focused while deploying record resources to protect our nation's borders; worked with states to build resiliency and make our nation's emergency and disaster response capabilities more robust; and partnered with the private sector to improve our cybersecurity. After four plus years of focusing on these challenges, I will be nominated as the next President of the University of California to play a role in educating our nation's next generation of leaders. I thank President Obama for the chance to serve our nation during this important chapter in our history, and I know the Department of Homeland Security will continue to perform its important duties with the honor and focus that the American public expects."
Also, Aaron Blake has a look at possible successors, including Lieberman.