George Zimmerman: Trayvon Martin's Shooting Was "All God's Plan."
For some reason, George Zimmerman sat down for an hour-long interview last night.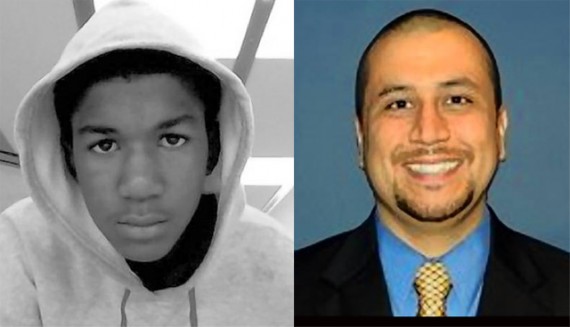 I've always been a bit befuddled when an attorney in a high-profile criminal case lets their client grant media interviews before trial. In some cases, perhaps, there may be a public relations reason for doing so, such as when the Duke Lacrosse players were interview on 60 Minutes while the criminal case against them was still pending. In most cases, though, it seems like a disaster waiting to happen. Under the 5th Amendment, defendants have the right to remain silent but whenever they speak they waive that right and open up the possibility that their statements can be used against the at trial, or that they can be used to impeach their credibility by pointing out contradictions between public statements and their trial testimony or statements made to police. The latest example of this came last night when George Zimmerman sat down for an interview with Sean Hannity:
George Zimmerman told a national TV audience on Wednesday that he doesn't regret anything that happened the night he shot and killed 17-year-old Trayvon Martin.

"I feel like it was all God's plan," he told conservative talk show host Sean Hannity in Zimmerman's first interview since the shooting.

Toward the end of the hourlong interview, however, Zimmerman backtracked on that statement.

"I do wish there was something, anything I could have done that wouldn't have put me in a position where I would have had to take a life," he said. "I do want to tell everyone I'm sorry that this happened. I hate to think that because of this incident, because of my actions, it has polarized, divided America. I'm truly sorry."

There were few surprises in the interview on Fox News. Zimmerman, with attorney Mark O'Mara sitting next to him, was calm, unemotional and accepted no responsibility for the violence that night.

"I am not a racist. I am not a murderer," he said.

He apologized again to Trayvon's parents.

"I would tell them that again I'm sorry. I don't have, my wife and I don't have any children. … I am sorry that they buried their child. I can't imagine what it must feel like, and I pray for them daily," he said.

Zimmerman, 28, killed the unarmed black teenager on a sidewalk not far from where Trayvon was staying Feb. 26.

The site was a few blocks from Zimmerman's town home. He told Sanford police he killed Trayvon in self-defense after the teenager knocked him to the ground and began pounding his head into a sidewalk.

Prosecutors say he's guilty of profiling, that he assumed Trayvon was about to commit a crime, began following him and then murdered him.

"I just think it's a tragic situation," Zimmerman told Hannity. "I hope it's the most difficult thing I'll ever go through in my life."

He was troubled by all the media attention, he said.

"It's surreal," he said. "I don't like that they've rushed to judgment the way they have."

Hannity also asked Zimmerman about allegations from a young woman who claims he sexually molested her when the two were children. The improper touching began, the unidentified woman said, when she was 6 and ended when she was 16.

The woman, who also accused Zimmerman of disliking black people, said Zimmerman was about two years older than her.

Zimmerman did not directly address the molestation claim.

It is ironic that the only witness who says he's a racist, Zimmerman said, also claims he molested her.
I suppose it's at least good that, unlike Jerry Sandusky who gave a bizarre interview to Bob Costas shortly after the charges against him became public, Zimmerman had his attorney sitting there next to him. Potentially, if the questions started going in an unacceptable manner, O'Mara could've shut the interview down and walked away. Nonetheless, the fact that Zimmerman talked about the whole incident being part of "God's plan," while not necessarily incriminating in any way, creates a really odd impression that prosecutors will no doubt seek to convey to the jury when this cases goes to trial.
Additionally, there seemed to be something of a contradiction in Zimmerman's description of what happened that night and what he said contemporaneously to the 911 dispatcher. During the 911 call, Zimmerman said that he saw Martin running, but in the interview he described it is more of a "fast walk." Zimmerman also said that he didn't think Martin was afraid of him because he wasn't acting like he was, but that contradicts what Martin supposedly told his girlfriend, whom he was talking to on the phone while walking through the neighborhood on his way back from the 7-11. How could Zimmerman know what Martin was thinking?
These are the kind of problems that get created when a defendant gives an interview like this. In addition to telling the truth, the most important thing for a criminal defendant to do is to make sure that the story they tell remains consistent. Deviations from what they've previously said, even minor ones, leave the door open for the prosecution to argue that they are contradicting themselves, which allows them to argue to the jury that the Defendant's version of events isn't necessarily believable. Since this is a case that is going to rely heavily on Zimmerman's credibility from the defense perspective, that's a problem.
Fox News legal analyst Judge Andrew Napolitano focused on this aspect of the interview this morning:
Judge Andrew Napolitano stopped by Fox & Friends Thursday to weigh in on Sean Hannity's exclusive interview with George Zimmerman, the volunteer watchman charged with shooting Florida teen Trayvon Martin. While Napolitano found Hannity's questions to be "superb," he ultimately thought it was a bad idea on the part of Zimmerman's lawyer to allow his client to do an interview regarding the case.

The Judge specifically pointed to a portion of the interview when Zimmerman and Hannity discussed whether Martin had been "running," as Zimmerman had originally stated, or whether he was "skipping" or simply walking quickly. The speculation over whether the young man was "running or walking or skipping provides a field day for the prosecutors to explore," said Napolitano. What essentially happened, he said, is that Zimmerman took the witness stand with Hannity acting as cross-examiner.

Host Gretchen Carlson asked whether comments from the interview — specifically Zimmerman telling Hannity that the events of that night were "God's plan" and that he has "no regrets" — will factor into the case. Napolitano thought they could very well be used as statements in court.
This is all well-taken, and it's why I really don't understand why Zimmerman's attorney would ever have agreed to this.
Here's the full interview: