Border Wars
Michelle Malkin has lots of pictures here and here demonstrating that some of the million-odd people who showed up yesterday to march for illegal alien rights are motivated by radical politics. I've reproduced a couple here: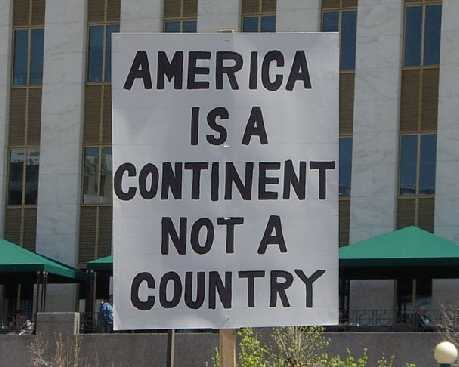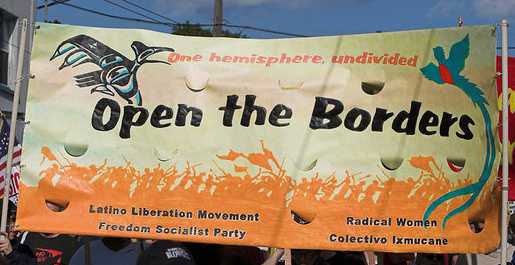 There are also many Che Guevara images and other such nonsense. Of course, one doesn't have to go to an immigration rally to see such symbols; they're fairly ubiquitous on college campuses and elsewhere. Many, I suspect, just think they look cool or vaguely revolutionary without any sense of the backstory. In a society where a substantial number of our youth literally can't point to Louisana on a map, that's hardly surprising.
Barbara O'Brien notes that the distinction between legal and illegal immigrants is rather new and that previous generations of immigrants also held on to their native languages and culture for a time.
Near where my daughter lives in Manhattan there's a church that was built by Irish immigrants. It is topped by a lovely Celtic cross. Now the parishioners are mostly Dominican. In forty years, if it's still standing, maybe the priests will be saying masses in Cilubà , or Mandarin, or Quechuan. Stuff changes. That's how the world is. That's how America is, and how it always has been. Somehow, we all think that the "real" America is the one that existed when our ancestors got off the boat. That means your "real" America may be way different from mine. Fact is, if we could reconstitute Daniel Boone and show him around, he wouldn't recognize this country at all. I think they had apple pie in his day, but much of traditional American culture — baseball, jazz, barbecue, John Philip Sousa's "Stars and Stripes Forever" — didn't exist in Daniel Boone's "real" America.
While change is inevitable and I don't support the public policies that would stop the flood of Latin immigrants, there is nonetheless a difference between revolutionary and evolutionary change. While I continue to think Samuel Huntington's fears of the Hispanicization of America are overblown, he's right that a millions of people with a single language and substantially different culture coming in quickly will change the culture in radically different ways than the pre-World War I influx of Western Europeans or even the later waves of Eastern European and Asian immigrants.
Latinos, of course, already are American, and in large parts of the U.S. Latino culture had taken root before the Anglos showed up. This makes anti-Latino hysteria particularly absurd, because Latino culture is not new; it's already part of our national cultural tapestry.

[…]

Yes, maybe someday America will be an officially bilingual nation, and maybe someday flan will replace apple pie. Flan is good, and there are many multilingual nations that somehow manage to make it work — India, China, Belgium, and Switzerland come to mind.
That our westward expansion took over land that once rightfully belonged to Mexico and various Indian nations is both instructive and irrelevant. As the discussion in O'Brien's comments makes clear, the massive influx of outsiders can overwhelm a culture, as with the American Indian or the Welsh. Given that we can see it coming, it is surely in our interest to do something about it.
Hey, I like flan. (Although that might be a bad example, since its roots are European and variants are found worldwide.) I like chorizo, Mexican cerveza, and a great deal of Tex-Mex. But nobody's complaining about the addition of these things to our culture. Any major American city–and increasingly, even suburbs in the hinterlands–has a dazzling variety of international restaurants and an aisle or two of international foodstuffs at the grocery store. Folks are worried about the substitution of their culture for another.
While "our love of liberty" is indeed a shared constant, it is not the only one. The United States, unlike Belgium et. al., is a world power. Part of the reason we achieved that status so quickly is that we have a shared language and cultural precepts. Marshall McLuhan taught us that the medium is the message. Having the National Anthem, the constitution, the Pledge of Allegiance, and other unifying documents translated into a tapestry of languages undermines the very unity they project.
Given the economic disparities, it is inevitable that people will continue to attempt to cross our southern border in massive numbers. The truth is, we want them to do so. We need people eager to do unappealing work at low wages. We also need their youth to help head off the demographic time bomb that an aging population, low domestic birth rates, and Social Security create. Let's welcome these huddled masses yearning to breathe free. But let's also set up public policies that encourage them to learn our language and assimilate into the culture.
And teach them where Louisiana is, while we're at it.