India And Pakistan Exchange Fire In Kashmir
As America prepares for a Presidential transition, an old conflict with a history of turning dangerous rears its head.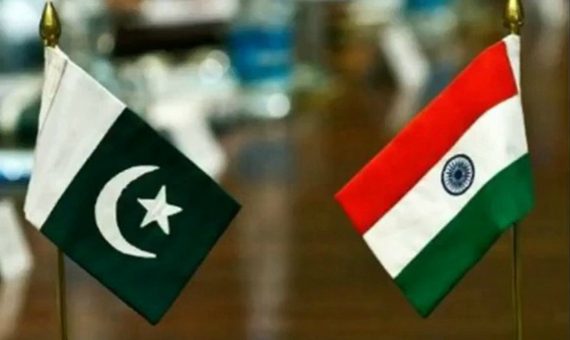 As the United States journeys into an extended holiday weekend and the American media concentrates mostly on the Trump transition process, an old conflict may be heating up on the other side of the world:
NEW DELHI — Firing intensified Wednesday on the de facto border between India and Pakistan, a day after the Indian Army promised retribution for what it said was the killing of three of its soldiers.

Pakistan said Indian fire had struck a passenger bus in the Neelam Valley on Pakistan's side of the Line of Control in the disputed Kashmir region, killing seven civilians and wounding seven others. Indian fire also killed three Pakistani soldiers, including a captain, Pakistan said, and it retaliated, killing seven Indian soldiers.

India defended its actions.

"It was a proper fire assault from our side as a retribution of yesterday's incident," said Brig. P. S. Gotra of the Indian Army's northern command, which includes the Indian-controlled part of Kashmir. He denied that any Indian soldiers had been killed in the firing on Wednesday.

"Both countries are firing at each other," he said.

Exchanges of fire on the Line of Control that divides Kashmir have been unrelenting in recent months, despite a cease-fire agreement that was signed in 2003. Those exchanges were amplified Wednesday, with India launching its assault, and firing took place at more than a dozen locations, Brigadier Gotra said.

"All along the Line of Control, cease-fire violations are going on today," he said.

Pakistan, in a statement, accused India of initiating the attack to divert scrutiny from problems in Kashmir, the northern region that has been the subject of a long-running dispute between the two countries. Inter-Services Public Relations, the Pakistan Army's media wing, said India was targeting the civilian population across the Line of Control toward the Pakistan side to distract attention from the atrocities in Indian-held Kashmir by Indian troops.

The prime minister of Pakistan, Nawaz Sharif, said in a statement that "continuing naked Indian aggression" had led to the deaths of innocent people.

"India has failed to comprehend the gravity of the situation," he said.

On Tuesday, the Indian Army said that three of its soldiers had been killed on the border and that one of the bodies had been mutilated. The army promised to retaliate for "this cowardly act." In past statements, mutilation has referred to beheading; it was the second time in recent weeks that an Indian serviceman's body had been reported to have been mutilated.

Brigadier Gotra said on Tuesday that it was unclear whether the soldiers had been killed by the Pakistani Army, militants or a combination of the two.
News such as this is hardly new, of course. There have been many times over the years when tensions between India and Pakistan over the disputed region of Kashmir have intensified, usually because one nation accuses the other of having done something to violate the ongoing ceasefire or because of a mistaken exchange of fire or movement of troops that caused the other side to respond due to the fact that tensions, and indeed arms, in the region have been on a hair trigger for decades now. Most of the time, though, these exchanges resolve themselves in a matter of days or weeks and the situation has not descended into what can fairly be described as a war since 1999 during what has come to be called the Kargil War, a conflict that lasted roughly a month from May to June 1999. Since that time, there have been standoffs and other incidents in 2001 and 2002, 2008, 2011, 2013, and 2014, none of which resulted in a full-fledged conflict or movement of troops by either side, and it's likely that tensions will eventually cool down as they have in the past. At the same time, though, it's also possible that we could be looking at a part of the world that could present challenges to the incoming President and his Administration, one that would be difficult for the United States and its close allies such as the United Kingdom to ignore or neglect given all the factors involved and the dangers that a wider conflict pose to the region and beyond.
As in the past when tensions have flared between India and Pakistan, the primary concern the outside world has had, of course, is the fact that both of these nations are nuclear powers who reportedly have somewhat lax control over the security and rules for deploying their nuclear arsenal, thus raising the risk that a misunderstanding risks spiraling out of control and ending in tragedy. Beyond the nuclear fears, though, it's fairly clear that any conflict between the two nations would pose problems. For better or worse, Pakistan remains a major and important ally in the War On Terror, especially as it concerns al Qaeda. Additionally, in the past it has been accused of being lax about who it shares its nuclear and missile technology with, even if that means dealing with rogue nations such as North Korea and Iran. India, on the other hand, is important the world's second most populated nation, has been engaged in a significant military buildup in recent years in response to both the tensions with Pakistan and its rivalry with China, and has developed closer relations with the United States as a result. Finally, any increase in tensions between India and Pakistan in this part of the world must also take into account the potential of involvement of China, either unintentionally or due to Beijing feeling it has no choice but to get involved, given the fact that China has also expressed claims in the disputed region. Hopefully, as I said, this will be another incident that resolves itself quickly, and in that regard there are already signs of the two sides seeking to cool things down, but this is yet another reminder that we have no idea of what kind of decisions the incoming National Security apparatus in Washington will be faced with over the next four years.