Boston Was Shutdown Today. Should It Have Been?
An American city was essentially shut down today. Was that the right thing to do?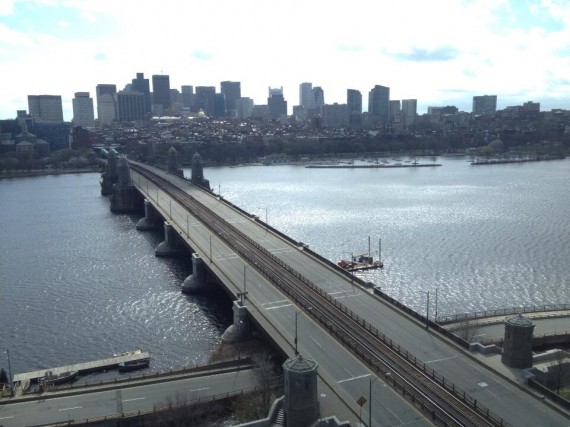 Among the more shocking developments of this morning as the search for Dzhokhor Tsarnaev came early in the morning when the police issued what they called a "Shelter In Place" advisory asking residents to stay at home, lock their doors, and only open them for a uniformed police officer until further notice. Additionally, businesses were asked to stay closed for the day, or at least until police determined that the situation was safe. Initially, this only applied to Watertown and several surrounding communities and nearby areas of Boston as this was the area where Tsarnaev was, and as of right now still is, believed to be holed up. Around 9:30 in the morning, though, Boston's Police Commissioner appeared at press conference and stated that, due to information that law enforcement had recently received, they were extending the advisory to the entire City of Boston:
The entire city of Boston was put on lockdown Friday morning by the Massachusetts governor as police searched for the second of two men believed to have been involved in the marathon bombings earlier this week.

Gov. Deval Patrick said people should shelter in place as authorities engaged in a "massive manhunt" – an extraordinary order that affected nearly one million people.

The second suspect was shot and killed.

Police searched the Watertown neighborhood door to door on foot and in patrol cars early Friday morning. Residents were asked to call 911 if anyone other than police came to doors in the neighborhood.

All services on the Massachusetts Bay Transportation Authority were suspended authorities announced earlier on Friday.

All Boston Public School activities were canceled. All city employees were told to stay in place and not come to work. If they are already at work, they have been asked to stay in place.

Trial courthouses and offices in Cambridge, Brighton, Newton, and Waltham were closed until further notice. Jurors for courthouses at the Suffolk Superior Court and Brooke Courthouses were told to stay home.

People waiting for buses or other transit services should head home and stay there, police said earlier on Friday. No vehicular traffic was being allowed in or out of Watertown, where police engaged in a shootout overnight with men armed with explosives. A no-fly zone was instituted over the Watertown area, the Federal Aviation Administration announced.

Designated portions of the MBTA system might open up again later on Friday, Massachusetts Emergency Management Agency undersecretary Kurt Schwartz said.

All Amtrak service coming into and departing from Boston's South Station was delayed as a result of police activity and Amtrak service was suspended between Boston and Providence, R.I. before all area service was suspended indefinitely around 11 a.m.
In addition, every university in the Boston area canceled classes for the day and sent non-resident students who were on campus home and the city's taxi service, at least for a short period of time, ground to a halt. In essence, the entire city of Boston ground to a halt. Except for people who were already at work when the advisory was issued, who were advised to "shelter in place" at work until further advised, it was as if the city had been struck by a massive blizzard on a sunny spring day, although Boston is the kind of city that still keeps functioning at some level even through the worst winter weather.  That order was issued early this morning and, as I write this, it is still in place, although authorities did tell those people who were sheltering at work that they could go home, where they should stay, it remains in effect. The Boston Red Sox and the Boston Bruins have both postponed the games scheduled for this evening, and local Boston media has been announcing other cancellations all day.
Since there's not much else to talk about today that doesn't involve unwarranted and baseless speculation on the motives of the bombers and the location of the remaining suspect, I've seen a lot of discussion online about both the propriety and the necessity of this decision. On the propriety side, I've seen many people, mostly on the right, compare the "Shelter in Place" advisory to Martial Law, but that analogy only works if you forget that it's called an advisory and not an order, and if residents who decided not to stay home ended up getting arrested or otherwise detained by the police. In reality, there hasn't been a single report of anything like that happen and, indeed,more than a few anecdotal reports of people who were traveling from one place to another in the Boston area (other than those areas blocked off by police because of the search) and no reports of anyone who has been subjected to police harassment for doing so. Officials from the city and the state have stated numerous times today that this is really a voluntary advisory for the vast majority of citizens that are impacted by it, and the fact that they told people where are work that they should go home indicates precisely that fact it would seem.

On the necessity side, many have wondered why the advisory had to be extended to all of Boston when the police seemed to be assured that Tsarnaev was in the Watertown area. As the day unfolded, it became apparent that part of that reason revolved around two facts. First, law enforcement had obtained information that indicated that the Tsarnaev brothers may have had one or more accomplices. If that were true, then there may have potentially been others out there who could be threats to people gathered in public places. Second, at some point during the night last night, the police recovered evidence that there may have been more than two "Crock Pot bombs." Given this, there was at least an arguably threat to public safety. Additionally, it seems clear that there were really two justifications for the advisory depending on the area. For the area around Watertown, the advisory is primarily for the purposes of public safety. There is apparently a dangerous suspect in the area who had hours earlier engaged in a massive shootout with police that included the use of pipe bombs, and there are reports of possible explosive devices at various places in the neighborhood. Certainly, under these circumstances keeping people in their home is the most rational course of action both for personal and public safety. For the rest of the Boston area, part of the justification seems to be that limiting the number of people on the streets allows law enforcement in the  area to concentrate massive force in the search for Tsarnaev.
Is this a sufficient justification to essentially grind a metropolitan area of nearly a million people to a halt? That seems like a hard question to answer. Even without the advisory, today would hardly have been a normal day in the Greater Boston area. Parents likely would have been loath to send their children to school even if they weren't in the immediate Watertown area. Many people likely would've just decided to stay home anyway, a fact that seems to be indicated pretty clearly by the fact that pretty much everyone in the Greater Boston area decided to comply with the advisory rather than test its limits. Would things have been worse had the advisory not been expanded to Boston? I honestly don't know and neither can anyone else, but it strikes me that it represents an appropriate degree of prudence under the circumstances.
On Twitter, Michael Cohen raised a different objection to the "Shelter In Place" advisory:
The message sent today to every would be terrorist is that you can shut down a major American city

— Michael Cohen (@speechboy71) April 19, 2013
Essentially, Cohen is arguing that Boston's response to this manhunt is going to encourage future terrorists to undertake actions that will cause other jurisdictions to act in a similar manner. In the end, though, I'm not sure what that's going to accomplish for them. Unless he's part of some cell that law enforcement is completely unaware of at the moment, it seems clear that Tsarnaev will eventually be caught. Indeed, for all we know he may have been injured in the overnight firefight to such an extent that he really can't move from where ever he's managed to find a safe haven. In the end, what will he have accomplished? He will still be a murderer, either dead or in custody, and if in custody he will face the full force of the American criminal justice system. The same can be said of anyone who would dare to try to replicate his stunt.
Yes, essentially shutting down a major American city was an extraordinary event, but it can also be said that the events of the past 24 hours have also been extraordinary. I'm not sure that makes the advisory either improper or a bad idea.
Update: State and local law enforcement have just concluded a press conference at which they have withdrawn the "Shelter In Place" advisory. The search for "Suspect No. 2" has, so far, been unsuccessful.
Photo of empty bridge into Boston found via Twitter