Both Sides Do It: Voter Suppression Edition
Today, many states and municipalities are having elections that will mostly attract Democrats.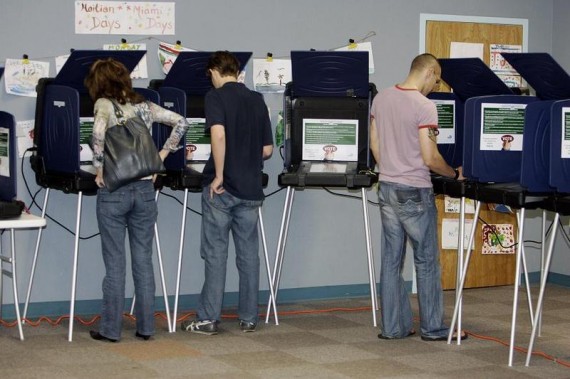 That Republicans have pursued a strategy of voter suppression through tactics such as making registration difficult, requiring photo identification at the polls, and barring convicted criminals from participating is well documented. Less well known, 538's Eitan Hirsh notes, is how Democrats do it through championing off-year elections.
The election calendar in the United States is an insane mess. Exhibit A is New Jersey. New Jersey holds federal elections with the rest of the country on the first Tuesday after the first Monday in November of even-numbered years. But elections for state office in New Jersey are held in November of odd-numbered years. School district elections are held on the third Tuesday in April or else in November. And fire district commissioner elections are held on the third Saturday in February.

It isn't just New Jersey. Most states — 44 out of 50 — hold some state and local elections off the federal cycle.

Why?

Political scientist Sarah Anzia, a professor at the University of California, Berkeley, gives a compelling explanation in an outstanding book published last year. The first point that Anzia makes is that the off-cycle election calendar is not a response to voter preferences; voters do not like taking multiple trips to the voting booth. Anzia asked a nationally representative sample of Americans if they prefer elections held at different times for different offices "because it allows voters to focus on a shorter list of candidates and issues during each election" or all at the same time "because combining the elections boosts voter turnout for local elections." Voters of all political stripes prefer consolidated elections, and by wide margins. But that's especially true for people who identify as Democrats, who prefer consolidated elections 73 percent to 27 percent.

Consolidation is popular, and during the decade-long period between 2001 and 2011 that Anzia studied, state legislatures across the country considered over 200 bills aimed at consolidating elections. About half, 102 bills, were focused specifically on moving school board election dates so that they would coincide with other elections. Only 25 became law.
The why is rather obvious:
Why do Democrats and Democratic-aligned groups prefer off-cycle elections? When school boards and other municipal offices are up for election at odd times, few run-of-the-mill voters show up at the polls, but voters with a particular interest in these elections — like city workers themselves — show up in full force. The low-turnout election allows their policy goals to dominate.

Anzia shows that off-cycle elections lead to higher salaries and better health and retirement benefits for teachers and public employees. Anzia studies these effects in many different ways. The simplest way is by looking at eight states that allow local governments to set their own election dates. She compares school districts that hold school board elections on-cycle and off-cycle within the same state. Controlling for factors that might make districts different from one another — like their population size, income, racial composition, partisan leanings and how urban or rural they are — Anzia found that the maximum base teacher salary is over 4 percent higher in districts with off-cycle elections.
What's interesting is that both parties seem to be at least partly motivated by genuine ideological concerns in advocating voter suppression policies that just happen to favor their own interests:
As election law expert Rick Hasen has noted, there is a philosophical divide between the parties. Supposedly, for Republicans, small barriers to participation can help the functioning of a democracy. For instance, in recent years, Republicans have been pushing a requirement that voters present identification when they show up to cast a ballot. They argue that voter ID laws can prevent fraud and foster confidence in the electoral system. But they also argue that if an ID requirement deters people who aren't particularly well-informed or invested in the political process, this might be a net benefit for the electoral system.

The Democratic philosophy is different. For Democrats, universal participation is a value: All voices ought to be represented in the electoral sphere, so the government should not put up any unnecessary barriers to participation.

[…]

Proponents of the off-cycle strategy argue that local issues get drowned out when local elections are held concurrent with presidential or congressional elections. People who show up to vote in those big elections may not be equipped to weigh in on the local issues. Anzia quotes a Texas school official who defends off-cycle elections because they bring out "an educated voter … people who really care about the issues and who are passionate about their district." In off-cycle elections, proponents claim, the electorate is a concentrated set of voters who are engaged in the local issues, which yields better results for the community.

For readers who are sympathetic to the perspective of the off-cycle election proponents (typically Democrats), it is worth noting that these are very much the same arguments that Republicans might make in favor of voting restrictions that make voting a little bit harder for the average American. Just like voter ID or voter-registration requirements, off-cycle elections impose a cost on political participation. The cost is evidently high, since very few people participate in local elections when they are held in odd-numbered years. Maybe the cost leads to a more enlightened electorate. Or maybe it is Democratic-sponsored voter suppression.
I've long opposed off-year elections and always presumed that they were held for precisely the reasons Anzia cites—minus partisan interests. That is, there is an obvious advantage in scheduling referenda on niche issues and votes for less visible offices when only those most interested in them will bother to vote.  That this group just happens to be employees of state and local governments—who happen to be overwhelmingly Democrats—is an interesting byproduct. (Indeed, that's doubly true since government workers are almost always given time off from work to vote, a privilege not afforded to most in the private sector.)
While I think off-year—much less, off-off-year—elections are undemocratic and a burden on taxpayers, I'm actually sympathetic to making it less likely that low information voters will participate, especially in niche elections. While pretty much anyone who would bother to vote in a presidential election has a good idea of who the candidates are and what they stand for, that's not true for school board, county commission, and other local elections. Further, while political party is a pretty good proxy for ideology at the national level, it's not at the local level. Still, I don't think this justifies making it more difficult for people to vote.
But the same is true for the types of suppression that Republicans tend to favor. I get why college towns would want to keep transient students from deciding their local ordinances, for example. Or why one would want to keep convicted felons and non-citizens from voting. And, while there's essentially zero evidence of the sort of voting fraud that would be prevented by requiring photo ID exists at a level that would influence election outcomes (there are more effective, less risky ways of stuffing the ballot box) I get the visceral reaction to it, especially since most Republican voters can't fathom why anyone wouldn't have an ID card.
I'm a resident of Virginia, which is among the worst offenders.  We hold our most important state and local elections in odd-numbered years.  We elected our statewide officeholders in 2013. Today,  we're electing our state senators and delegates and Fairfax County, where I live, is electing our school board and the local government.  If we get 20 percent turnout, I'll be shocked.