Federal Appeals Court Upholds Wisconsin Voter ID Law
An unsurprising decision from the Seventh Circuit Court of Appeals.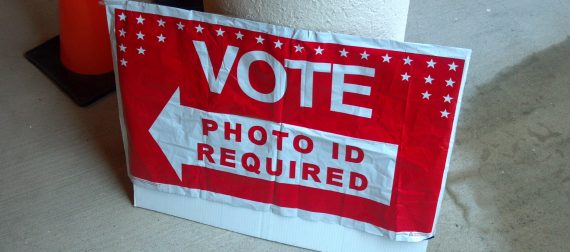 A panel of the 7th Circuit Court of Appeals has upheld Wisconsin's Voter ID Law, reversing a District Court opinion from earlier this year and potentially having a big impact on the upcoming election in which Governor Scott Walker is in a close fight for re-election:
Madison — A panel of three federal judges upheld Wisconsin's voter ID law Monday, finding it is in keeping with the U.S. Constitution and federal Voting Rights Act.

The panel of the 7th Circuit U.S. Court of Appeals last month ruled the voter ID law could be put in place for the Nov. 4 election between Republican Gov. Scott Walker and Democrat Mary Burke. Monday's ruling is the panel's final decision on the issue and puts the voter ID law in place for other future elections.

Attention now turns to what U.S. Supreme Court Justice Elena Kagan or the full Supreme Court might do. Even before Monday's ruling, the groups that challenged the voter ID law had asked Kagan to block the voter ID law for the Nov. 4 election.

Kagan is the justice responsible for handling emergency petitions in cases before the 7th Circuit, which covers Wisconsin, Illinois and Indiana.

Writing for the unanimous appeals panel, Judge Frank Easterbrook determined Wisconsin's law was essentially identical to an Indiana voter ID law that the U.S. Supreme Court upheld in 2008.

Even if voter impersonation is rare, the Supreme Court found a voter ID law has other benefits, Easterbrook wrote — "it deters fraud (so that a low frequency stays low); it promotes accurate record keeping (so that people who have moved after the date of registration do not vote in the wrong precinct); it promotes voter confidence.

"If the public thinks that photo ID makes elections cleaner, then people are more likely to vote or, if they stay home, to place more confidence in the outcomes."

Also on the panel were Diane Sykes and John Daniel Tinder. Easterbrook was appointed by President Ronald Reagan. Sykes and Tinder were appointed by President George W. Bush. Before serving on the federal bench, Sykes was a Wisconsin Supreme Court justice.

(…)

"Unless Wisconsin makes it needlessly hard to get photo ID, it has not denied anything to any voter," Easterbrook wrote.

Relying on the testimony of an expert, Adelman concluded about 300,000 registered voters in Wisconsin do not have IDs that qualify for voting. About 70,000 additional people who lack such IDs are eligible to vote but not registered, he found.

But the appeals judges determined those figures were "questionable."

"The district judge who tried the Indiana case rejected a large estimate as fanciful in a world in which photo ID is essential to board an airplane, enter Canada or any other foreign nation, drive a car (even people who do not own cars need licenses to drive friends' or relatives' cars), buy a beer, purchase pseudoephedrine for a stuffy nose or pick up a prescription at a pharmacy, open a bank account or cash a check at a currency exchange, buy a gun, or enter a courthouse to serve as a juror or watch the argument of this appeal," Easterbrook wrote. "Could 9% of Wisconsin's voting population really do none of these things?"
As noted, today's ruling reverses a ruling in April by Federal District Court Judge Lynn Adelman striking down the law. In that ruling, Judge Adelman found that the burdens potentially imposed by the law on minority and poor voters outweighed the concerns raised by the state to justify the requirement that everyone who wishes to vote present photo identification at the polls. This was especially true, he found, based on the fact that there was almost no evidence of actual in-person voter fraud in Wisconsin while at trial there had been studies presented purporting to indicate that Voter ID requirements tend to impact poor and minorities disproportionately both due to the costs and time needed to obtain the identification to begin with and the fact that these types of voters are less likely to have easy access to the types of documents, including birth certificates, that would be needed to obtain the identification to begin with. Adelman's ruling was the opposite of two separate rulings from Wisconsin's Supreme Court upholding the ruling. Additionally, as I noted when I wrote about the decision in April,  though, the complaints that he raises about the difficulty of obtaining identification go to the specifics of the law, which is a matter for the legislature and regulatory bodies, rather than it is to the legal merits of Voter ID laws. This would seem to be especially true given that the Supreme Court is already on record as upholding Voter ID laws in a 2008 ruling out of Indiana. While the makeup of the Court has changes slightly since that ruling, it hasn't changed enough to make it likely that the current Supreme Court would reverse itself. More importantly, though, the immediate impact of Adelman's ruling was blunted last month when this same 7th Circuit panel issued a ruling voiding the stay that she had put in place that would have barred the law from going into effect for the upcoming election. That ruling is itself under appeal, but yesterday's ruling would seem to blunt any effort to stop the law from being in force during the election unless the full Supreme Court steps in and issues a stay.
Law Professors and election law expert Rick Hasan is deeply critical of the Court's opinion:
2. As a matter of substance, this is vintage Judge Easterbrook: crisp writing but heartless and dismissive. Judge Easterbrook picks out the evidence from the record he likes, and dismisses the evidence he does not like. The Ansolabehere and Persily study finding no relationship between voter id laws and public confidence is dismissed because it was not peer reviewed. This is some of the most careful work out there, and just because it was published in the Harvard Law Review Judge Easterbook decides to dismiss it out of hand.  I believe that Professor Milyo, who is on the other side of these issues, also found no relationship between public confidence and voter id laws. On the other side of that is the Court's statement about those relationships in the Crawfordcase. Judge Easterbrook takes that as some kind of established fact which cannot be rebutted by more evidence, despite our relative lack of experience back in the 2008 Crawford case with voter id laws.

3. The opinion puts forward the narrowest test yet I've seen for deciding when a vote denial type claim (which Easterbrook calls a voter qualification claim) violates section 2 of the Voting Rights Act. He cites statistics showing whites are much, more more likely than blacks in Milwaukee to have a driver's license (the easiest form of voter id to use in WI if you have it).  No big deal he says: black voting rates are high enough, and so long as "everyone has the same opportunity to get a qualifying voter ID" in Wisconsin there can be no voting rights violation. Never mind that because of past discrimination African-American voters are on average poorer and will have a harder time coming up with the money for the underlying documents for a voter id. The rich and poor can both sleep under bridges. To Easterbrook, one just "scrounges" the money to get the birth certificate—there is no sensitivity that not everyone is as rich as a federal judge.
Hasan is also critical of the Court's decision to allow the law to go ahead now, 28 days before the election, even though there seems to be a lot of evidence that many Wisconsin counties will not be prepared:
Regardless of where you stand on the merits of the constitutional and voter id problem, it is unconscionable to roll out voter id without adequate time for everyone who wants to get id to do so.  The 7th Circuit violated the rule from the Supreme Court's Purcell v. Gonzalez case for courts not to change election rules just before the election. The state itself admits that up to 10 percent of eligible voters may lack id for this election. Today's order seems timed to give more ammunition to Wisconsin to fight its case on the merits.
The Purcell v. Gonzalez decision that Hasan refers to is a 2006 opinion dealing with an Arizona Voter ID law. In a relatively short opinion, a unanimous Court held there that the 9th Circuit erred in not giving greater consideration to allowing the law to go into effect just weeks before the election, and in a concurring opinion Justice Stevens noted that leaving a stay in effect in advance of an impending election would be the best way for future courts to deal with the legal issues involved in the case. Given the holding in this case, and the reports about just how disruptive allowing this law to go forward this year would be, I think Hasan raises a good point here at least on the issue of the stay and he has cataloged elsewhere the reports indicating the problems that are likely to arise because of the late implementation of the Voter ID law, not the least of them being that over 10,000 Absentee Ballots were mailed before the September 13th opinion by the Circuit Court, when Judge Adelman's stay was still in effect, that were issued without abiding by the requirements of the Voter ID law. Regardless of how one feels about Voter ID laws as a matter of policy or law, it seems to me as though avoiding chaos at the polls, which is what the Purcell case is all about, should be an important consideration. While the Supreme Court will obviously not have time to hear this case on the merits, I would expect that the efforts to appeal the lifting of the stay, based on Purcell will continue.
As to the merits of Hasan's criticisms, while I understand them I can't really say that I agree with them, at least not to the extent that they should be sufficient legal grounds to void a law that was duly passed by the people's representatives. As I noted above, even conceding the fact that there may be difficulties for some people in obtaining identification, that fact alone doesn't strike me as a reason to void the law in its entirety. Those issues are more properly addressed by the legislature and the regulatory bodies that implement election laws and, if necessary, by Federal Courts that can issue mandates about how a law is enforced that would alleviate many of the problems. When it comes to the overall validity of Voter ID laws in general from a legal point of view, though, it seems fairly clear to me that the Constitutional and other objections that have been made to the laws are incredibly weak to say the very least, which is one reason why the outcome here is really not very surprising.
None of this means, of course, that Voter ID laws are a good idea as a matter of policy, or that they are something that should be considered a legislative priority as many on the right have treated them. As I've noted before, the type of voter fraud that these laws would combat is relatively rare to begin with, which suggests at the very least that a state legislature looking to deal with voter fraud should be looking at other areas, such as registration fraud, and absentee ballot fraud, that cannot be detected via Voter ID laws and which are far more common. Whether or not a law is a good idea, though, is not something that courts should properly be considering. For them, the only questions relate to whether the law in front of them violates some provision of the Constitution or is otherwise invalid. In the case of Voter ID laws, the law just isn't on the side of the opponents, which is why this ruling wasn't surprising and why the Supreme Court is likely to ultimately uphold this law should the full case get before it.