Federal Judge Strikes Down Wisconsin Voter ID Law
A legal setback for Voter ID laws in Wisconsin.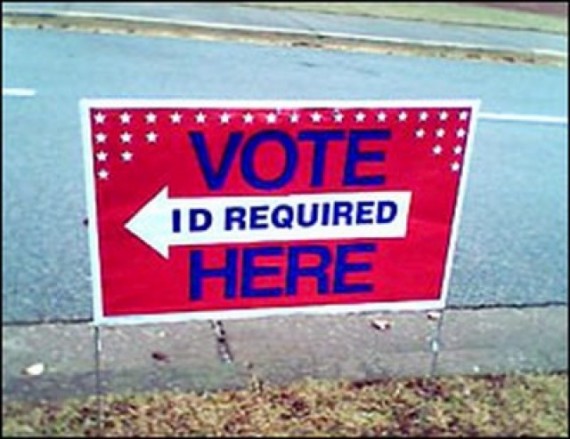 A Federal Judge in Wisconsin has struck down that state's law requiring voters to present photo identification when voting, finding that the law violates both the Constitution and Federal Law:
A federal judge on Tuesday struck down Wisconsin's law requiring voters to produce state-approved photo identification cards at polling places, advancing a new legal basis — the Voting Rights Act — for similar challenges playing out around the nation.

Judge Lynn Adelman, of the United States District Court for the Eastern District of Wisconsin, found that the state's 2011 law violated the 14th Amendment of the Constitution as well as the Voting Rights Act, which bars states from imposing rules that abridge a citizen's right to vote based on race or color.

"I find that the plaintiffs have shown that the disproportionate impact of the photo ID requirement results from the interaction of the requirement with the effects of past or present discrimination," Judge Adelman wrote in the decision. "Blacks and Latinos in Wisconsin are disproportionately likely to live in poverty. Individuals who live in poverty are less likely to drive or participate in other activities for which a photo ID may be required (such as banking, air travel, and international travel) and so they obtain fewer benefits from possession of a photo ID than do individuals who can afford to participate in these activities."

In Wisconsin, the photo identification requirement approved by Gov. Scott Walker and his fellow Republicans who control the State Legislature was already delayed following rulings in state court. But Judge Adelman's finding citing Section 2 of the Voting Rights Act, more often a factor in cases related to redistricting, is certain to draw note from those involved in other voter identification challenges, including cases brought by the Department of Justice in North Carolina and Texas, according to Richard L. Hasen, a professor at the University of California, Irvine, who specializes in election law.

(…)

Judge Adelman enjoined the state from requiring voters to provide identification cards, and required officials to seek legal approval of any revised law. The judge pledged to expedite hearings on any rewritten law, but wrote that "it is difficult to see how an amendment to the photo ID requirement could remove its disproportionate racial impact and discriminatory result."

In an interview, Robin Vos, the Republican speaker of the State Assembly, said the judge's ruling had been politically motivated. "He used his personal bias to say that voter ID is just wrong," Mr. Vos said of Judge Adelman, who was formerly a Democratic state lawmaker and who was appointed to the federal bench in 1997 by President Bill Clinton.

"Our intention was never to make it hard to vote," Mr. Vos said of the voter identification law known as Act 23. "All we want to do is make sure we have some reasonable proof that people are who they say they are."

But in his decision, Judge Adelman said, "There is no way to determine exactly how many people Act 23 will prevent or deter from voting without considering the individual circumstances of each of the 300,000 plus citizens who lack an ID. But no matter how imprecise my estimate may be, it is absolutely clear that Act 23 will prevent more legitimate votes from being cast than fraudulent votes."
Judge Adelman essentially ruled that there was little evidence of in-person voting fraud, while the requirement to get an ID placed a substantial burden on voters:
The evidence at trial established that virtually no voter impersonation occurs in Wisconsin. The defendants could not point to a single instance of known voter impersonation occurring in Wisconsin at any time in the recent past. The only evidence even relating to voter impersonation that the defendants introduced was the testimony of Bruce Landgraf, an Assistant District Attorney in Milwaukee County. Landgraf testified that in "major elections," by which he means gubernatorial and presidential elections, his office is asked to investigate about 10 or 12 cases in which a voter arrives at the polls and is told by the poll worker that he or she has already cast a ballot. Tr. 2056-57. However, his office determined that the vast majority of these cases—approximately 10 each election—have innocent explanations, such as a poll worker's placing an indication that a person has voted next to the wrong name in the poll book. Tr. 2057. Still, about one or two cases each major election remain unexplained, and the defendants contend that these one or two cases could be instances of voter-impersonation fraud. I suppose that's possible, but most likely these cases also have innocent explanations and the District Attorney's office was simply unable to confirm that they did. Moreover, the most Landgraf's testimony shows is that cases of 5 potential voter-impersonation fraud occur so infrequently that no rational person familiar with the relevant facts could be concerned about them. There are over 660,000 eligible voters in Milwaukee County, and if the District Attorney's office finds two unexplained cases each major election, that means that there is less than one questionable vote cast each major election per 330,000 eligible voters. The rate of potential voter-impersonation fraud is thus exceedingly tiny

(…)

Based primarily on the testimony of plaintiff's expert, Leland Beatty, a statistical  marketing consultant with extensive experience in business and politics, I find that approximately 300,000 registered voters in Wisconsin, roughly 9% of all registered voters, lack a qualifying ID. To put this number in context, in 2010 the race for governor in 10 Wisconsin was decided by 124,638 votes, and the race for United States Senator was decided by 105,041 votes. See LULAC Ex. 2 ¶ 10 & Table 2. Thus, the number of registered voters who lack a qualifying ID is large enough to change the outcome of Wisconsin elections. In addition to these registered voters without an ID, there are a number of persons who are eligible to vote but not yet registered who lack an ID. Because Wisconsin permits same-day registration at the polls, any eligible voter may become a registered voter on election day. One of the plaintiffs' expert witnesses, Matthew Barreto, a professor at the University of Washington and an expert on voting behavior, survey methods and statistical analysis, conducted a telephonic survey of eligible voters in Milwaukee County. Professor Barreto found that there were 63,085 eligible voters in Milwaukee County alone who lack a qualifying ID.
Judge Adelson goes on, in a lengthy opinion that's well worth reading regardless of which side of this issue you happen to fall on, that the burden that the law places on citizen's ability to vote, because of the cost of obtaining a qualifying ID for those who are low income, outweighs whatever benefits the state claims for the law, including the alleged need to prevent in-person fraudulent voting.  However, it strikes me that Judge Adelson's reasoning is flawed here.
While it's true that obtaining a photo ID is not a seamless process by any means, and making it easier to obtain those forms of identification is definitely worth discussing, the idea that the process is so burdensome as to create a substantial burden on a person's right to vote seems to be a bit of a stretch. There are already "burdens" placed on the right to vote in the form of the requirements one must go through in order to register to vote, and that fact that voting is restricted to certain times and locations during the course of an election cycle. Adding the additional requirement that a person seeking to vote be required to prove that they actually are whom they claim to be strikes me as a de minimus burden at the very most. Furthermore, to the extent that the cost of obtaining the identification is an issue then the solution would be for state's to amend the laws to eliminate that cost, either for all voters or at least for low-income voters, rather than striking down the law entirely as Adelson has done here. Finally, even accepting the accuracy of Adelson's finding that in person voter fraud is a minor problem in Wisconsin, the state has additional interests in protecting the integrity of the election process that would seem to be sufficient to justify the minimal burden of requiring that people be able to prove that they are who they say they are before they vote.
This ruling will, quite obviously, be appealed to the 7th Circuit, and potentially the Supreme Court, but it joins a number of other cases from around the country challenging similar laws, and in which opponents of Voter ID have made similar arguments to the ones advanced in Wisconsin. For the most part, though, those other cases have been decided in favor of the laws and, indeed, the Supreme Court itself has already ruled on this issue:
The Supreme Court ruled Monday that states can require voters to produce photo identification without violating their constitutional rights, validating Republican-inspired voter ID laws.

In a splintered 6-3 ruling, the court upheld Indiana's strict photo ID requirement, which Democrats and civil rights groups said would deter poor, older and minority voters from casting ballots. Its backers said it was needed to prevent fraud.

It was the most important voting rights case since the Bush v. Gore dispute that sealed the 2000 election for George W. Bush. But the voter ID ruling lacked the conservative-liberal split that marked the 2000 case.

The law "is amply justified by the valid interest in protecting 'the integrity and reliability of the electoral process,'" Justice John Paul Stevens said in an opinion that was joined by Chief Justice John Roberts and Anthony Kennedy. Stevens was a dissenter in Bush v. Gore in 2000.

Justices Samuel Alito, Antonin Scalia and Clarence Thomas also agreed with the outcome, but wrote separately.

(…)

"We cannot conclude that the statute imposes 'excessively burdensome requirements' on any class of voters," Stevens said.

Stevens' opinion suggests that the outcome could be different in a state where voters could provide evidence that their rights had been impaired.

But in dissent, Souter said Indiana's voter ID law "threatens to impose nontrivial burdens on the voting rights of tens of thousands of the state's citizens."

Scalia, favoring a broader ruling in defense of voter ID laws, said, "The universally applicable requirements of Indiana's voter-identification law are eminently reasonable. The burden of acquiring, possessing and showing a free photo identification is simply not severe, because it does not 'even represent a significant increase over the usual burdens of voting.'"
The was a ruling from 2008 on Indiana's Voter ID law. Given the makeup of the court today, it seems wise to assume that Scalia's broader ruling would be able to garner the votes of the Courts five conservative members, even in the face of the type of evidence that Judge Adelson cites in his opinion.
Here's the text of the opinion: