Federal Judge Strikes Down North Dakota's Voter ID Law
A Federal Judge in North Dakota has struck down that state's Voter ID Law, the fourth such decision in less than a month.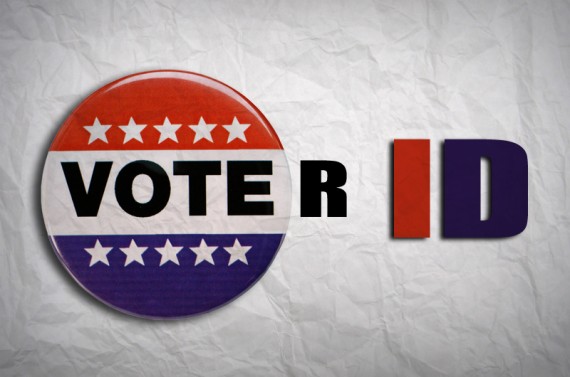 A Federal District Court Judge in North Dakota has struck down that state's Voter ID law on the ground that it unfairly discriminates against the state's Native American population, joining a series of decisions over the past month that suggest we've hit a turning point in the Voter ID debate:
A federal judge on Monday called North Dakota's strict voter-ID law unfair to Native Americans and blocked its use in the coming election, continuing a series of recent victories against restrictions imposed by state legislatures.

In recent days, judges have blocked or loosened voting restrictions in Texas, North Carolina, Wisconsin and Kansas. The fights have pitted Democrats and civil rights groups who say restrictive ID laws discriminate against minorities against Republican legislators, who say they enacted the laws to combat voter fraud and protect the public's confidence in elections.

U.S. District Judge Daniel L. Hovland said North Dakota for years had provided a safety net for those unable to provide the specific kinds of ID required, and that eliminating it in 2013 would mean eligible voters are disenfranchised.

Before 2013, the state allowed many forms of identification for use at the polls, and those without could sign affidavits to their identity. But the 2013 law allowed only four forms of ID: a North Dakota driver's license; a North Dakota non-driver's ID card; a tribal government-issued ID card; or an alternative form of ID prescribed by the secretary of state.

A provision added last year prohibited the secretary of state from allowing college IDs or military IDs to be used.

"Although the majority of voters in North Dakota either possess a qualifying voter ID or can easily obtain one, it is clear that a safety net is needed for those voters who simply cannot obtain a qualifying voter ID with reasonable effort," Hovland wrote.

"Voter fraud in North Dakota has been virtually non-existent," wrote Hovland, who was nominated to the bench in 2002 by President George W. Bush. He said the state "produced no evidence suggesting the public's confidence in the electoral process would be undermined by excusing those voters who cannot reasonably obtain an ID."

The burdens fall particularly hard on the state's Native American population, Hovland said

"The undisputed evidence before the court reveals that Native Americans face substantial and disproportionate burdens in obtaining each form of ID deemed acceptable under the new law," he wrote.

He added that the law's challengers "presented undisputed evidence that more than 3,800 Native Americans may likely be denied the right to vote in the upcoming general election in November 2016 absent injunctive relief."

"Although the majority of voters in North Dakota either possess a qualifying voter ID or can easily obtain one, it is clear that a safety net is needed for those voters who simply cannot obtain a qualifying voter ID with reasonable effort," Hovland wrote.

The lawsuit was brought by several Native Americans, who presented evidence that the group is less likely to have driver's licenses, lack birth certificates that are required in some cases to get an ID and are uniquely unable to make use of alternatives such as providing two documents that show their residential addresses.

"One reason is that many Native Americans do not have residential addresses, and the Post Office delivers their mail to a post office box," the judge wrote.
The decision on Monday marks the fourth state in a month that has seen their Voter ID law struck down by a Federal Court. The chain of decisions started with a ruling by a panel of the Fifth Circuit Court of Appeals striking down that struck down Texas's Voter ID Law on the ground that it unfairly discriminated against African-Americans and other minority groups in the state. Most recently, Federal Judges have struck down Voter ID Laws in North Carolina and Wisconsin on similar grounds. In the Kansas case mentioned above, a state-level Judge has ruled that the state must count what could amount to thousands of votes in state and local elections comprising the votes of people who registered to vote without being able to produce documentation proving their citizenship in compliance with a state law that requires such documentation to vote in state and local elections (the restriction cannot apply in Federal elections because it is more restrictive than Federal Motor Voter regulations). In all of the Federal cases, the common theme running through the decisions has been the fact that, although the laws in question differ, they each violate either the Constitution or the Voting Rights Act because of the fact that they make it difficult for poor and minority voters to either obtain the documentation necessary to get a Voter ID, or because they make it difficult for members of those groups to obtain the Voter ID at all.
The fact that these rulings are coming out together is hard to ignore, of course, and Ian Millhiser argues that it's a sign that the tide has turned in the battle over Voter ID Laws:
[T[he judicial landscape facing voting rights advocates is massively more favorable than the landscape they faced in the 2014 election, when conservatives still controlled a majority on the Supreme Court. If Justice Antonin Scalia were still alive today, North Carolina advocates in particular would be biting their nails fearing that their state's anti-voter law would soon be reinstated. Without a conservative Supreme Court majority, by contrast, the appeals court's decision striking much of the North Carolina law is all but certain to be the final word — at least until after the election.

Take Crawford v. Marion County Election Board, a 2008 decision turning away a challenge to Indiana's voter ID law. Voter ID laws ostensibly prevent voter fraud at the polls, but numerous studies andinvestigations — including investigations led by elected officials who support voter ID — have shown that such fraud barely exists. Indeed, the most striking thing about Crawford is that the Court's lead opinion is only able to cite a single instance of in-person voter fraud within the previous 140 years!

Nevertheless, that opinion also treated the arguments of voting rights advocates warning of disenfranchisement and the arguments of lawmakers complaining of a kind of fraud that basically does not exist as if they had equal weight. "On the basis of the evidence in the record," the opinion claimed, "it is not possible to quantify either the magnitude of the burden on this narrow class of voters or the portion of the burden imposed on them that is fully justified."

Whatever the wisdom of this decision at the time, two things are worth noting about it eight years later. The first is that retired Justice John Paul Stevens, the author of the lead opinion in Crawford, has since labeled that case a "fairly unfortunate decision." Stevens says that he learned "a lot of things outside the record that made me very concerned about" voter ID, but that he felt that he "had a duty to confine myself to what the record did prove, and I thought it did not prove the plaintiffs' case."

(…)

The second point that is worth noting about Crawford is that, however imperfect the record might have been in 2008, there is now no longer any reasonable doubt that voter ID laws exist to prevent certain people from voting and not to protect election integrity. As explained above, the kind of fraud these laws supposedly prevent is only slightly more common than unicorns. Meanwhile, research into the real impact of such laws shows that their primary effect is to prevent voters who tend to prefer Democrats to Republicans from casting a ballot. One study determined that "Democratic turnout drops by an estimated 8.8 percentage points in general elections when strict photo identification laws are in place," compared to 3.6 percentage points for Republicans. Other, more conservative estimates still indicate that voter ID can add more than a full percentage pointto the GOP's margin over Democrats.

Even more significantly, given the current state of the law, voter ID laws disproportionately impact voters of color — much like other common tactics used by conservative lawmakers often target minority voters, including tactics such as cuts to early voting or efforts to make it harder to register to vote.

This disproportionate impact on voters of color matters because the Voting Rights Act, which was not at issue in Crawford, prohibits any "voting qualification or prerequisite to voting or standard, practice, or procedure . . . which results in a denial or abridgement of the right of any citizen . . . to vote on account of race or color." So voting rights advocates do not need to overrule Crawford, an outcome that is unlikely at least as long as the Supreme Court is evenly divided between liberals and conservatives, in order to convince judges to strike down many modern voter suppression laws.
In addition to the disproportionate impact of these laws on minorities and the poor, of course, is the fact that numerous studies have revealed little evidence of the kind of in-person voter fraud and impersonation that Voter ID Laws are designed to prevent, and little evidence that there was an epidemic of any such voter fraud prior to the adoption of these laws in any of the states in which they have been implemented. That alone doesn't invalidate the laws, of course, but when viewed in combination with the disproportionate impact of the laws in question it does put into doubt the assertion of the states that have had their laws challenged regarding the primary motivation of the speed with which they have sought to implement these changes into law. As I've said before, what is apparent though is that these laws are primarily aimed at giving advantages to one political party over another. However, since the primarily Republican legislatures that have passed these laws in recent years have been aiming at Democrats, it's somewhat inevitable that the laws in question would end up having a significant impact on the minority voters that make up a large part of Democratic voting blocs in many states. Additionally, the fact that, in many cases, the legislature has been reluctant to address what seem like legitimate complaints about the laws, including the cost of obtaining identification and the difficulties that some groups encounter in gathering the necessary documents and getting to the proper offices to get identification, has also raised questions about the true motivation behind these laws.
As I have said before, there is nothing per se wrong with Voter ID Laws or the idea that people should be required to provide some proof that they are who they say they are when they cast a ballot, there also needs to be some accommodation for the difficulties that some groups encounter in obtaining the an identification card that would allow them to exercise their right to vote. The primary accommodation, of course, should be that voters should not have to pay any fees associated with obtaining the identification in question. This should include not only no fee for the identification, but also no fee for obtaining copies of underlying supporting documentation in the form of government documentation such as birth certificates or other records that might be needed to prove citizenship. This may be easier said than done, but it strikes me as the only fair way to implement such a law. Finally, some provision should be made in the law for those people who quite simply cannot obtain an identification because they can't obtain the appropriate underlying supporting documents. Granted, such cases are likely to be rare but for older Americans they apparently as uncommon as you might think. If those issues can be dealt with fairly, then the law would seem to me to be entirely acceptable. How necessary it actually is is, of course, another question.
Here's the opinion in the North Dakota case:
Brakebill Et Al v. Jaeger by Doug Mataconis on Scribd