Boy Scout Troop Leader And His Eagle Scout Son Deliver Pizza To Gay Couples Waiting To Get Married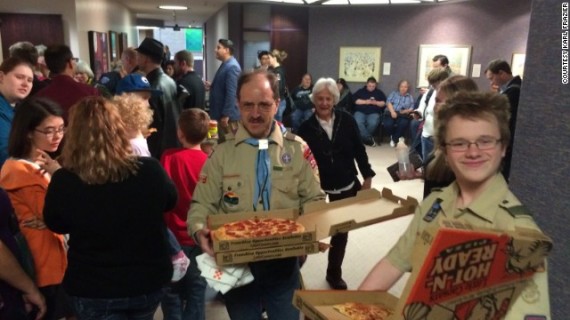 Boy Scout Troop leader in Utah and his son, an Eagle Scout, brought sustenance to gays and lesbians waiting in line to get married:
CNN) – Amid the women in lacy wedding veils and the men in spiffy suits at the county clerk's office was Peter Brownstein. He'd replaced the blue neckerchief of his Scoutmaster's uniform with one in the colors of the rainbow, the colors of gay pride. He carried boxes of hot pepperoni and cheese pizzas in his arms. And by his side, he had his son Michael, a 14-year-old Eagle Scout.

Brownstein, 52, had gone down to the Salt Lake City office to bear witness to a marriage. What he found Monday morning was a line that snaked along halls on two floors of the building. Gay couples had rushed in to tie the knot after a district judge struck down Utah's ban on same-sex marriage. Mayor Ralph Becker called it a "thrilling pandemonium."

Many had been waiting for hours. Some brought along children in strollers. They were all hungry. As were the employees of the clerk's office, who skipped lunch to process the crush of marriage certificate applications.

Brownstein went down to the Little Caesar's and picked up 10 pizzas. He and Michael handed out slices to the employees and the couples waiting to wed.

Their generosity was appreciated. Their courage, noticed.

That they performed this task dressed in their Scout uniforms immediately drew attention. Cell-phone photos went off to Twitter and Facebook. Comments like this got posted on blogs:

"Utah. Boy scouts. Delivering pizzas. To support. Gay marriage. The. End." Joanna Brooks wrote those words in the online Religion Dispatches.

Yes, this was conservative Utah, the epicenter of Mormonism. Yes, Brownstein was affiliated with the Scouts, an organization that has been mired in controversy over its policies on homosexuality and earlier this year voted to allow openly gay youths to join. The vote caused an uproar among conservative and some religious organizations that argued the change would dilute the Scout message of morality.

Brownstein is no stranger to any of that controversy.

As leader of Boy Scout Troop 351, he's long advocated for the Scouts to accept all boys and men into the organization. He was reprimanded last June for participating in full uniform in the Utah pride parade in Salt Lake City.

"We are very disappointed that you used Scouting to advance the gay agenda," wrote Bry Davis, council president, and Rick Barnes, Scout executive.

The United Jewish Federation of Utah, the sponsor of Troop 351, suspended all its activities.

Brownstein was disappointed. He didn't see his actions as promoting any agenda or violating any Boy Scout rules. He saw the parade as a celebration of cultural diversity.
Will Brownstein be disciplined for this latest action? It's certainly quite possible. If it happens, though, it's the Boy Scouts that will be the ones who look foolish.