Boy Scouts File for Bankruptcy
The venerable youth organization has fallen on hard times.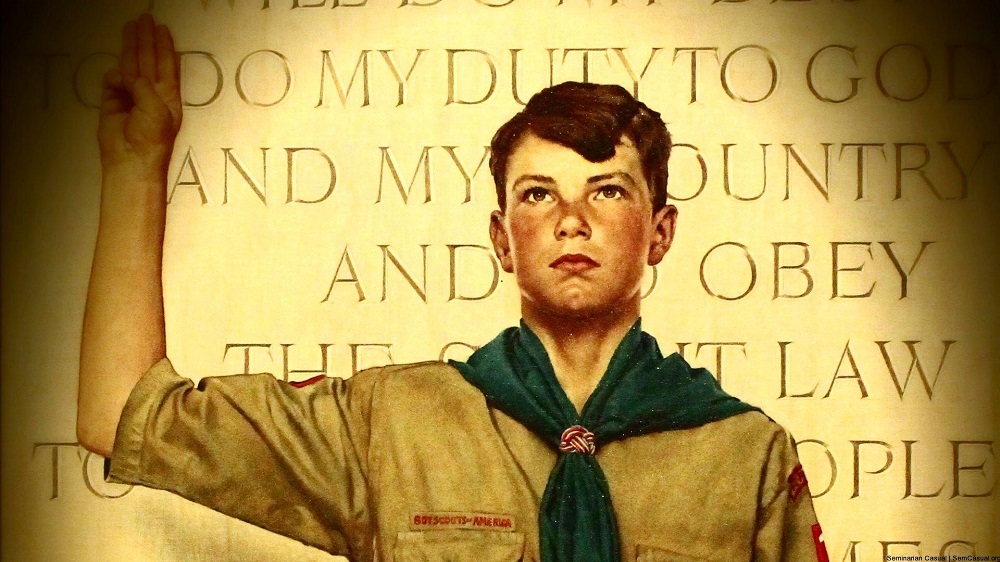 Boy Scouts of America filed for bankruptcy protection early today amid declining membership and a drumbeat of child sexual abuse allegations that have illuminated the depth of the problem within the organization and Scouts' failure to get a handle on it. 
After months of speculation and mounting civil litigation, the Chapter 11 filing by the scouting organization's national body was unprecedented in both scope and complexity. It was filed in Delaware Bankruptcy Court overnight. 

The exact effects on Boy Scouts' future operations are unknown, leading to speculation about the organization's odds for survival, the impact on local troops and how bankruptcy could change the dynamic for abuse survivors who have yet to come forward. Some fear that at a minimum it will prevent survivors from naming their abuser in open court.

[…]

"The BSA intends to use the Chapter 11 process to create a Victims Compensation Trust that would provide equitable compensation to victims.

"Scouting programs will continue throughout this process and for many years to come. Local Councils are not filing for bankruptcy as they are legally separate and distinct organizations."

It is exactly that distinction that victims' attorneys say will be the core of the legal battle ahead over which assets Boy Scouts must use to pay legal settlements and which can be shielded. The primary focus, they say, will center on property owned by the 266 regional councils and local troops.
I don't have much light to shine on the legalities here. I was in Cub Scouts and Webelos forty-plus years ago but lost interest because of frequent family moves and didn't join a Boy Scout troop when we moved to Germany. My two daughters have been in Girl Scouts since kindergarten but that's a completely separate organization and one structured completely differently.
Girl Scouts are extremely hierarchical and tend to be based around schools. Boy Scout troops are quasi-independent organizations that tend to be centered around churches. And the parallels with the Roman Catholic Church are striking:
The scouting organization has been deeply mired in civil litigation since a landmark case in 2010 that resulted in $19.9 million in damages, the largest ever for a single individual against the Boy Scouts. That case triggered the release of more than 20,000 confidential documents, which became known as the "perversion files." 

Those records named more than 1,000 banned volunteers, revealing that the 100-year-old organization had long kept track of suspected and known abusers and failed to consistently report them to police or inform parents or the public of the extent of the problem. 

[…]

Boy Scouts currently faces hundreds, if not thousands, of abuse lawsuits. New allegations poured in as efforts to extend the civil statute of limitations for survivors of child sexual abuse have gained momentum in recent years. 
The wave of lawsuits is not only crippling BSA but straining its relations with churches.
[O] n Jan. 1, the Church of Jesus Christ of Latter-day Saints - which for 100 years was among Boy Scouts' largest partners - followed through on its plan to pull hundreds of thousands of Mormon youth out of Scouts in favor of its own youth program. That withdrawal caused an 18% drop in membership overnight, to fewer than 2 million. 

But the nonprofit organization's chief financial concern, according to victims' attorneys and bankruptcy experts, is rising liability from abuse lawsuits. The suits have led to battles with insurance carriers, who refused to pay out claims saying the Scouts failed to take effective preventative measures to stop the abuse. In 2018, Boy Scouts sued six of its carriers.  
The effects of bankruptcy aren't fully clear but victims' groups are concerned.
By filing for bankruptcy, the Boy Scouts can consolidate all of the lawsuits against them and pursue a settlement - potentially far lower than settlements outside of bankruptcy.

But Pamela Foohey, associate professor at the Indiana University Maurer School of Law, said there are benefits for survivors who have filed suit recently and would otherwise have faced a long legal battle and dwindling resources left to pay out a claim.

"It stops everything and it puts it in one place for the Boy Scouts to have time to assess the breadth, the scope of the litigation, of the claims, and then deal with it collectively," Foohey said.

Typically, abuse survivors will be represented on a required committee of unsecured creditors or on a separate committee established to represent their interests, she said. The committee will try to negotiate a settlement in which the nonprofit sets aside a pot of money to settle claims.  

To gain access to those funds, survivors will have to file a claim by a date set by the bankruptcy judge. Critics say that process can be stacked in favor of the organization by forcing victims who may not be ready to come forward to file their claims. 

"It's a huge advantage for these entities, and it cuts survivors off at the knees," said Tim Hale, a California attorney who has settled numerous cases against the Catholic Church. 
Additionally, filing through the bankruptcy claims process tends to be much more private, thus potentially leaving alleged perpetrators unnamed rather than on the public record as would happen in a normal lawsuit. Then again, the reverse effect would seem true as well: victims who might otherwise be reluctant to come forward because of the exposure might have that barrier removed.