Brazil's Coach Shows How to Lose
Coach Luiz Felipe Scolari took responsibility for the 7-1 loss to Germany.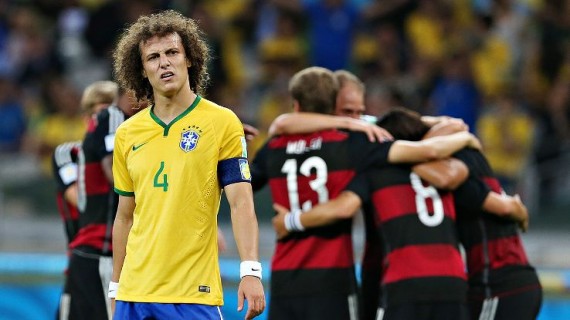 Brazil's soccer team, the foremost symbol of its nation's pride, was humiliated at home in a 7-1 drubbing against Germany that actually wasn't that close. Coach Luiz Felipe Scolari took responsibility. Not in the sense that we're accustomed to, either. He actually took responsibility:
After Brazil suffered their "worst loss" in their most important home game in 64 years, all coach Luiz Felipe Scolari could do was take the blame for his team's 7-1 thrashing at the hands of Germany.

"The catastrophic result can be shared with the whole group, but the choice and who decided the tactical lineup — I did. The person who is responsible is me," Scolari said.

Brazil were undone when Germany scored five goals within 30 minutes in the first half, including four goals in a seven-minute span.

"My message is for the Brazilian people that we tried to do what we could do," Scolari said. "We did what we think was our best and we lost to a great team who in six or seven minutes, ended the game in an extraordinary manner.

"I'm sorry that we were not able to get to the final and we will continue to honour what our team is and fight for third place."

Brazil appeared helpless during Germany's onslaught, with Scolari saying "I think everyone blanked out."

"We tried to organise, but there was nothing we could do at that moment," the coach said.
That's pretty normal stuff. Coaches and star players typically "take responsibility" after a loss. But Scolari went much further:
Brazil were lacking injured star forward Neymar, but Scolari said his presence would not have made a difference.

"There's no regret, but it didn't work out in 10 minutes of the match today. The German team was fantastic," he said. "They probably could have done it with Neymar on the field as well.

"Let's not try to find an excuse. What happened is that Germany had a fantastic rhythm and defined the match. Germany made use of those moments and Neymar has nothing to do with that. He would not have made a difference to defend all of the goals. Germany would have done this regardless."

Brazil were also missing centre-back Thiago Silva, who was suspended after earning his second yellow card, leaving David Luiz to manage the back with Dante, who was making his debut at the tournament.

Luiz was left in tears after the match as he walked off the pitch.

"I am sorry we couldn't give the fans happiness," he said. "We didn't get it and I ask all of Brazil to forgive me. I only wanted to see all of Brazil smile. This was the most important match of my life."
I'm by no means enough of a soccer aficionado to have any clue what happened here. Germany historically fields great teams and, given my German heritage and the fact that I lived there for nine of my first twenty-six years, I was rooting for them. But Brazil, obviously, is also a traditional power and were playing at home. Given the nature of the sport, there's simply no way they should have been defeated this badly.
I just had the game on in the background while I was doing some reading. I looked up to see Germany had gone up 1-0 in just minutes. Shortly thereafter, they scored a second goal. The doorbell rang. I saw the UPS man running back to his truck, fetched my package, and opened it. I walked back in to the living room and the score was 4-0. At first, I was wondering why they were showing highlights of some previous match. It took me a few moments to realize that, no, Germany had scored two more goals in less than 3 minutes. It was that kind of game. It's unusual enough in gridiron football or baseball. But soccer? In the semifinal of the World Cup? Against the home team? It. Just. Doesn't. Happen.
Yet Scolari didn't blame the refs or use the perfectly reasonable defense that one of the world's greatest players was out with a broken back and his teammates devastated by that injury. He went further and said that they'd have lost even if Neymar had been healthy. I'm not sure I've ever seen a losing coach, let alone one so soon after such an utter and shocking loss, give that much credit to his opponent. I wouldn't mind seeing this become a trend.