Peter Scolari, 1955-2021
The veteran character actor has died of cancer at 66.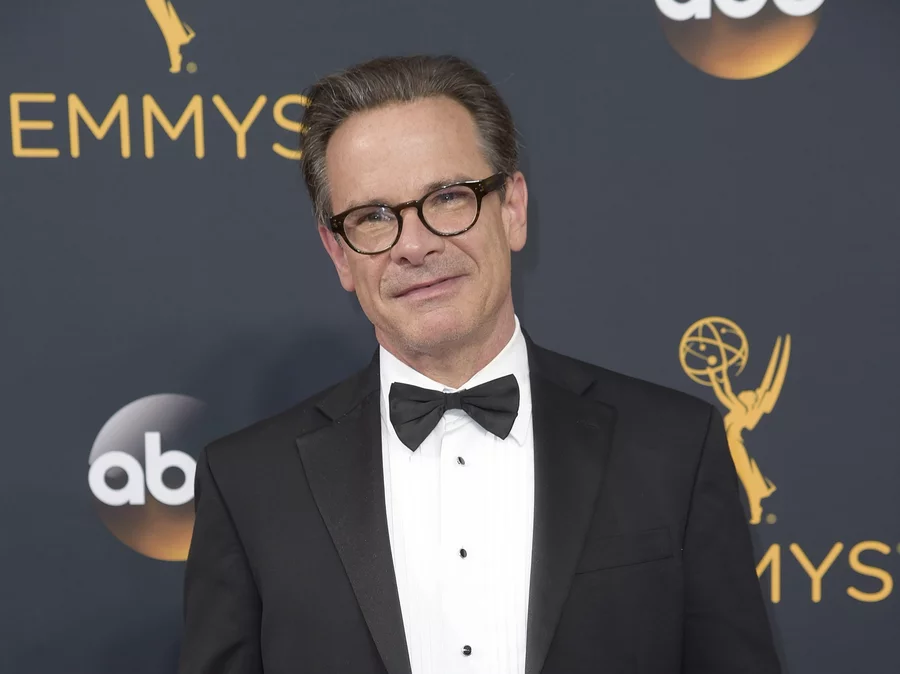 NYT ("Peter Scolari, 'Newhart' and 'Girls' Actor, Is Dead at 66"):
Peter Scolari, a familiar face on "Bosom Buddies," "Newhart," "Girls" and other television shows and in Broadway, Off Broadway and regional theater productions, died on Friday in Manhattan. He was 66.

His management company, Wright Entertainment, said the cause was cancer.

Mr. Scolari had done some stage work but was easing into television when he was cast alongside Tom Hanks in 1980 as one of the two principal characters on "Bosom Buddies," an ABC comedy about two men who pretend to be women so they can live in a low-cost all-female apartment complex. The show, Mr. Hanks's first prominent assignment, lasted only 37 episodes, but it has gained a sort of kitschy cachet over the years thanks to some witty touches in the scripts and the subsequent careers of the two stars.

"A lot of television was about bosoms in 1980, when 'Buddies' began its two-year run," Susan Stewart wrote in The New York Times in 2007, assessing a DVD release. "'Three's Company' was three years old; 'Charlie's Angels' was flying high. Compared to those exemplars of 'jiggle TV,' 'Buddies' was practically the Algonquin Round Table."

Perhaps Mr. Scolari's best-known role came soon after, when he was cast in "Newhart," on which Bob Newhart played an innkeeper in Vermont who has a local TV show. Mr. Scolari, who became a regular in the show's second season, played his producer. Mr. Scolari ultimately appeared in more than 140 of the show's 184 episodes, earning three Emmy nominations for best supporting actor in a comedy.

More than 20 years after "Newhart" went off the air in 1990, Mr. Scolari became familiar to a different generation through a recurring role on the HBO series "Girls," playing the father of the character portrayed by Lena Dunham, the show's star and creator. He won an Emmy for the role in 2016. Among the other actors nominated in his category, outstanding guest actor in a comedy series, was Mr. Newhart (for "The Big Bang Theory").
WaPo ("Peter Scolari, stage and TV actor who won an Emmy for 'Girls,' dies at 66"):
Peter Scolari, a versatile comic actor who had television roles in "Bosom Buddies" and "Newhart" in the 1980s and won an Emmy Award in 2016 as Lena Dunham's father in the HBO comedy series "Girls," died Oct. 22 in New York City. He was 66.

His death was confirmed by Ellen Lubin Sanitsky of Wright Management. The cause was cancer.

Mr. Scolari, who had a youthful, wiry appearance throughout his career, appeared in several films but was far better known for his work in television and theater. His breakout role came in "Bosom Buddies," a farcical ABC-TV comedy that premiered in 1980 with Mr. Scolari and Tom Hanks playing advertising copywriters who are thrown out of their New York apartment.

They dress as women to conceal their identities — reviving a hoary showbiz trope perhaps done best in Billy Wilder's 1959 comedy "Some Like It Hot," with Tony Curtis and Jack Lemmon, and in "Tootsie," a 1982 film starring Dustin Hoffman.

Hanks (as Kip) and Mr. Scolari (as Henry) find a room in the all-female Susan B. Anthony Hotel. Passing themselves off as Buffy and Hildegard, they comically juggle their real and assumed identities while negotiating the pitfalls of work and romance.

Some critics dismissed the series as "Some Like It Lukewarm," but audiences wrote so many enthusiastic letters to ABC that it was renewed for a second season.

"We really took a beating in the press, got hammered for it the first few weeks," Mr. Scolari told the Los Angeles Times in 2010. "But when Dustin Hoffman comes out with 'Tootsie,' everyone goes, 'Ooooh, masterpiece.' "

"Bosom Buddies" lasted only two years, but it has often appeared on lists of television shows that were canceled too soon. It launched both actors' careers, with Hanks becoming a Hollywood superstar and Mr. Scolari finding more modest success on the small screen. They remained close friends.
NPR/AP ("Peter Scolari, of 'Newhart,' 'Bosom Buddies' and 'Girls,' dies at 66"):
Peter Scolari, a versatile character actor whose television roles included a yuppie producer on Newhart and a closeted dad on Girls and who was on Broadway with longtime friend Tom Hanks in Lucky Guy, has died. He was 66.

Scolari died Friday morning in New York after fighting cancer for two years, according to Ellen Lubin Sanitsky, his manager.

He first gained attention as the then-unknown Hanks' co-star in the 1980-82 sitcom "Bosom Buddies," in which their characters disguised themselves as women to live in affordable, females-only housing.

The two actors went on to work together in projects including Hanks' 1996 movie directorial debut That Thing You Do! and in 2013's Lucky Guy, Nora Ephron's play about newspaper columnist Mike McAlary.

Scolari also performed on Broadway in Wicked, Hairspray and 2014's Bronx Bombers, in which he played baseball's Yogi Berra.

"We were friends and colleagues for over 40 years," Newhart said in a statement to The Associated Press. He said the contributions of on-screen couple Scolari and Julia Duffy in Newhart were an "essential part" of the show's success.

"In life, he was a fantastic person, and it was a joy to work together. He will be sorely missed and his passing at 66 is much too early," Newhart said.

Scolari's recent roles included Bishop Thomas Marx on the supernatural series Evil. Series co-creator Robert King remembered him as "just wonderful."

He was "one of the funniest — sneakily funny — actors we've worked with. He always took a nothing scene and found different ways to twist it, and throw in odd pauses that made it jump," King said on Twitter.

He received three Emmy nominations playing husband to Duffy's Stephanie and colleague to Newhart's inn owner and local TV host in the 1982-90 sitcom.

"No better partner," Duffy posted on Twitter, along with a broken-heart emoji and a photo of a scene in which she and Scolari are dancing a tango.

In 2016, he won an Emmy Award for the role of Ted Horvath, father to Lena Dunham's Hannah, in Girls. In the course of the dramedy created by Dunham, Ted comes out as gay and leaves his wife to find fulfillment.

In an Instagram post, Dunham said she "couldn't have been raised up by a better TV 'papa.' Thank you, Scolari, for every chat between set ups, every hug onscreen and off and every 'Oh, Jeez.' We will miss you so much."

Harvey Fierstein, who starred in Hairspray, tweeted there "wasn't a sweeter man on the planet."

Scolari's more than four-decade career included numerous guest roles on series including ER, White Collar and Blue Bloods.

A New York native whose previous marriages ended in divorce, he's survived by his wife, actor Tracy Shayne, who played opposite him as Berra's wife in Bronx Bombers. Other survivors include his children Nicholas, Joseph, Keaton and Cali.
I watched Bosom Buddies and Newhart during their runs although I don't know that I've seen an episode of either since their runs. The former is better known as the launching pad for Tom Hanks' extraordinary career and the latter for the iconic closing scene harkening back to the original Bob Newhart Show and for the recurring characters of Larry and his brother Darryl, and his other brother Darryl than for Scolari. Still, he was a key contributor to both shows. The Lena Dunham vehicle Girls never interested me enough to watch it.
That 66 is too young to die, especially for one still so active in their career, is both true and not. It's the age where my father passed eleven years ago and, while I'm a decade younger than Scolari, many of my 88-members high school class are already gone. Still, who would have bet that Newhart, now 92, would be around to eulogize the man who played his son-in-law?