Breaking the Ukraine Stalemate
Will taking the war to Moscow change Putin's calculus?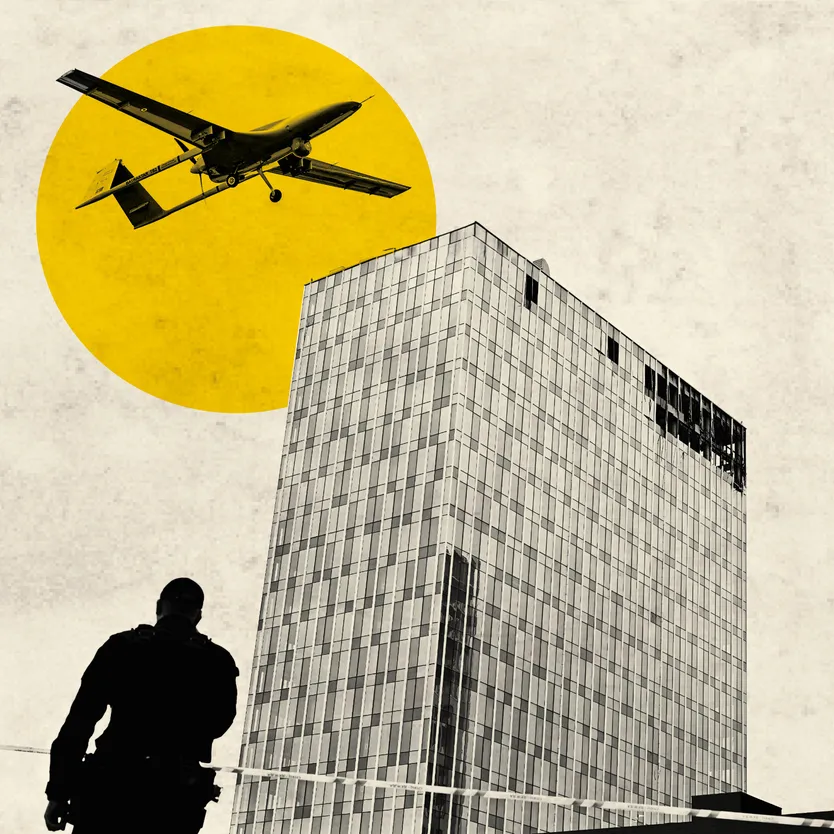 Some interesting commentary in recent days.
Harvard's Stephen Walt in Foreign Policy ("The Morality of Ukraine's War Is Very Murky"):
What is the morally preferable course of action in Ukraine? At first glance, it seems obvious. Ukraine is the victim of an illegal war, its territory is occupied, its citizens have suffered mightily at the hands of the invader, and its adversary is an autocratic regime with any number of unsavory qualities. Strategic calculations aside, surely the proper moral course is to back Ukraine to the hilt. As Ukrainian President Volodymyr Zelensky told a gathering at the Yalta European Strategy meeting in Kyiv this month: "When we are talking about this war, we are always talking about morality." Not surprisingly, he conveyed the same message when he visited Washington this week.

[…]

What's missing in this view, however, is an acknowledgement that the morality of a given policy also depends on the potential costs of different courses of action and the likelihoods of success of each one. If we are talking about human lives, we must look beyond abstract principles and consider the real-world consequences of different choices. It's not enough to proclaim that the good guys must win; one must also think seriously about what it will cost to produce that outcome and whether it can in fact be achieved. Although there is no way to be 100-percent certain about either the likely costs or the probability of success, refusing even to consider these features is an abdication of moral responsibility. (For a rare attempt to perform the kind of analysis I'm advocating, see a RAND Corporation report here.)

[…]

The moral case for pursuing peace—even if the prospects are unlikely and the results are not what we'd prefer—lies in recognizing that the war is destroying the country and that the longer it lasts the more extensive and enduring the damage will be. Unfortunately for Ukraine, anyone who points this out and offers a serious alternative is likely to be loudly and harshly condemned and almost certain to be ignored by the relevant political leaders.

Those who believe the long-term answer is to send Ukraine more advanced weapons and get it into NATO and the European Union as quickly as possible—as New York Times columnist Thomas Friedman opined last weekend—have it exactly backwards. Putin went to war primarily to foreclose this possibility, and he'll continue the war either to prevent it from happening or to ensure that whatever remains of Ukraine is of little value. It makes sense to give Ukraine enough support that Russia cannot dictate a peace, but that support should be tied to a serious effort to bring the war to a close.

Hardliners have an obvious reply to these arguments, of course. "Ukraine wants to keep fighting," they insist—correctly, "and we should therefore give them whatever they need." Ukraine's resolve has been extraordinary, and its desires should not be dismissed lightly, but this argument is not decisive. If a friend wants to do something you think is ill-advised or dangerous, you are under no moral obligation to aid their efforts no matter how strongly committed they may be. On the contrary, you'd be morally culpable if you helped them act as they wished and the result was disastrous.

Of course, these moral tradeoffs diminish if you believe Ukraine can win at an acceptable cost and that this outcome will have a profound positive impact around the world. As noted above, this is the war party's central argument. Given the disappointing (if not disastrous) results of Ukraine's summer counteroffensive, however, that position is getting harder to defend. Hardliners now hope that more advanced weaponry (Army Tactical Missile Systems [ATACMS], F-16 aircraft, M-1 rifles, hordes of drones, etc.) will tip the balance in Ukraine's favor. Or they speculate that Russia is running out of reserves and will soon be on the ropes. I hope they are right, but it is telling that these hawks are mostly silent on the issue of Ukraine's own losses. To be specific: How many Ukrainians have been killed or wounded, and how long can Kyiv continue to replace them? This issue is vital to any attempt to assess Ukraine's prospects, but reliable information on it is almost impossible to obtain.
The snipped parts in between, alas, are claptrap about Western provocation sparking the war and the usual talking points about corruption in Ukraine.
The Economist (unsigned) ("Ukraine faces a long war. A change of course is needed"):
The War in Ukraine has repeatedly confounded expectations. It is now doing so again. The counter-offensive that began in June was based on the hope that Ukrainian soldiers, equipped with modern Western weapons and after training in Germany, would recapture enough territory to put their leaders in a strong position at any subsequent negotiations.

This plan is not working. Despite heroic efforts and breaches of Russian defences near Robotyne, Ukraine has liberated less than 0.25% of the territory that Russia occupied in June. The 1,000km front line has barely shifted. Ukraine's army could still make a breakthrough in the coming weeks, triggering the collapse of brittle Russian forces. But on the evidence of the past three months, it would be a mistake to bank on that.

Asking for a ceasefire or peace talks is pointless. Vladimir Putin shows no sign of wanting to negotiate and, even if he did, could not be trusted to stick to a deal. He is waiting for the West to tire and hoping that Donald Trump is re-elected. Mr Putin needs war to underpin his domestic dictatorship; any ceasefire would simply be a pause to re-arm and get ready to attack again. If Ukrainians stop fighting, they could lose their country.

Both Ukraine and its Western supporters are coming to realise that this will be a grinding war of attrition. President Volodymyr Zelensky visited Washington this week for talks. "I have to be ready for the long war," he told The Economist. But unfortunately, Ukraine is not yet ready; nor are its Western partners. Both are still fixated on the counter-offensive. They need to rethink Ukraine's military strategy and how its economy is run. Instead of aiming to "win" and then rebuild, the goal should be to ensure that Ukraine has the staying power to wage a long war—and can thrive despite it.
Much of the prescription that follows, alas, is pie-in-the-sky.
Kate de Pury, 1848 Magazine ("It's not the drone strikes that are hurting Moscow, it's the traffic jams"):
A few minutes into a taxi ride along one of Moscow's main thoroughfares, I get anxious. The driver seems to be veering off in the wrong direction, and we are being swept along in dense traffic. "It's quicker under the bridge and along the embankment," I venture. He swears and taps the map on his phone screen. His navigation app flashes up different routes in rapid succession, then freezes.

Like most cab drivers here he is not from Moscow and doesn't know its streets well: he's completely reliant on apps to find his way around. They freeze several times a day now, he tells me. Signal interference is a problem for passengers too: when I try to summon a cab the apps place me at random spots in the city that are nowhere near where I'm standing, or simply say, "geolocation problems, please try later"

Swerving across busy lanes to get back on track for my destination, the taxi briefly passes the Kremlin. "They block the gps and we suffer the pain," the driver grumbles. It's widely assumed the Russian authorities have turned off geolocation services due to a recent wave of Ukrainian drone attacks on Moscow. Neither the cab driver nor I mention this to each other: talking about the war (referred to here as the svo, a neologism derived from the initials of the Russian words for "special military operation") is risky in Moscow, and trust these days is in short supply.

In the first year of Vladimir Putin's invasion of Ukraine, the war felt far away and life in Moscow went on pretty much as normal. But since the first drones reached the Russian capital in May, the city has been on permanent alert. Overnight attacks have mounted. At the end of July drones hit a skyscraper in the business district, and the following month they struck buildings in residential areas. Now drones fly into Moscow and the surrounding areas about once a week. The campaign hasn't caused significant damage or casualties so far, suggesting it is primarily aimed at creating fear.

[…]

Disruptions to taxi services mostly affect the middle classes (a friend who works as fashion stylist worries about being late to meetings and greets my suggestion that she walk to them with a laughing-face emoji). Disruptions to internal flights are a wider problem. Increasingly, planes are delayed or cancelled because of "operational reasons" or "delayed incoming flights", which travellers now assume are euphemisms for drone attacks (or the signal disruptions aimed at preventing them).

This affects a huge number of people – most airline passengers wanting to get from one part of Russia to another still have to make a connection in Moscow. The capital's airports are crammed with anxious passengers craning their necks to see the arrival and departure boards. Older travellers, perhaps remembering the interminable queues of the Soviet era, seem to be less agitated.
The first two pieces continue a theme I've sounded since the early days of the conflict, when it became clear that Russia was not going to have a swift victory: there was no obvious way for the war to end. That remains true to this day. The Ukrainian people have shown incredible resolve, reminiscent of Londoners during the Blitz. And the steady supply of Western weapons have allowed them to continue inflicting severe damage on the invaders. But, in terms of actual territorial gains, not much has been accomplished and there is no end in sight.
Walt's insight that massive loss of Ukrainian life with no prospect of achieving an acceptable end any time soon is problematic, while hardly novel, is worth keeping in mind. But I'm more placated than he is that the Ukrainians themselves have made that choice.
While we've all seen reports that Ukrainian drones are creating fear in Moscow (The Daily podcast episode earlier this week, "Inside Ukraine's Drone Attacks on Russia," was quite good) de Pury's was the first report that I've seen detailing just how much disruption they were causing. This is good news.
It is also a possible answer to the first question. Putin is willing to let Russians die fighting in Ukraine indefinitely. Perhaps taking the war to Moscow is the antidote to that resolve.