Breitbart Used Mind Control On Rep. Anthony Wiener
And the KosKids have the proof!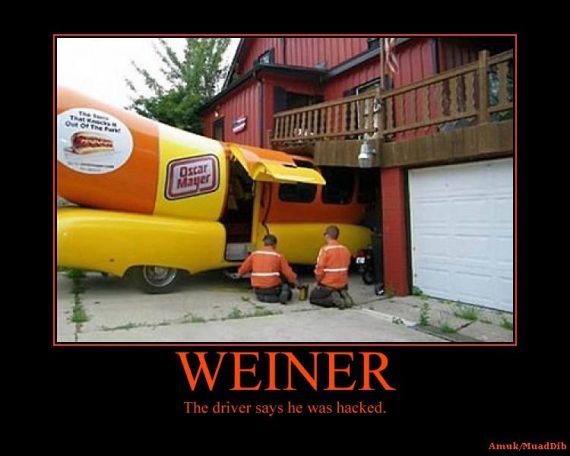 There may perhaps be a few Kalahari Bushmen who don't yet know that the unfortunately-named Rep. Anthony Weiner tweeted a picture of his junk in a reply to a 21-year old college student in Seattle Friday night. They're probably the lucky ones.
This is, obviously, a story with significant (if sophomoric) humour value. But for real gut-busting laughs, you need DailyKos. They still seem to be going with the increasingly absurd charge that–somehow, some way–this is all Andrew Breitbart's fault. Weiner is given the benefit of the doubt on the grounds that he's innocent until proven guilty. But not, of course, Breitbart. He is presumed guilty. And that's where it gets funny.
The diary entry as it exists right now first states that this is all "an 'easily debunked fraud.'" A couple of sentences later it repeats Weiner's statement that his account was hacked. Then, six paragraphs further down the page, it claims that "the screen grab of Congressman Weiner's twitter page was fake."
"How," MinistryOfTruth asks, "do I say EPIC FAIL? How do I count the ways?"
So, despite the fact the KosKids acknowledge that Weiner admits that the pic was sent from his Twitter account and that he himself removed it from his feed, the KosKids have nevertheless convinced themselves that the tweet never actually existed. So, by KosKid logic, Breitbart faked a screen capture of nonexistent tweet and then somehow convinced Weiner that it had appeared in his own Twitter feed and that he himself deleted it.
A lengthy comment thread follows exploring and refining this burgeoning conspiracy theory. You'll be forgiven if you have a hard time not thinking of how it was entirely possible that there was at least one early 70's Selectric typewriter in existence somewhere that could have created a document that looked exactly like a default settings MS Word document created in 2004.
"EPIC FAIL" indeed.
People who can see an obvious contradiction when it's staring them straight in the face will come to somewhat more rational conclusions. Weiner's excuse that he was "hacked" is far too (pardon the expression) hackneyed a dodge to be believed. Even power users of Twitter sometimes send public tweets as replies when they mean to send DMs (sending a straight reply to an SMS notification of a DM, for instance). But here we're to believe that, despite not having been (publicly) active on Twitter for hours prior to the tweet in question, Weiner somehow became aware of it, regained control of his account, and was tweeting up a storm less than five minutes after it went live. No wonder the KosKids are going with the mind control angle; that simply beggars belief.
Sorry, Congressman, but Occam's Razor demands that we presume that you yourself sent the tweet in question and just screwed up. The burden is on you to prove otherwise.
So, unless Breitbart has in fact perfected mind control (in which case, why isn't he using it on the KosKids?), the most likely explanation for all of this is that, somewhere along the way, a 21-year old coed and a sitting, married Congressman started exchanging inappropriate messages to each other. At some point, the Congressman got the notion in his head that it was okay to send her pictures of his privates (and if did so despite the object lesson recently provided by Brett Favre does not speak well of his judgment, all other considerations aside). And now, thanks to his technological fumble, she's suddenly infamous.
Small wonder she wants to crawl under a rock and hide.
UPDATE: See Mediaite for some reasonable questions going both ways (of which 'the hacker could have tried to make him look guilty by posting then deleting' argument is not one since Weiner's already said he deleted the tweet himself).
Still, regardless of whether or not Weiner was misbehaving here, the Kos Konspiracy stands alone in its epic fail (to coin a phrase).
UPDATE: (5/31/11) As of yesterday, it appears that someone at DailyKos finally realized [link fixed] that this particular spin just won't fly anymore:
There is no doubt something was posted to Weiner's yfrog account, and after talking to multiple folks both liberal and conservative, they all claim to have witnessed this picture on Weiner's yfrog account.
So, the "Breitbart photoshopped a fake yfrog image" theory (and with it, sadly, the implied mind control) is now, apparently deprecated. Those desperately wishing to maintain their belief that this was all Breitbart's doing are now left with only the possibility that both Weiner's Twitter and yfrog accounts were hacked. Regrettably for those us of us who require evidence to decide if something is true or false, that sort of proof can really only come from some sort of official investigation. Which Weiner is strangely reluctant to initiate. For the reflexive Weiner defenders, however, actual proof is a dubious luxury, not a necessity.
UPDATE: Note to Rep. Weiner: When you refuse to answer "No" to a simple yes/no question, it increases, rather than decreasing, how suspicious you look. Yes, we realize you've already issued some statements. But it takes less time to definitely say, "No" than to remind us of that fact.
Doubtless your apologists will happily carry your water and screech from the rooftops how horribly unjust it is that you even get asked these questions. But that dog won't hunt. If the answer is "No," say so, then say you're done answering questions. Refusing to do so looks like you know there's proof out there that the answer is "Yes."
In related news, Markos should read his own site. He was still pimping the mind control-based theory well after one of his diarists had admitted it was inoperative.
UPDATE: Mediaite employs an expert with fewer Kool-Aid stains on his lips than the KosKids, and finds their analysis wanting. The result: Despite the legions of #P2-types who have already adjudged Andrew Brietbart guilty, he isn't. Nor does the image undermine Rep. Weiner's claim to have been hacked.
In short, the only people it doesn't help are the logic-impaired Kossacks–including Markos himself–who decided what the truth was first and then forced the ambiguous-at-best data to fit their preferred narrative. Must be a day ending in 'Y.'